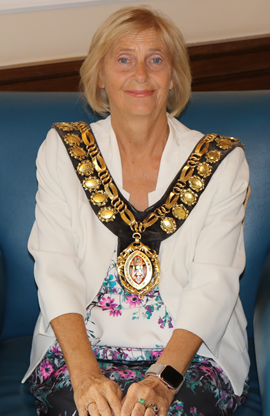 Message from the Mayor of Barnsley
Dear Friends,
As Mayor of Barnsley for 2019/20, I would like to welcome you to the Barnsley Schwabisch Gmund Twin Town Society Web-site.
In 1954 and by chance, Barnsley Town Councillor, Arthur Williams was informed that a fellow Councillor from Schwabisch Gmund was facing a youth visit to South Wales being abruptly cancelled due to an outbreak of Foot and Mouth disease in the area.
Councillor Williams hastily consulted with colleagues within the Council, and together they made the decision to invite the party to visit Scout Dyke Camp in Barnsley as an alternative to South Wales.
From this initial trip to Barnsley back in 1954, firm friendships were born and in 1971 these were cemented by officially twinning our two towns.

We're now in 2020 and heading towards the 50th Anniversary of the signing of the twinning document in 2021. Who would have thought that a kind gesture would have evolved to form such a strong and lasting relationship that we have today.
I look forward to celebrating our milestone anniversary in 2021 and hope that our two towns continue to work together for many years to come.
Best wishes to you all and thank you for visiting the web-site.

Councillor Pauline Markham
Mayor of Barnsley 2019/2020