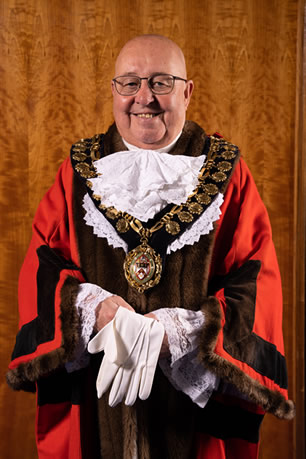 Message from the Mayor of Barnsley
Dear Friends,
It is an honour and privilege to have been elected as the Worshipful Mayor of Barnsley for the municipal year 2023/24, and it is my pleasure to welcome you all to the Barnsley Schwäbisch Gmünd Twin Town Society website.
Working in the mining industry for many years, it's important to me that we continue to work closely and build on the fantastic work of Arthur Williams who, as a Barnsley Councillor and the person who had the foresight to invite the delegation of children from Schwäbisch Gmünd to Scout Dyke Camp in Barnsley after their planned visit to the South Wales coalfield was abruptly cancelled in 1954 due to a foot and mouth outbreak.
Who would have known that Arthur's actions would have been the start of such a fantastic journey which led to both our towns being officially twinned in 1971 and during my tenure as Mayor, will encompass 70 years of friendship with the people of Schwäbisch Gmünd.

Last year saw a number of events both in Barnsley and Schwäbisch Gmünd to celebrate our official 50th Anniversary. To continue the celebrations, I was delighted to host and welcome two football teams from the city; FC Nomannia and FC Germania Bargau on Friday 7 July where both teams were welcomed to the Town Hall for a Civic 'breakfast' reception.
The teams played later that night against Worsbrough Bridge AFC and Barnsley College Academy at Park Road where the outcome this year was more positive for Worsbrough Bridge following last year's defeat in Schwäbisch Gmünd.

During the teams visit to Barnsley, the strong links and hospitality were extended by an organised visit and tour of Oakwell where the teams were special guests of Barnsley Football Club. I'm sure that will have been one of the highlights of their visit taking fond memories back to Schwäbisch Gmünd to share within their community.


For the remainder of my term, I'm very much looking forward to working closely with the Barnsley Schwäbisch Gmünd Twin Town Society who continue to support the Civic office to consolidate our already developed strong links.
With best wishes

Councillor James Michael Stowe
Mayor of Barnsley 2023/2024