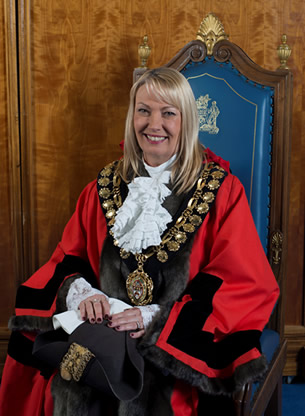 Message from the Mayor of Barnsley
Dear Friends,
I'm delighted to have been elected as the Worshipful Mayor of Barnsley for the municipal year 2020 / 21 and it's my pleasure in welcoming you all to the Barnsley Schwäbisch Gmünd Twin Town Society Website.

After what has been a very difficult and challenging year for us all fighting the global COVID-19 pandemic, one positive example to come out of this terrible situation has been the strong and loyal friendship that continues to grow between our two towns.

Here in Barnsley we are immensely grateful for all the help and support our friends over in Schwäbisch Gmünd offered in our time of need, by helping to source vital PPE that was in short supply here in Barnsley at the start of the pandemic.

As our twin town partnership grows closer to the 50th anniversary I am hopeful that by next summer the situation with the COVID virus will have improved and we can all come together to make exciting plans to celebrate both here in Barnsley and over in Schwäbisch Gmünd, which I'm personally really looking forward to.

I also look forward to continuing with the legacy of my predecessors building on the firm foundations of a great friendship between our two towns during my term as Mayor.

Thank you for visiting the website and I send you all my best wishes.

Councillor Caroline Makinson
Mayor of Barnsley 2020/2021