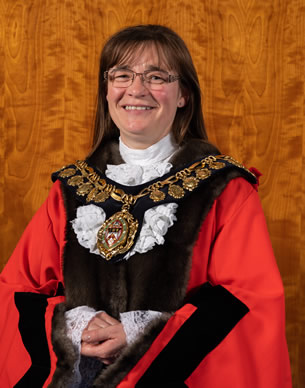 Message from the Mayor of Barnsley
Dear Friends,
It is an honour and privilege to have been elected as the Worshipful Mayor of Barnsley for the municipal year of 2022/23, and it is my pleasure to welcome you all to the Barnsley Schwäbisch Gmünd Twin Town Society website.
Within my first week in office, I had the pleasure of welcoming Oberbürgermeister Richard Arnold, civic delegates and friends from our twin town, Schwäbisch Gmünd to Barnsley to officially celebrate and sign a new twinning agreement to signify 50 years of town twinning, followed by a confident handshake that our bond and twinning would continue for another 50 years and more!
I particularly enjoyed showing the Oberbürgermeister around the town centre and market where he was delighted to speak to many residents and visitors from out of town – all were very complimentary of the town centre. We had the pleasure of meeting one resident who was 102 years old, she was delighted to have the opportunity to speak to Mayor Arnold, telling him how she loved our town and the opportunities being created for the young people of today.
I must say it was a very proud moment for me and colleagues.
Over the 50th Anniversary twinning weekend, I was proud to witness a new twinning partnership between a local Barnsley team, Worsbrough Bridge AFC, FC Nomannia and FC Bargau in Schwäbisch Gmünd. A shirt exchange took place and hopefully a new twinning friendship will grow and evolve from that weekend long into the future.

The Barnsley and Schwäbisch Gmünd Coat of Arms now stand proudly outside our Town Hall in Barnsley Pals Square.
To mark the anniversary, one of the flower beds in front of the Town Hall has also been decorated with a unicorn flower display.
Town Twinning is very special to me and something I am passionate about. I was very lucky to have visited Schwäbisch Gmünd as part of a town twinning exchange as a young girl in 1982.

I understand many students will have also have had this opportunity through schools, sports clubs and the town twining society.

If you, or someone you know took part in an exchange then BSGTTS would love to hear from you.
I am looking forward to revisiting Schwäbisch Gmünd later in the year to meet Oberbürgermeister Arnold again and see how much the town has changed since my visit in 1982!
I've had a wonderful start to my Mayoral year. It's a pleasure to be Mayor of Barnsley and I'm extremely proud of our town.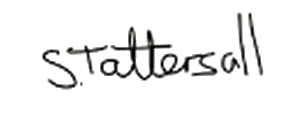 Councillor Sarah Tattersall
Mayor of Barnsley 2022/2023