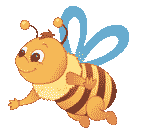 Forthcoming Events
Date
Event
Topic
24th October 2023
Annual German Dinner @ The Open Kitchen. Barnsley
6.30pm seated for 6.45pm
19th November 2023
Intro to German Advent delights (yum yum) + Dinner for one !
Thurgoland Village Hall from 3.30pm
11th December 2023
Society Annual Xmas Dinner
Wortley Hall S35 7DB @ 7pm - Full details to follow shortly
19th February 2024
ANNUAL GENERAL MEETING
6.30pm PROMPT Barnsley Town Hall Reception Room
Latest News


14/08/23
Bringing people together - twinning is twinning people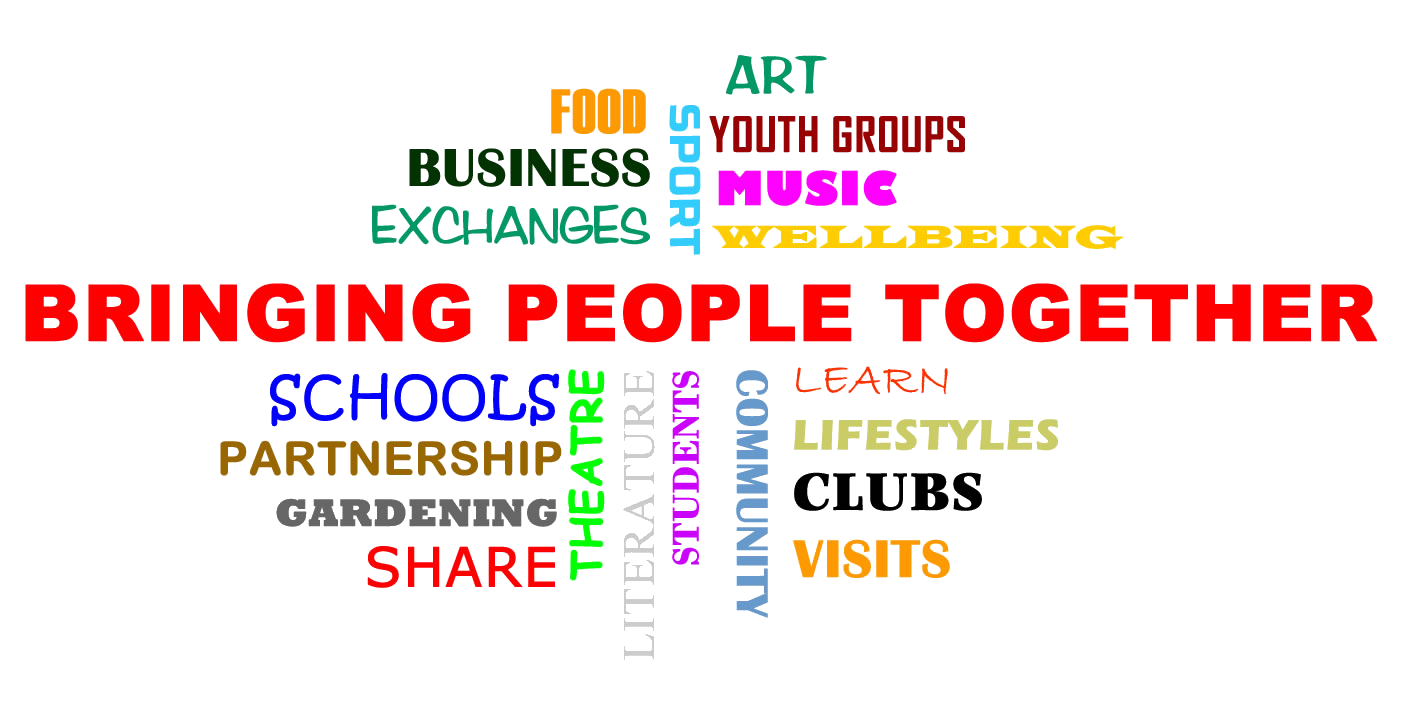 In 2022, a sporting mini - Olympics was held as part of the town twinning weekend in Schwäbisch Gmünd. Amateur athletes from all the twin towns competed in Gymnastics, hockey, swimming and football. The results were not really important,
(although you try telling the competitive athletes that), it was much more about bringing people together and deepening the international friendships and partnerships.
Barnsley's Worsbrough Athletic FC and BSGTTS recently played host to 36 amateur footballers and staff from Gmünd, part of the centenary celebrations and consolidation of the 'new' twinning between FC Normannia, Germania Bargau FC and Worsbrough AFC inaugurated during the Gmünd olympics. Introduction to British "Fish n Chips" and beer was an essential part of the cuisine culture. The U16s Normannia team game against Barnsley College Academy has sparked possible new links for language and catering in the future.

The footballers' visit to professional Barnsley Football club organised and brilliantly led by 'Reds in the Community' delivered a request to link further with BSGTTS in the wider Barnsley community.
It was really good to see the U7s, U9s & U10s young 'Briggers' proudly taking part as mascots and ball boys together with the senior teams of FC Bargau and Worsbrough Bridge with the Deputy Mayor and Deputy Mayoress and the match officials in the line up before the match, a wonderful experience for the young footballers, watched by an enthusiastic crowd of over 350 people.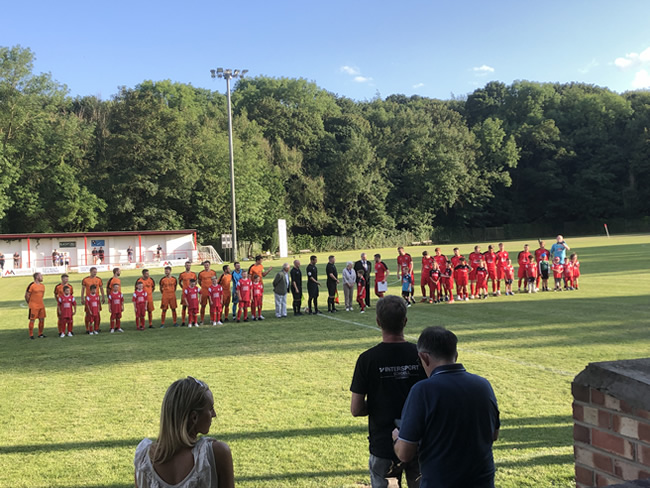 A week later and BSGTTS took part in a brilliant weekend of international music with groups from Taiwan, Japan, India, Germany and performances from Taiko Drummers, Formosa Cultural Style Dancers.
Barnsley's own Frumptarn Guggenband with friends from our twin town Schwäbisch Gmünd - Gassafetza, from Austria - Emser Palast Tätscher, and Gugge 2000 from Bournemouth took part to celebrate 20 years of Frumptarn and the launch of their new costume.
Each of the Guggen Bands visited our stand in the town square, generating lots of interest and possible new members for us from the Barnsley public.
Many of our members now look forward to accompanying Frumptarn and meeting our friends old and new at the International Guggenfest in Gmünd in February.

BSGTTS association and work with all these organisations has presented us with opportunities and introductions to new groups and organisations, clubs, schools and colleges, youth groups, sports, art, music and more …....… and these are all people .....…. twinning is twinning people!

2024 will be 70 years since the very first visit to Barnsley by a youth group from Schwäbisch Gmünd. It is essential that we interest and involve young people to continue this fantastic partnership into the future.

In retrospect, the wish of the then Oberbürgermeister in Gmünd Dr. Norbert Schoch at the signing of the official twinning on
June 23, 1971 has become a reality. He concluded the council meeting when the twinning certificate was signed with the words:
 "I hope that the friendship will not only last for a very long time, but that it will become a connection forever. I further hope that it will not remain an official partnership, but that it is underpinned by friendships between our clubs and especially between the youth of our two cities. " 
28/07/23

Barnsley's Janine Dyer invited to sing at European Festival of Church Music held in Gmünd.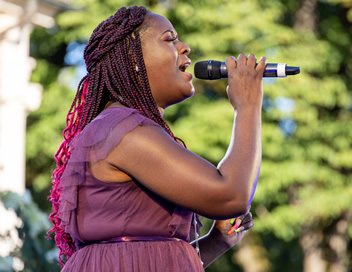 The wonderful soul and gospel singer Janine Dyer from our twin town of Barnsley has been invited to the festive conclusion.
She caused a sensation at the BBC singing competition"The Voice UK",
sang for the royal family and delighted the Gmünd audience at last year's
town twinning anniversary.

Sunday 6 August 2023 - 10:30 a.m. | Remspark stage Stadtgarten

CLOSING ECUMENICAL SERVICE - Festival finale under the linden trees

LITURGY
Dean Robert Kloker
Dean Ursula Richter

MUSICAL ACCOMPANIMENT - Janine Dyer (vocals) & band
21/07/23

Successful Return Visit To Barnsley - Courtesy of Rems Zeitung 20.07.2023
The active footballers of FC Bargau and the U16 Youth Team of FC Normannia Gmünd visited their partnership club Worsbrough Bridge AFC in Barnsley to play two friendly matches. The visit was a complete success for all involved.
Mayor Cllr. James Michael Stowe welcomes the U16 Youth Team of FC Normannia Gmünd
and the active footballers of FC Bargau in the town hall in Barnsley.
The players from Schwäbisch Gmünd spent four days as special guests of Worsbrough AFC.

In May 2022, to mark the 50th anniversary of the twinning between Barnsley and Schwäbisch Gmünd, a new sporting friendship was founded between the footballers of FC Normannia Gmünd and FC Germania Bargau with their partner club Worsbrough Bridge AFC from Barnsley.

Two months later, the first sporting encounter took place during the town twinning weekend in Schwäbisch Gmünd. "Of course, the question of a return visit came up right away," recalls Philipp Zoidl, board member for football at FC Bargau. The chemistry was right from the start, both in sporting and human terms. "We got on well straight away. They are a really fun bunch of people,"says Zoidl.

So this month the active footballers of FC Bargau and the U16 Youth Team of FC Normannia, in total 34 participants, booked flights for a four-day return visit to Barnsley. As Worsbrough Bridge AFC celebrates its centenary this year the visit from the twin town fitted exceedingly well.

On the first day, both teams and their coaches arrived and were greeted in typical English fashion.
"We were given a very warm and proper welcome with fish and chips," recalls Philipp Zoidl.
Mayor of Barnsley Cllr. James Michael Stowe took the opportunity to personally receive and welcome the visitors from the twin town of Schwäbisch Gmünd in the town hall. The sun was shining and the English weather showed itself from its best side. "When angels travel," is Zoidl's opinion.
In the evening it was all about the football. Two "international matches" were played at the club's own football ground.
The English did not make it easy for their visitors and showed all their skills on the pitch. In the match between the active men of FC Bargau and Worsbrough Bridge AFC, Bargau clearly lost 1:4.
The U16 Youth Team of FC Normannia with their co-coach Christoph Kunze were also defeated. As the host team won the match in Schwäbisch Gmünd a year ago, the English were able to get their revenge this time, but Zoidl does not see these results as a real defeat: "We showed ourselves as good guests," he says.
The evening ended with live music in the clubhouse.

The second day started with a surprise special excursion.
The English club organised a fantastic stadium tour for us at Barnsley FC," Zoidl enthuses.
In the evening, the adults went out again to experience a different side of English life. "Of course, we also got to know a little of the pub culture," he revealed.
The next day, it was time to say goodbye and head home to Swabia.
On behalf of all participants, Philipp Zoidl looks back on what was a highly successful trip. "It was a very harmonious group. Everything worked really well." The footballers from Bargau and Normannia are also grateful for the outstanding hospitality they experienced in England.
A reunion is already firmly planned. "Maybe we'll make it again in 2025," Zoidl hopes. But it has not yet been decided where the next visit will take place. In 2027 FC Bargau celebrates its 100th anniversary which is another reason to continue this special friendship.
27/06/23

Almost 12,000 Euros for Faenza
The Gmünd Fundraising Campaign For Flood Victims Takes Stock Of The Situation
Courtesy of Gmünder Tagespost 20.06.2023

"Carissimi tutti e carissimo Robert, sono senza parole. Grazie infinite. Porterio i vostri ringraziamenti a tutta la Sarti."

Translation: Dear Gmünders, I am speechless. Infinite thanks from the whole music school, wrote Donato D' Antionio, the director of the Municipal Music School in Faenza, as a spontaneous reaction to the first transfer of donations.
The fundraising campaign started by the Friends of the Gmünd Music School and Big Band, and supported by the Town Twinning Association and the City of Schwäbisch Gmünd, took stock of the current situation.
So far, a total of almost 12,000 Euros has been collected and transferred to Faenza. Even the Town Twinning Organisation in Barnsley promoted the fundraising campaign and was able to contribute to this amount.
As part of the 'Partnership' of twin towns, Barnsley Schwäbisch Gmünd Twin Town Society joined in the plea for help, and has now transferred €174 to the Gmünd appeal total, a big 'Thank you' to all who donated.
First Mayor Christian Baron thanked Robert Abzieher and Prof. Dr. Lukas Schachner for the fundraising campaign.
6000 people in Faenza directly affected
In an interim statement on 14 June, the mayor of the city of Faenza said that 6,000 homes were now affected, among them
500 homes that were already hit in the first flood at the beginning of May. More than 2,000 people are still unable to return to their homes and are staying with family, friends or in hotels. Almost 600 businesses in trade, craft and agriculture have lost their livelihoods. At least 200 to 300 flats and houses remain partially or completely uninhabitable.
According to Mayor Massimo Isola, the Council of Faenza has removed 50 000 tonnes of waste in the last three weeks, which now needs to be sorted and sent for recycling. 1400 cars had to be removed from public traffic areas. In the city of Faenza alone, the damage to infrastructure amounts to around 60 million euros.
Damage will be visible for years

"In the midst of this one big catastrophe, there are many small ones where we can contribute directly to alleviate the suffering," says the Chair of the Friends of the Municipal Music School.12 pianos, numerous cellos, violins and percussion instruments as well as wind instruments alone fell victim to the mud. Significant parts of the Zauli Museum (Carlo Zauli, sculptor and ceramicist known throughout the world) are covered in mud and have to be cleaned in painstaking detail. The private music school Artistation was hit twice by the flood. The damage is inestimable and Faenza will have to work hard on this for months, if not years.
Prof. Dr. Lukas Schachner: "In view of the great damage, we want to send a sign of solidarity to our friends in the Twin Town Partnership and we thank everyone who has so far made a donation to help, however big or small.
17/05/23

Once again Faenza has been hit by heavy flooding
Our fundraiser is all the more important!

FLOOD EMERGENCY UPDATE at 4 pm 17.5.23
This time much stronger than in early May. The historic old town is also affected.
by Redaction - May 17, 2023 - 2:16 pm
Faenza flood

Mayor Isola: "So much destruction. Rescue teams work to bring people to safety" - IT IS ABSOLUTELY NOT POSSIBLE TO RETURN TO YOUR OWN HOMES!
The MAXIMUM RED ALERT continues for the city of Faenza.
Mayor Isola stated that the Region has issued a new RED ALERT for tomorrow - 18 May. From a meteorological point of view, the phenomena are expected to gradually decrease over the next 24 hours. There may be scattered rainfall both on the hills and in the plains. "Our embankments, especially in urban areas, are heavily damaged, a situation of SERIOUS AND MAXIMUM ALERT and extreme precaution therefore remains".

It is therefore necessary:
​​– to continue to stay on the upper floors of the houses;
– For no reason, go down to cellars and basements;
– Avoid getting on the road unless strictly necessary.
"For those who have been evacuated or forced to leave their homes,
It is absolutely not possible to return to your homes. Doing so would jeopardize your own safety "he concludes, repeating:"
The risks for the population continue to be at the highest level. Maximum attention and caution are still recommended ".
Difficult to find the words to describe so much destruction
"In the light of day and as the hours go by, the extent of the disaster that has hit our city and all of Romagna appears increasingly evident. Difficult to find the words to describe so much destruction" declared Isola, "A city flooded following the flooding of the Marzeno and Lamone rivers in the night between 16 and 17 May. However, this is not the moment for discouragement, the rescue teams are continuing unabated to bring people to safety". There are currently around 550 evacuees.
Italy's civil protection agency said on Wednesday there could be worse to come. "The rainfall is not over, it will continue for several hours," the agency's chief, Titti Postiglione, said "We are facing a very, very complicated situation."
The Emilia Romagna F1 Grand Prix scheduled this weekend has been cancelled.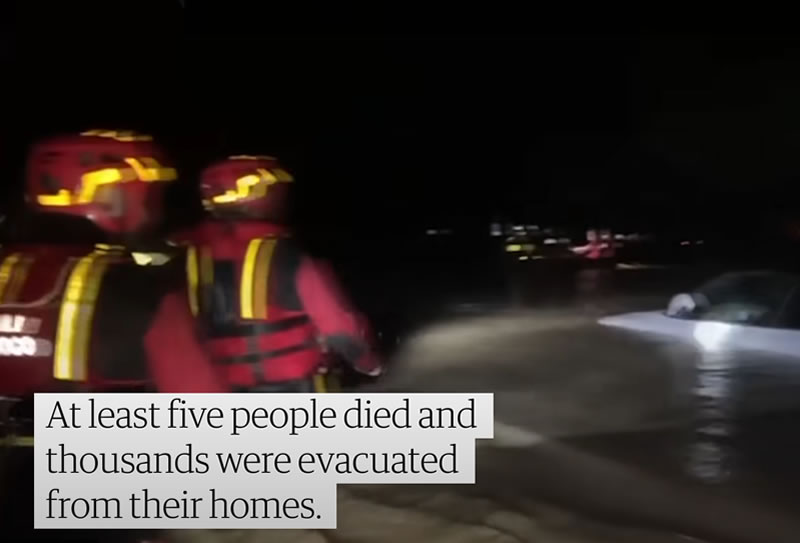 Courtesy of The Guardian

In a video shared on social media, the voices of people trapped in their homes in Faenza could be heard shouting for help.
Massimo Isola, the mayor of Faenza, said: "We had a night that we will never forget. We've never known such flooding in our city, it is something unimaginable."

Enzo Lattuca, the mayor of Cesena, where citizens swam through the floods to rescue others, said: "The situation is disastrous, it's a catastrophe, and the rain has not yet finished." He said on Wednesday morning the River Savio was starting to swell again.

Five thousand people were evacuated from their homes in Ravenna. "It's probably the worst night in the history of Romagna," Michele de Pascale, the mayor of Ravenna, told Rai radio. "Ravenna is unrecognisable for the damage it has suffered."
SOME INFORMATION
SCHOOLS of all levels will remain CLOSED
The water network is intact and that the water is absolutely DRINKABLE
For any hospitalization needs, the three first reception centres set up at Palacattani, Pala Bubani and at the gymnasium of the Don Milani school

Dear Friend or Colleague,
Barnsley Twin Town Partnership with Schwäbisch Gmünd brings with it membership of a wider network of twin towns. Schwäbisch Gmünd has four other twin towns as well as Barnsley – Antibes in France, Bethlehem in USA, Székesfehérvár in Hungary and Faenza in Italy.
You may have seen in the recent news that the region of Emilia Romagna in central Italy has been hit by catastrophic flooding. Faenza has been the worst hit. In Faenza a year's worth of rain fell in two hours, causing destruction and widespread flooding. As with any emergency of this type, the immediate crisis is handled by the emergency services.

As in the case of the Barnsley floods in 2007, the hardship and personal suffering only emerges afterwards.
Many appeals for financial aid have been set up on social media, etc. – not all reliable. Because of our connections through the twin towns network, our Society in seeking to act as a reliable agent to collect donations from the people of Barnsley.
All donations received will be channelled through the twin towns network to the most appropriate destination in Faenza.

Donations can be made through your bank to:
Barnsley Schwäbisch Gmünd Twin Town Society, sort code 30-98-97, account no. 72198262,

or by cheque to: The Treasurer, BSGTTS, 3, The Ridings, Monk Bretton, Barnsley S71 2EW.
PLEASE MARK YOUR DONATION REFERENCE – FAENZA APPEAL

Please help - any amount helps!
Thank you so much
Barnsley Schwäbisch Gmünd Partnership
16/04/23

The Garden that lovers also appreciate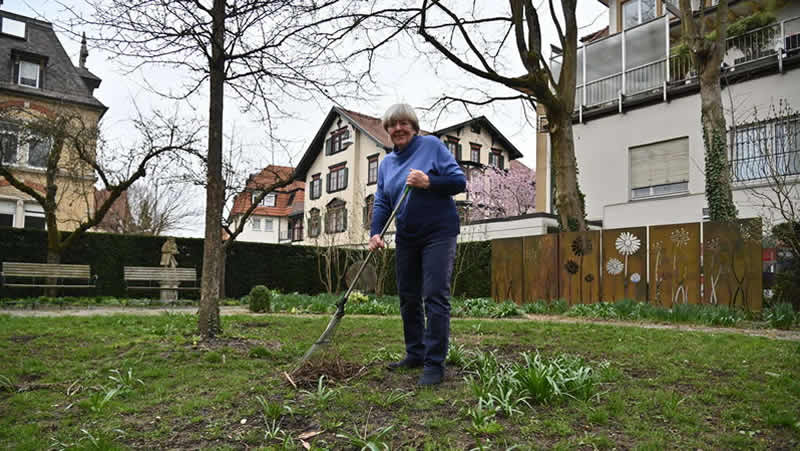 GMÜNDER TAGESPOST 10.04.2023
"I always had a garden, no matter where I lived."
Dagi Glasenapp in her "adoptive garden", the Barnsley Garden on Grabenallee
Photo: © Jan-Philipp Strobel

Von Bernd Müller


Her adopted garden is not work for her, but "always a pleasure" - why Dagi Glasenapp maintains the public Barnsley Garden in Gmünd.
What to do if you have loved your garden all your life - but are now over 80, live alone and a house with a garden is far too big?
Dagi Glasenapp has found a solution for herself that is sometimes even enjoyed by couples in love.
A visit to Barnsley Garden on Grabenallee.

The 84-year-old comes here once a week for four to five hours from her apartment on Schwerzerallee. "I tug here and there," says Glasenapp modestly. She tidies up a bit, does the fine work on the flowers and bushes, waters where necessary. It is a voluntary position that is an asset to her. She doesn't get any money. "I'm glad I can do it," she says.
Garden show as a stroke of luck.
The State Horticultural Show 2014 was a stroke of luck for Gmünd - even more so for Dagi Glasenapp. At that time, the "Barnsley Garden" was laid out on Grabenallee, actually only for the duration of the garden show. Then it stayed, and that is also due to the senior citizen who moved to Gmünd in 2013 because her son lives here. She had made contact through the town twinning association and offered to help.
"Digging a bit in the ground is good for me," says Glasenapp. For her, the happy coincidence with the Barnsley garden is a logical continuation of one of her life themes: "I always had a garden, no matter where I lived." Glasenapp even spent a few years in Thailand and Taiwan because her husband worked at the UN "I even had a gardener there - but I was never satisfied," she says ironically.
She also has help in her adoptive garden in Gmünd, the heavy work is done by the experts from the municipal garden office, she says. "I couldn't do it without the cooperation with the city." Glasenapp takes care of the little extra maintenance work that is good for a garden. "Pluck here, there," says Glasenapp. The garden rewards you for that, she sees it, almost all year round. "There's always something to see," says Glasenapp, especially in the near future, when the garden has woken up from hibernation. She is looking forward to the daffodils, later to the blooming of the lilac bushes, the peonies.
"There is always something going on here" Glasenapp likes that she now has a garden to share with people."People like to come here," is her observation, "there's always something going on here."
Four benches are distributed in the garden, plus a pavilion with a table and chairs. The use is very different, many people come for the lunch break. "There are some who take siestas here and treat themselves to a good night's sleep." Kindergarten groups sometimes come by, as does a group of women who meet in the pavilion to play cards.
In addition to the fine work on the plants, there is also what volunteers who take care of beautiful places in the city often get stuck in: tidying up, cleaning, taking away the garbage. That's always her Monday job after the weekend. Dog poop is also an occasional occurrence. And legacies that clearly indicate nocturnal lovers. Glasenapp does not want to go into detail, with the forbearance of an 84-year-old, she says: "Well, if two people have no other place to be alone..."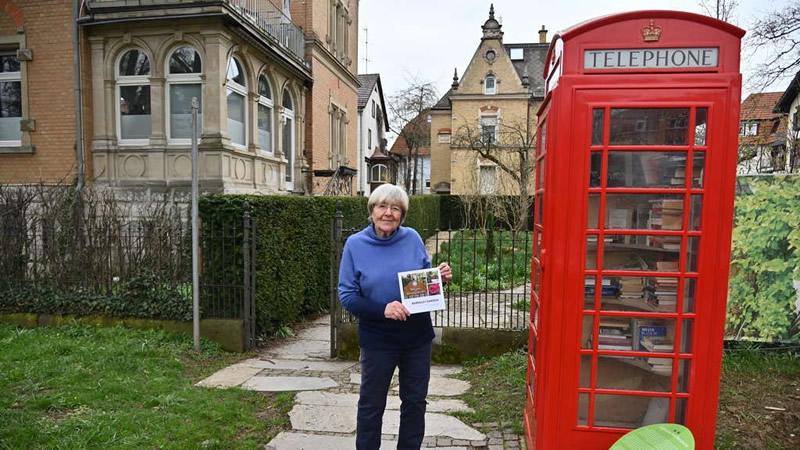 Dagi Glasenapp at the entrance to Barnsley Garden with a brochure she designed herself.
Photo: © Jan-Philipp Strobel
22/03/23

School exchange - Gmünd students in Székesfehérvár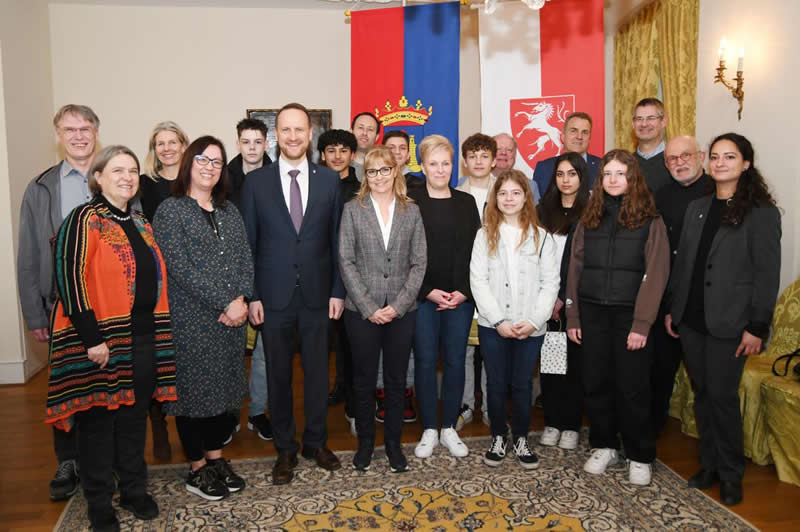 GMÜNDER TAGESPOST 21.3.2023
A big reception at the beginning of a school partnership: Pupils, headmistress and teacher of the Adalbert-Stifter-Realschule,
city councillors, members of the city partnership association and representatives of the city administration welcomed three teachers from Székesfehérvár. Photo: © HOJ

Author: Michael Länge
Adalbert-Stifter-Realschule starts a school partnership with the Lanczos Kornél high school in Gmünd's Hungarian twin town.

Tiziana wants to get to know a new country. Lara wants to meet new people, and Sidra wants to learn a little Hungarian.
The students are three of 23 students in grades 8 and 9 of the Adalbert-Stifter-Realschule, who are going on a student exchange to Gmünd's Hungarian twin town of Székesfehérvár in May.

This is the first student exchange for about 20 years, said Rector Adelheid Singer-Luschka. With seven students and two colleagues, Singer-Luschka attended a reception organized by the city administration for three teachers from the Lanczos Kornél high school in Székesfehérvár on Tuesday. Iren Lehota, Beate Schneider and Eva Vanja went to Gmünd to prepare for the exchange.

The fact that a large group greeted the teachers shows them "how important the visit is to us," said Mayor Christian Baron. Gmünd is very interested in the exchange with Székesfehérvár continuing after the Corona years. Baron has fond memories of his visits to Hungary and the "heartiness of the people". For the students, it's not just about the culture, it's also about languages. "It's always a little harder for those who don't know English or French," he said.
Four or five years ago, there was a discussion as to whether town twinning was outdated, then Corona came, then the Ukraine war. Today, Europe is looking for its role between China and the US, "this situation calls for city twinning with an honest exchange," said Baron.
The 23 students will go to Székesfehérvár with Rector Singer-Luschka and Vice-Rector Claudia Kilgus. They will visit Lake Balaton and the capital Budapest.

The students will be accommodated in host families. In return, the students from Székefehérvár will live with the German families in Gmünd.
City councilors Hannes Barth (CDU) and Thomas Krieg (The Greens) attended the reception as well as Clemens Weller and
Dr. Dirk Schmidt from the town twinning association. "We are Europe," Weller told the students, adding "You can feel that when you do something together."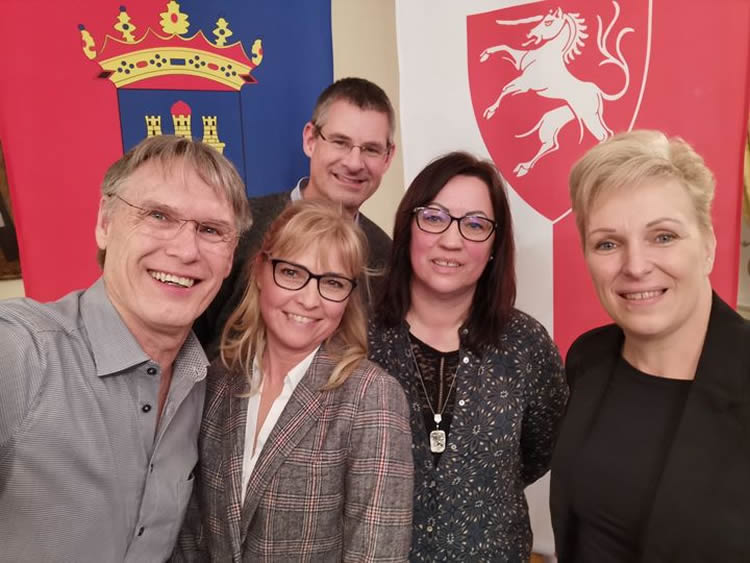 Beata Schneider, Irene Lehota and Éva Vanya-Korodi, three teachers from Székesfehérvár currently visiting Schwäbisch Gmünd preparing a student exchange with the Adalbert Stifter Realschule.
At the festive reception at the town hall, there was also a warm encounter with the town twinning partnership with Dr. Dirk Schmidt and Clemens Weller and a joint selfie. Maybe there will be a reunion at the VSP upcoming visit to Székesfehérvár, Hungary in August?
20/02/23

A 180-kg-animal at Josefsbach in Gmünd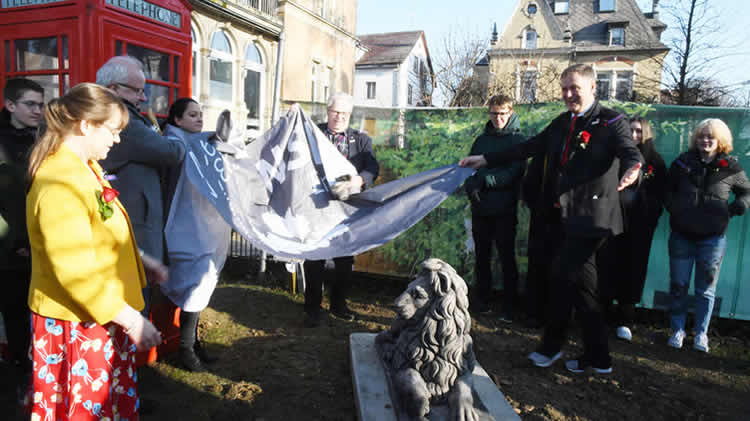 GMÜNDER TAGESPOST 10.2.2023
Present from Barnsley: Gmünd Oberbürgermeister Richard Arnold (front right) with his counterpart Sarah Tattersall from Barnsley (left) and Alan Brentnall Chair of Barnsley Scwäbisch Gmünd Partnership centre rear) unveiling the Lion. © HOJ

Author:
Bernd Müller.
Gmünd has now got a stone Lion - a present from our English Twin Town. Schwäbisch Gmünd - The town with the Unicorn now boasts a Lion: 180 kilograms in weight, made from British limestone. The sculpture is a present from our Twin Town Barnsley, the longest twinning partnership for Gmünd which is now 50 years old.

"It's a symbol of strength and courage", said Alan Brentnall, Chair of the English Twin Town Society, during the unveiling of the Lion on Friday morning.

The stone sculpture is positioned in Grabenallee in front of "Barnsley Garden" and next to the English red phone box. Alan Brentnall remembers that it took courage to extend an invitation to a group of young people from Germany to their town almost 70 years ago. "The Lion represents the strength of our friendship", said Oberbürgermeister Richard Arnold after he had welcomed his Barnsley counterpart Sarah Tattersall.

It also took courage and perseverance to transport the weighty present to Gmünd. "You won't believe the reams of paperwork which were necessary to export the Lion", said Alan Brentnall. On top of everything else, the Lion was too large for a normal palette shipment which made transport even more expensive.
But now it's done, and Alan Brentnall, together with his wife Karin, stand on the shores of the Josefsbach next to the Lion and proudly displays a "50 Years" pin badge with the crests of Gmünd and Barnsley on his lapel and the "Silbermännle" badge round his neck. During a visit to the European Staufer Days last year Alan presented the gift symbolically as a picture. This weekend, on the occasion of the Guggen Music Festival, the Lion is there for real.
"He looks great,"said a women who witnessed the unveiling. The Lion looks "nice and friendly" in Alan's opinion, and he explains that from the 12th century onwards the lion has been a symbol for England - today the three lions are best known from the football shirts of the English National men's and women's teams.
The EU partnership between Germany and Great Britain has come and gone but the good relationship between Gmünd and Barnsley will continue. "50 years ago, when we founded the partnership, England wasn't part of the European Economic Community," says OB Richard Arnold. In between it was a member for nearly five decades but not now any more. "Somehow we are back where we started," remarks Richard Arnold.
Ideal seating area for children
But all this will not be detrimental to the good relationship between the two towns and their citizens. Alan Brentnall reads out a greeting from Barnsley Town Council Leader Sir Steve Houghton CBE and Alan invites everyone in Gmünd aged 1 to 101 to sit on the Lion, especially as the height of the sculpture is ideal for children. "We are very proud and will be working on giving the Lion a name," says Christoph Bertenrath of Verein Städtepartnerschaft.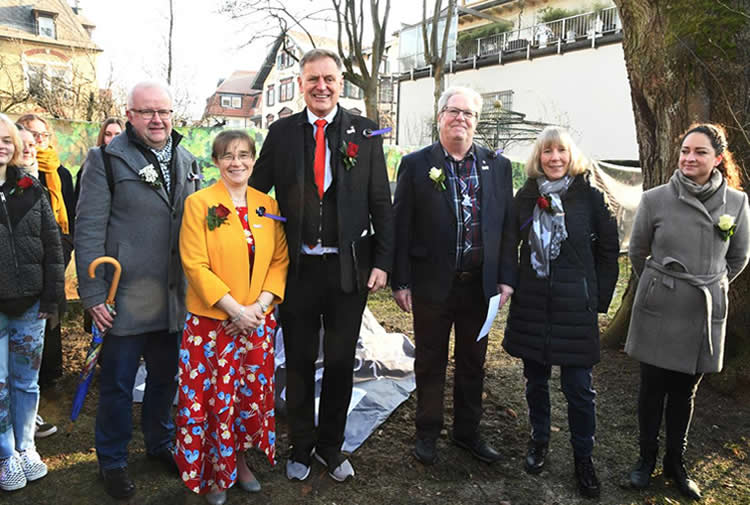 Gmünder Tagespost 10.2.2023
OB Richard Arnold (fourth from right) and Sarah Tattersall from Barnsley (second from left)
with officials of the Twin Town Societies. © HOJ
REMS ZEITUNG FRIDAY FEBRUARY 10, 2023
Courtesy of FRANZ GRASER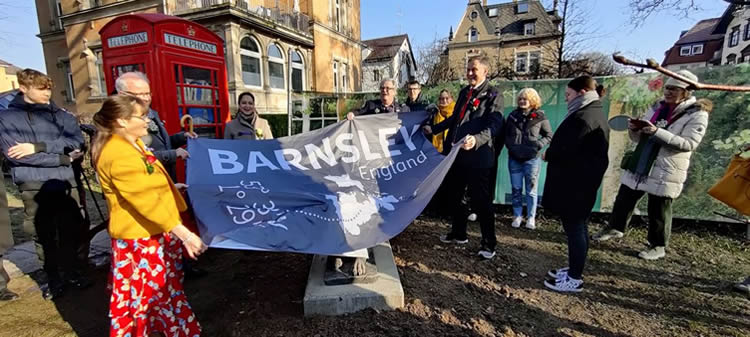 To mark the 50th anniversary of the town twinning between Schwäbisch Gmünd and Barnsley in England, a stone Lion, a gift from the "Barnsley Schwäbisch Gmünd Twin Town Society", was unveiled on Friday morning. Barnsley Mayor Sarah Tattersall, Oberbürgermeister Richard Arnold and Chair of Twin Town Partnership Alan Brentnall unveiled the Lion.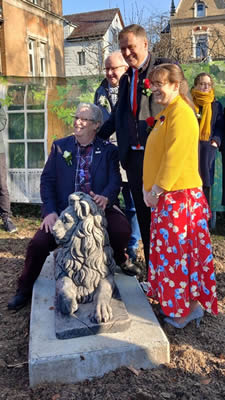 The town twinning has existed since 1971 but due to Covid the 50th anniversary could only be celebrated in 2022. On this occasion, Barnsley Mayor Sarah Tattersall and Gmünd OB Richard Arnold signed a declaration to renew and strengthen the friendship between the towns.
Alan Brentnall, chairman of the Barnsley Schwäbisch Gmünd Twin Town Society mentioned the importance of the lion as a heraldic animal in his humorous speech.
The lion represents strength, courage and friendship. It adorned the coat of arms of the English King Richard the Lionheart and today is the sign of the English national football teams, for both men and women.

Alan Brentnall said the lion positioning next to the red English phone box, which now serves as a small library, was a good choice. If anyone thinks they can nick a book, they'll think twice when they look at the lion. He then invited everyone aged from 1 to 101 years old to sit on the Lion and proceeded to do just that after the unveiling.
Oberbürgermeister Richard Arnold paid tribute to the friendship between Gmünd and Barnsley. This partnership is particularly important to him because he first went to Barnsley with the Michaels Choir Boys in the 1960s. This journey, during which he crossed the English Channel for the first time, left a deep impression on him, Arnold said.

A special thank you goes to Dagi Glasenapp who has been tending the Barnsley Garden on a voluntary basis for many years.
01/02/23
Fasching, or Fastnet, could you stand the pace?
On February 11th and 12th, 20 Guggen bands with around 800 musicians from Switzerland, the Principality of Liechtenstein, Austria and Germany will come to the oldest Staufer town, also called the Mecca of Guggen music for good reason.

The unofficial start of this event takes place on Friday evening with the Guggenball of local Guggen band Gmendr Gassfetza in the Prediger. In addition to performances by Guggen bands, the party band "No Exit" ensures the best atmosphere.



Party Band "No Exit" ensures the best atmosphere
Guggenband "Los Krawallos" will be there again

The interest of Guggen bands to perform in Schwäbisch Gmünd is still strong. At the 38th International Guggen Music Meeting there are bands to be seen and heard that have not been guests in Schwäbisch Gmünd for a long time.
The Guggenmusik ensemble "Los Krawallos" around 50 musicians - around half of them people with disabilities will be there again on Saturday.
Year after year, this spectacle attracts tens of thousands of visitors from all over Germany and beyond to the historic old town of Gmünd. The squares and alleys, but above all the bars in the city centre form the framework for what has now become an integral part of the city's calendar of events.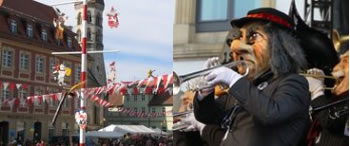 The festival of weird tones begins on Saturday with a special feature that has already become a favourite. The procession starts at 11 a.m. with the fool's tree at Bockstorplatz. Children are cordially invited to accompany two Guggen music bands to take the fool's tree to the market square, which will then be erected by the "Rudos" mask group with the active help of the Wetzgau fire brigade.

The official reception by the city of Schwäbisch Gmünd begins at 12.15 p.m. on the stage in front of the Marienbrunnen on the upper market square. First mayor Christian Baron and event manager Robert Frank will welcome the participating Guggen bands together with the jesters of the court. After this Guggen bands will perform on the stage on Johannisplatz and in the Gerberplatz area on Ledergasse. Families with small children also have the opportunity to experience the Guggen musicians with their colourful and imaginative costumes up close during the day.
The physical well-being of visitors is also well catered for.
Not only the bars in the centre of Gmünd, but also numerous locations associated with the Fasnet working group have stocked up so that the supply of guests with food and drink does not come to a standstill. From 6 p.m. on the Upper Market Square, the monster concerts take place on Johannisplatz and in Ledergasse on Gerberplatz.
This night of nights continues with a leisurely stroll through the bars in the city centre. At this point you'll probably need to keep telling yourself that it's the taking part that counts!

On Sunday, the sports hall in Katharinenstrasse will be the arena for the Guggen Festival.
The Guggenmusik morning pint starts at 11 a.m., - hair of the dog - which experience has shown lasts until late in the afternoon, there Guggen fans can experience it all again - oh dear!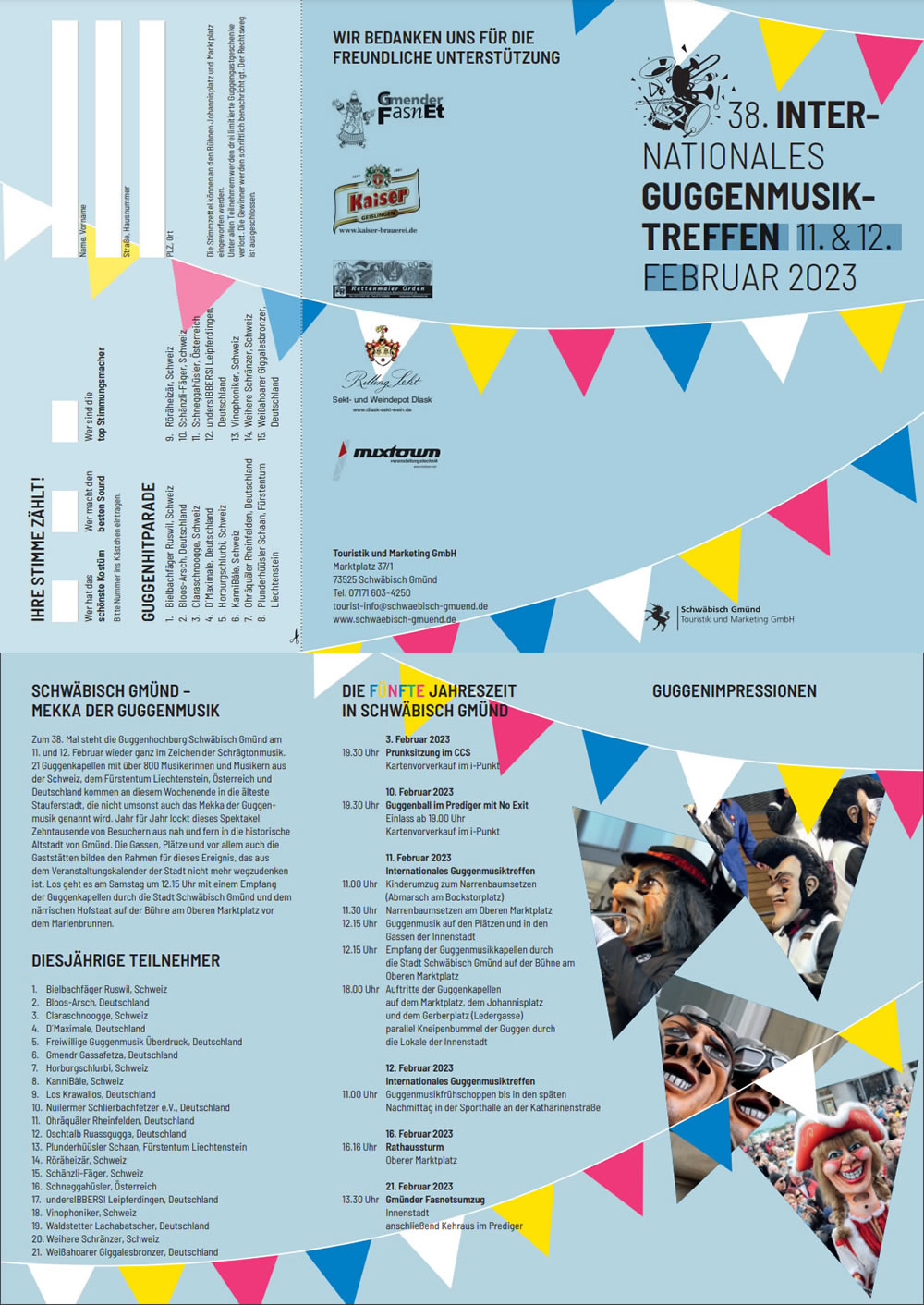 But visitors at this year's Guggenmusik festival will have to work too, and once again have a special task.
As judge and jury, you can choose the band with the best sound, the most beautiful costume and the greatest mood maker.
The program flyer, which also contains the voting card, is available at all catering stands. Simply enter the number of the band that you like best in the appropriate section, add your address and put it in one of the voting boxes at the hospitality stands at the Oberer Marktplatz or Johannisplatz stages. The awards ceremony and prize-giving to the Guggen bands takes place during the morning pint.
All people who took part in the voting are entered into a raffle. You can win three limited-edition Guggen guest gifts designed by the Gmünd ceramic artist Christine Petraschke.
Anyone who enjoys a carnival with weird, mad music, colourful and imaginative costumes and can 'stay the pace', should not miss this spectacle and go to Schwäbisch Gmünd on February 11th and 12th for the International Guggenmusik Festival.

24/01/23
The Carnival of International Guggenmusik is back !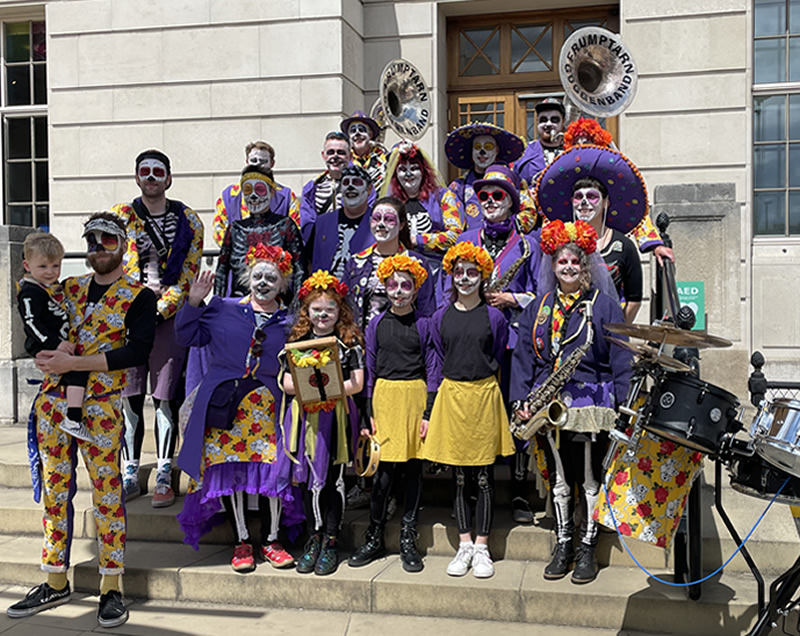 Frumptarn Guggen Band during our 50th Anniversary celebrations in Barnsley


The International Guggenmusik Festival held annually in Schwabisch Gmund will resume on 11th to 12th February 2023 after a pause due to Covid. Sixteen society members, friends and Frumptarn members will travel to be part of the "mad music" weekend, a name that it has been given by some Gmundians. Unfortunately, Barnsley's Frumptarn Guggen Band will not be taking part due to invitations to all the bands at the last cancelled festival taking precedence.
What is Gugge or Guggen music?
First explicitly mentioned in 16th century A.D., this type of music has its origins in the folk custom of chasing away the 'spirits of winter' by blowing cows' horns. To this end, the music of the carnival season also needed to be sufficiently loud, weird, and frightening. Rattles, tin pails, drums, cow bells, or whistles came into use. Imaginative masks and costumes to frighten away the spirits of winter were initially fashioned out of towels and old rags.

Guggenmusik is played during Fasnacht, the Swabian-Alemannic carnival season. The most common explanation of the word "Gugge" is that it may derive from the "Sack/Tüte", meaning "bag". Other unsourced explanations include the word used for a small children's trumpet, a (Swiss German) word for "scream", or the cuckoo's call.
Guggenmusik takes centre stage at carnivals
A "Guggemusik" band thus refers to a group of people playing loud music and typically wearing costumes and masks in a uniform style. It is a strongly rhythmic music of distinctive style played with brass instruments, pipes and drums. Although melodies remain clearly recognizable, they are at times played "off-key", intentionally and often quite skillfully. Driven by a dominant rhythm section, the music sounds twisted and thrilling, very danceable and perfect for spontaneous street concerts during the "wild days" of Carnival.
Today there are many types of Guggenmusik to inspire carnival celebrants. Bands usually play well-known pop songs but also folk tunes and children's music. Originally associated with winter carnivals, Guggenmusik has evolved, taken on its own identity and become a focal point of carnivals with bands taking centre stage and performing well polished 'concerts' for their audiences.
At present, the world's largest "international Guggenmusik" gathering is a two-day event held annually in Schwäbisch Gmünd, Germany, bringing together bands from Austria, Germany, Liechtenstein, Great Britain, and Switzerland, and attracting 60,000 to 100,000 visitors.

15/12/22
Festive Greeting to our friends!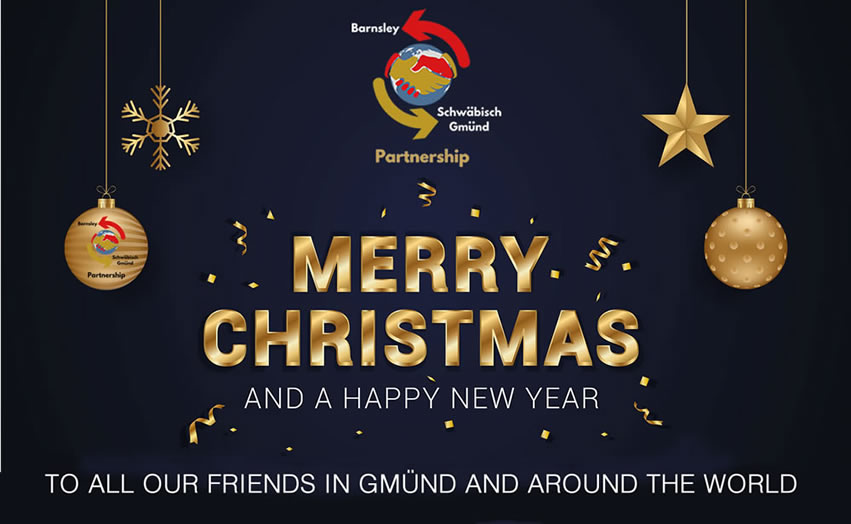 14/11/22
Nations fall silent on Remembrance Day

Across the world Remembrance Day is a memorial day observed since the end of the First World War to honour armed forces members who have died in the line of duty. Member states of the Commonwealth of Nations adopted Remembrance Day, while the US chose Veterans Day.

Following a tradition inaugurated by King George V in 1919, the day is also marked by war remembrances in many non-Commonwealth countries. In most countries, Remembrance Day is observed on 11 November to recall the end of First World War hostilities. Hostilities formally ended "at the 11th hour of the 11th day of the 11th month" of 1918.

A two-minute silence was held across the UK on Friday to mark Armistice Day.

On Remembrance Sunday (the closest Sunday to 11th November) all around the UK people gathered at the local cenotaph in their cities and villages to pay respect.

In Barnsley a large crowd gathered, The Mayor led the Civic Remembrance Sunday commemorations at 11am outside the
Town Hall at the War Memorial, joined by Sir Steve Houghton, Dan Jarvis and other civic dignitaries. Students from Barnsley College, read a poem, and several local schools laid wreaths and artwork.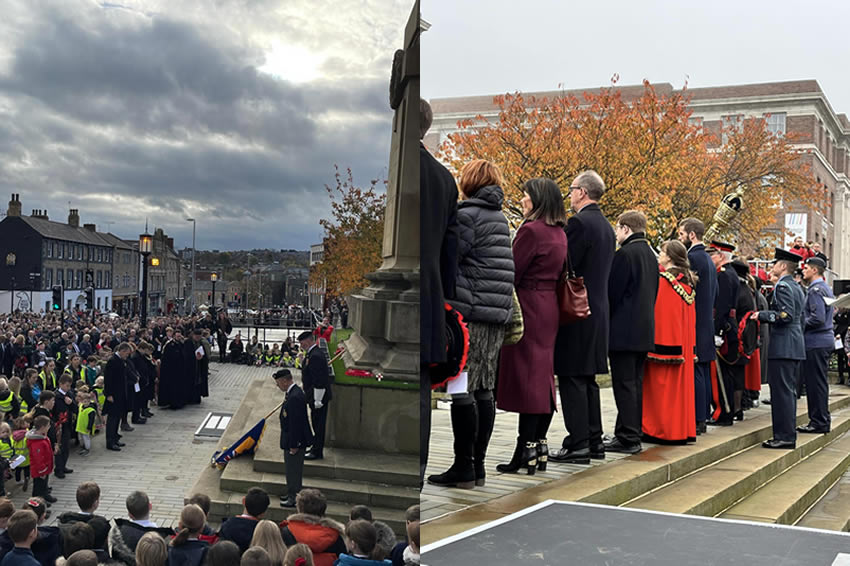 Barnsley Schwäbisch Gmünd Society were represented by Honorary President Mr Keith Jowett together with
Secretary Mr Philip Coppard, laying a wreath on behalf of the society.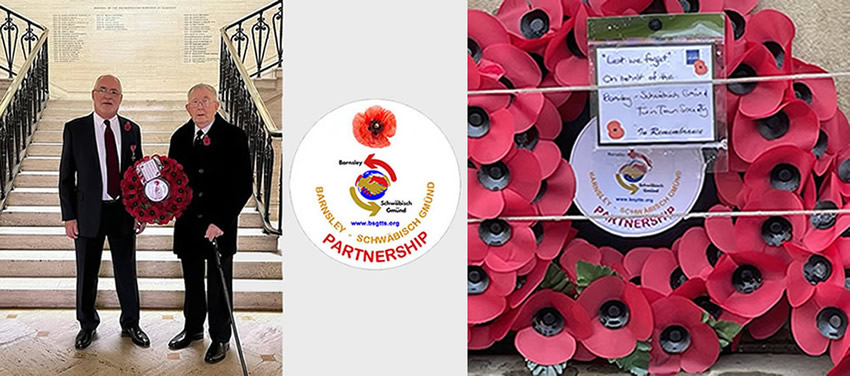 In London, King Charles III led a ceremony and laid a wreath at the Cenotaph in front of other royals and senior politicians.
This year's commemorations to remember the war dead involved the recently restored Big Ben striking 11 times.

Approximately 10,000 Royal British Legion veterans, representing 300 different Armed Forces and civilian organisations, took part in the March Past; they were joined by an estimated 10,000 members of the public who lined Whitehall to watch the service.

Among those marching was 100-year-old Second World War veterans and those who served in recent conflicts including in Afghanistan. 400 members of the South Atlantic Medal Association marched past the Cenotaph to commemorate the 40th anniversary of the Falklands War. They were also joined by bereaved family members with the youngest marcher aged eight years old.

Prime Minister Rishi Sunak said: "This year more than ever, we are reminded of the huge debt of gratitude we owe those who lay down their lives to protect their country."

The German national day of mourning is the secular public holiday of Volkstrauertag, which since 1952 has been observed two Sundays before the first Sunday of Advent, in practice this is the Sunday closest to 16 November. The anniversary of the Armistice itself is not observed in Germany.


10/11/22
Early Youth Exchange Reunion sparks an appeal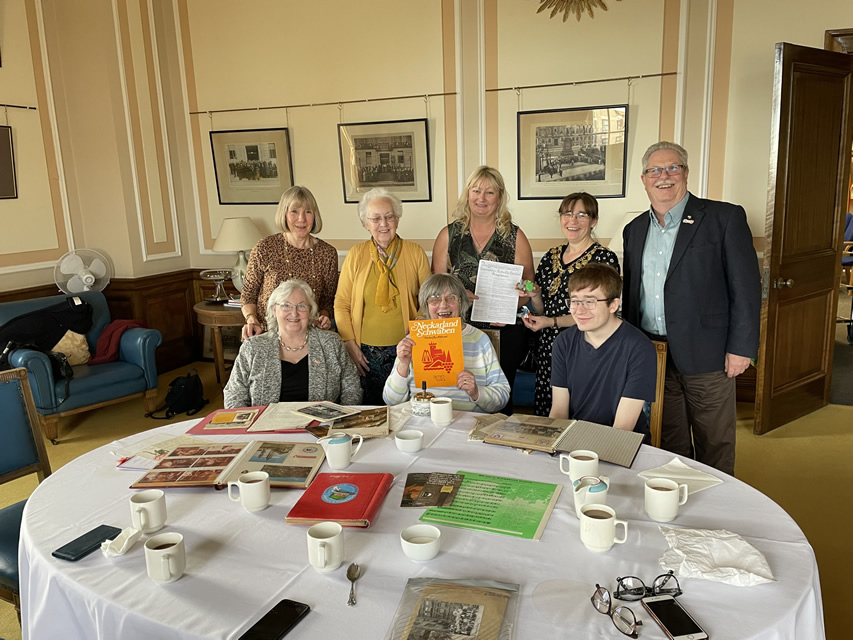 L to R Karin Brentnall - Co-Chair BSGTTS – Dorothy Hayward – Linda Stott – Mayor Sarah Tattersall - Alan Brentnall – Co-Chair
Seated : Valerie Barker – Margaret Tattersall – Consort Ethan Tattersall


Barnsley and twin town Schwäbisch Gmünd are celebrating the 50th Anniversary of the signing of the twinning agreement this year (postponed 1 year due to Covid).

During the festivities held here in Barnsley and in Germany, Barnsley Mayor Sarah Tattersall for St. Helens Ward revealed that she had previously visited Schwäbisch Gmünd as a child, taken there by her mother Margaret as part of a youth exchange programme in the early 80's.
Members of Barnsley Schwäbisch Gmünd Society Dorothy Hayward and Linda Stott remembered the visit well as they both took part in the same exchange, Linda also as a child and Dorothy as a parent.

Long standing member Valerie Barker and former Barnsley Youth Services Officer responsible for organising the early youth exchanges was thrilled to join the reunion at the Mayor's request. Her contact with Margaret Tattersall has remained constant throughout the many years.
Member Linda Stott found the actual programme from the visit amongst photos at home and along with other memorabilia brought together, ignited many happy memories.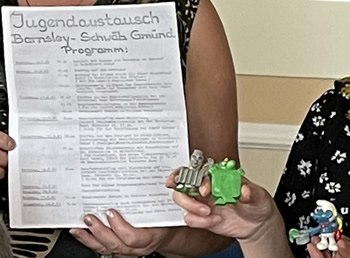 The actual programme of the early exchange and
some of Mayor Sarah Tattersall's childhood toys
brought back from the visit to Gmünd
A highlight was the discovery of toys brought back from the visit that Mayor Sarah played with as a child.
These included a Smurf manufactured in Gmünd, the character that brought the Schleich company to the world's attention.
There must be many other Barnsley people who took part in the early youth exchanges or visits via schools, youth clubs or sports clubs, if so, we would love to hear from you.

Please contact Barnsley Schwäbisch Gmünd Society:
Email: bsgtts@gmail.com
Tel: Secretary: Phil Coppard 01709 812187

16/09/22 In happier times – When Elisabeth met Elizabeth: Mayor's wife and Queen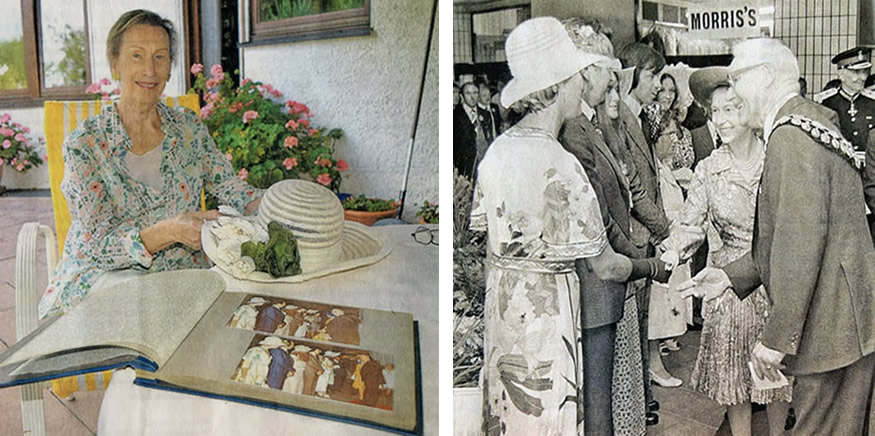 Elisabeth Schoch (84) still has many photos of her meeting with the Queen, as well as her hat which she had
specially made for the visit to Barnsley.

29. July 1975: Elisabeth and Oberbürgermeister Norbert Schoch from Schwäbisch Gmünd are presented to the Queen
in Barnsley.

Queen Elizabeth II and Elisabeth Schoch came face to face during the visit to Barnsley.
Elisabeth Schoch the wife of the Schwäbisch Gmünd Oberbürgermeister Norbert Schoch had the honour to meet the Queen and Prince Philip in Barnsley when a new shopping Centre was opened in 1975.

This week, Rudolf Böhmler, Former Permanent Secretary of Baden-Württemberg, and the widow of Dr. Norbert Schoch met and recalled cordial moments with sadness, gratitude and with and a measure of serenity.
09/09/22
Barnsley, the English twin town of Gmünd, mourns the death of the Queen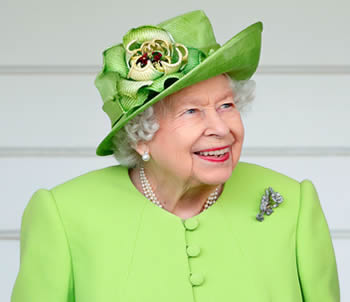 Courtesy of GERALD BAUER & Rems Zeitung
THURSDAY 08 SEPTEMBER 2022
Schwäbisch Gmünd's English twin town, Barnsley, mourns the death of Queen Elizabeth II, who passed away on Thursday.
As head of state, the monarch has visited the old mining town several times. There are film recordings of these visits, which can be found on the Internet platform Youtube under the keyword "Queen visits Barnsley".
In 1971 the official partnership between Barnsley and Schwäbisch Gmünd was sealed. The 50th anniversary of the partnership was celebrated this summer with a big open-​air festival in the city garden in Schwäbisch Gmünd.

In addition to official encounters, many private friendships developed over decades. This direct and personal international exchange of people from the twin towns is the major concern of the Gmünd partnership association.

Barnsley is in South Yorkshire. Since the first half of the 1970s, Barnsley has been a "metropolitan borough" with 231,000 inhabitants (2011).
In 1086 'Berneslai' was first mentioned in the Domesday Book and in 1249 it was granted market rights by King Henry III. From the Middle Ages until 1993, Barnsley lived mainly from coal mining. Due to the structural change in mining, Barnsley had to initiate the transformation process years ago and create jobs in other areas.
In accordance with English local law, part of the council is elected for three years in a row. The highest representative of the city, the mayor, is elected from among the council (municipal council) for one year. The city government is headed by the Chief Executive.
On the occasion of the death of the English Queen, the Friday edition of the Rems-Zeitung reported extensively on Queern Elizabeth II, who enjoyed an absolutely special position among the reigning monarchs in Europe and who impressed many people around the world with her extraordinary biography.
BSGTTS join with our twin town friends around the world in mourning the passing of a very unique and special lady,
Queen Elizabeth II, rest in peace your Majesty and Thank you for everything.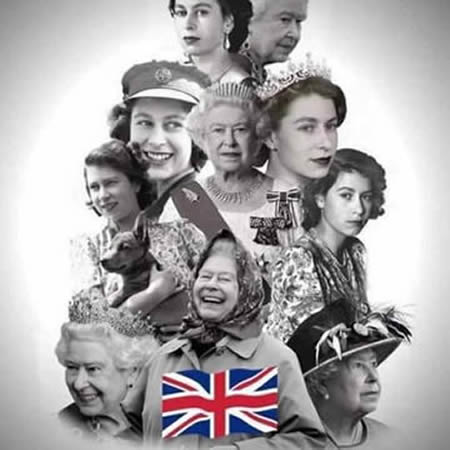 22/07/22
Common values shared over 1200 years


Author: Bernd Müller
Courtesy of Gmünder Tagespost

Festive service in the Münster as final event of the European Staufer Days – The Saga, The Town Twinnings and our Youth, all to be carried on in the future.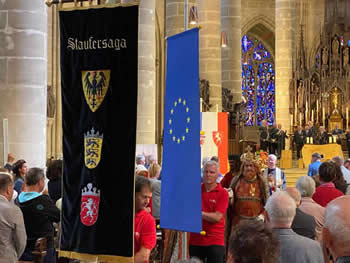 Festive service in the Münster as
final event of the
European Staufer DaysNot a word has been spoken yet but the flags already show what this festive service will be about, - about the Staufer dynasty, about Europe and about six towns who want to be connected with each other. It will be about common values.
This week we saw how hundreds of actors in the play "Moments of the Staufersaga" represented just that, with their stories, with fantastic images, with their cooperation and teamwork:

After the service Gundi Mertens, deputy chair of the Staufersaga Society, put it like this: The best thing of all had been "to achieve things together, as friends, to build cohesion".
This ecumenical church service in the Münster on Sunday morning with all its participants strongly emphasises the common values of this community which spans different eras, borders and languages.
Konrad Sorg in the robes of Emperor Barbarossa reminds us of the "values of chivalry". Sarah Gros NF, representing his wife Beatrix, says: "We want to build a house in which peoples can live in peace. This house is our Europe."
Zeynel Alkis, dressed as the Arabic scholar Ibn Zafar, underlines the diversity of all people on earth who, after all, are all human: "In all our differences we are all the same".
This is a clear message, and not only because of the European flag displayed in the Münster: We belong together, and we are happy to be enriched by the integration of other people and their culture: For example when listening to the gospel singer
Janine Dyer from Barnsley whose lovely solo voice filled the Münster twice during the service.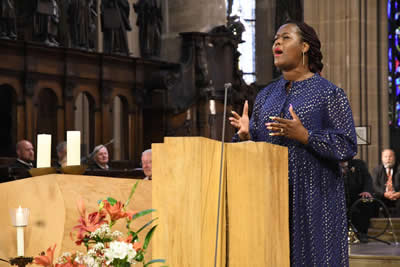 Cohesion, community, connections – these key terms come up again and again this morning. According to the sermon of Catholic Dean Robert Kloker it is all about "understanding history and mastering the future together."
Kloker calls himself a "hobby historian" and reminds us that kingship in the Middle Ages was often not a despotic rule from the top but a "consensual rule." Protestant Dean Ursula Richter speaks against things which divide us, like fences and boundaries.
"Togetherness in diversity" (Richter) is also evident in the hymns sung this morning, each verse in a different language: German, English, Italian, French. Only Hungarian is missing, perhaps because it was recognised, as Dean Ursula Richter admits during her welcome words to all people who attended the service, that "Hungarian is the most difficult of them all..."
A Week Of Lasting Effect
After the Service the flag wavers from Faenza show their skills in front of the Münster, and the royal couple Konrad Sorg and Sarah Gros NF willingly pose for keepsake photos. "How do I address you: Your Majesty?" one women asks. How many times have they had to pose for photographs so far? "I stopped counting after ten", says Konrad Sorg.
Amongst glasses of sparkling wine, words of thanks and many conversations Oberbürgermeister Richard Arnold sums up the important points once again: "Togetherness doesn't appear from nowhere, it is something we have to achieve ourselves.
We very much need it for the future."

........ and what about the future? Will this Staufer week have a lasting effect?

According to Richard Arnold it will. He says that he cares about young people in particular. "175 years of partnership – that sounds ancient, for this reason it was so important to get young people involved, for example during the sports tournaments between teams from the twin towns."
20/07/22
"There must never be another fence like this!"
As part of the the town twinning celebrations 'Service in the Münster' in Schwäbisch Gmünd, we heard two sermons delivered in German, the second sermon about Europe and Values, by Dean Ursula Richter from the Evangelical Church in Württemberg has now been translated into English and is shown below, well worth a read.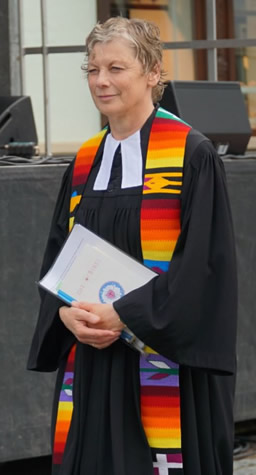 Dean Ursula Richter
Evangelical Church in Württemberg. Dear friends, Europeans, people from all over the world, dear sisters and brothers. "There must never be another fence like this."

During a recent event older people were reminded of the Second World War when Switzerland and National Socialist Germany erected a border fortification which proved particularly disastrous for Jewish refugees, and many were also reminded of the border, the wall which ran through the middle of Germany: The event bringing on such memories was that in March 2020 between Constance in Germany and the adjoining town of Kreuzlingen just over the Swiss border, a fence was installed to contain the pandemic.
It was twice reinforced at later stages. Even lovers could no longer come together.
To the applause of several hundred people, the border fence was dismantled again in May of this year. Today this fence has been placed as a contemporary record in the House of History Museum – as a reminder not only of Corona (we are not through yet) but of the basic values of freedom of movement, coming together and of the common European idea.
It is good that we are so touchy when it comes to barriers like this, after all, the peace project Europe came into being because following the devastating World Wars people started reaching out to one another for peace and reconciliation, churches approached their counterparts in other countries and encounters, exchanges and partnerships were stimulated on many levels, and are still going on as we see today in this church.

Looking at the 175 years of town twinning we celebrate today, it is good to experience togetherness in the diversity of music, culture and character. Let us never lose sight of the fact that diversity, not uniformity, is our greatest wealth. After all, God created such a diverse world.

We owe great respect to the politicians who after the terrible experiences of the wars in Europe strove for new beginnings between their peoples, based on peace and togetherness,and we also respect all those who today promote unity and peace in the face of Europe's great challenges, even beyond the EU.

"Seek peace and pursue it." reads Psalm 34. The origins of European values are essentially shaped by the Judeo-Christian religion and also by impulses from Islam which for centuries was more open to the world than the Church. But there are always people who oppose values like freedom and equality of all people, tolerance and participation.

We can all feel this opposition, in terrorism of all kinds and the current atrocities in Ukraine. In stoking fears and distorting the truth. We all know how devastating and destructive this is in everyday life, on the internet and in our streets. Nationalistic and autocratic currents are gaining strength, and sealing ourselves off from the outside world appears to be the answer.

"There must never be another fence like this!" Yes, this much is true. How fantastic is it to be welcome and at home in Antibes, Faenza, Székesfehérvár and, despite Brexit, in Barnsley, and even across the Atlantic in American Bethlehem – just as we welcome you as our guests here.

But what about the borders to the outside world? What about the people who flee to us across dangerous routes like the Mediterranean or overland because they have no livelihood, flee from war zones, are displaced, are starving? Churches and humanitarian organisations are working hard to ensure that Europe does not become a bastion. To achieve this, we apply the principles of our tradition and religion. For example, Jesus' parable of the rich man and the poor Lazarus who suffers at his door. In the eyes of God, this behaviour is intolerable. Intolerable from a point of view of humanity. God himself became man in Jesus Christ, and He calls upon us to act as fellow human beings. St. Elisabeth, St. Martin: these are not just folk tales. Jesus is serious: he who has two coats, give to him who has none. Peace needs justice.

This also applies to our common house of Europe. Putin's attack on freedom and democracy makes us more aware of our common values – and, if necessary, we must defend these values with prudence and wisdom. It is good to see that Europe is taking in refugees from Ukraine. Our house has open doors. But are there refugees – people, after all – of first and second class? For years Gmünd has rejected this way of thinking. And many others in Europe did the same.

In Africa I heard a wise proverb: "I am because you are, and you are because I am." We are all different, and yet like one body. In Europe, in the world, as churches and religions. I am because you are and you are because I am.
The whole body is affected when one limb suffers. The Apostle Paul emphasises this again and again. He means the body of Christ with its various limbs. I cannot imagine that this only includes the constituted church or only those who are like us.
For to Him and through Him are we all. This is what I believe. Therefore I say: "There must never be another fence like this."
I conclude with the Jewish Talmud. One question in the Talmud is: "When does the night end and when does the day begin? When you recognise your hand in front of your face? When you can distinguish a tree on the horizon? The night ends and the day begins when in the face of another human being you recognise your brother and your sister".
May our values in Europe at all times be measured against these words.
Amen.
16/07/22
Worsbrough Bridge AFC guests in Gmünd
Courtesy of Rems Zeitung, - Schwäbisch Gmünd - Saturday 9th July
Successful start of a new football three-way friendship in Bargau


The active footballers and managers of FC Normannia Gmünd and FC Germania Bargau met in Bargau with the footballers of Worsbrough AFC, an English club from Gmünd's twin town Barnsley, for the kick-off event of their new partnership.

At the end of May, a Gmünd delegation visited Barnsley for the launch of this new football partnership. Now the return visit follows, as the twinning weekend was scheduled in Gmünd.

On Saturday the first match will be played between the three clubs at 1pm at the Normannia stadium. Players from Normannia and Bargau will meet the footballers from Barnsley for a friendly.
After a welcome by those responsible in Gmünd the footballers got to know each other on the pitch during a joint training session at the kick-off event in Bargau. During this training session, which was conducted jointly by the English and German coaches, interesting differences in training methodology and football philosophy became apparent. Last but not least, the more physical English style of play stood out.
The final game ended in a fair draw, which is why a penalty shoot-out followed. There is probably no need to say anything about the outcome of a penalty shoot-out between Germany and England, however, everyone agreed that it was a very high-level training session that was great fun.

The officials used the time during the training to present their clubs, compare their structures and discuss the differences between the two football systems. The absolute highlight though, was the third half, during which German and English popular songs were sung.

A visit to England is already planned for the 100th anniversary of Worsbrough AFC next year.

23/06/22

"European Staufer Days" with integrated anniversary promises to be a spectacular
The "European Staufer Days" festival from 6th to 10th July with an integrated anniversary evening on July 8th promises to be another spectacular !
This festival is a time for the city people to come together again, Oberbürgermeister Richard Arnold invites all citizens in and around Schwäbisch Gmünd to the newly written open-air theatre piece "Moments of the Staufer saga - a magical journey through time" in the Remspark.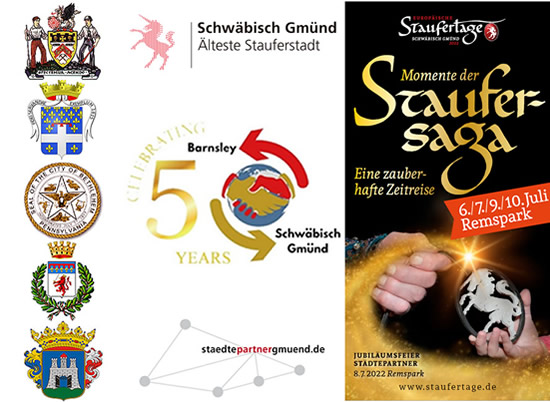 Carmen Bäuml has the task of bringing the 538 participants together for rehearsals and the dress rehearsal. She also manages the
700 volunteers who are assigned in front of and behind the stage to ensure that everything runs smoothly, it will be once again, a massive production. The audience will be whisked away into the past and back into the future. Many children will be involved. You can look forward to well-known scenes from the Staufer Saga performances in 2012/2016.
A highlight of the festival week in Schwäbisch Gmünd will be the town twinning anniversaries on Friday, July 8th with all the twin towns.
Barnsley, Great Britain, has existed for 50 years,  
Antibes, France, has existed for 45 years,
Székesfehérvár, Hungary, has existed for 30 years.
Bethlehem, USA, has existed for 30 years,
Faenza, Italy, has existed for 20 years
Some of the delegations will take part in the play and there is a varied program in the city centre and in the Remspark.
"European Staufer Days" festival Programme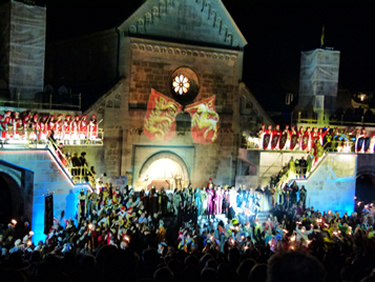 Wednesday, July 6
8 p.m. - Premiere "Moments of the Staufer saga - an enchanting journey through time" in the Remspark

Thursday, July 7
8 p.m. - "Moments of the Staufer saga - an enchanting journey through time" in the Remspark

Friday, July 8
6:30 p.m - Town twinning anniversary evening in the Remspark

9 p.m. - "BESAR" - rock & blues band from Barnsley in the Remspark
Saturday, July 9th
The hockey clubs from Antibes and Schwäbisch Gmünd celebrate 101 years of friendship, the football clubs from Barnsley and Schwäbisch Gmünd start a football friendship,
the swimmers from Hungary, the gymnasts from Antibes and other Athletes from Faenza
meet their opponents from Schwäbisch Gmünd


2 p.m. - Sports Olympics on the football field of FC Normannia Gmünd

4 p.m. - hockey field, gymnastics and fencing in the large sports hall
and swimming in the indoor pool

8 p.m. - "Moments of the Staufer saga - an enchanting journey through time" in the Remspark

Sunday July 10th
10.30 a.m. - Ecumenical service in the Heilig-Kreuz-Münster

8 p.m. - Dernière "Moments of the Staufer saga - a magical journey through time"
with sign language interpreter, in the Remspark
Anniversary evening on Friday, July 8, in the Remspark
From Antibes, jazz musicians from the Conservatoire de Musique will play.
There's a gospel singer from Barnsley singing.
A new piece to confirm friendship was written from Bethlehem especially for the anniversary, which is being rehearsed and premiered by the music school in Schwäbisch Gmünd.
From Székesfehérvár comes a 35-person folk dance group with music.
Flag-wavers from Faenza will show their art of flag-waving not for the first time.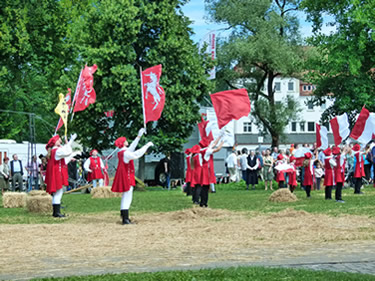 After the anniversary celebration, the rock & blues band from Barnsley "BESAR" will play on the same stage.

A little introduction to our favourite little band from Barnsley - https://fb.watch/eu8a8YnbHO/

18/06/22
50th Anniversary celebrations - three days full of welcome, new friendships and new impressions.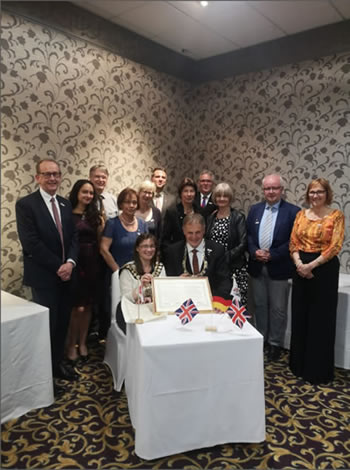 Three days full of welcome, new friendships and new impressions – this is how the delegates from Gmünd town council sum up their trip to celebrate the 50th anniversary of the town twinning between Barnsley and Schwäbisch Gmünd.
Oberbürgermeister Richard Arnold was accompanied by Brigitte Abele, Dorothea Feuerle, Brigitte Weiß and Uwe Beck, representatives of Schwäbisch Gmünd town council and Anna Klamann from the cultural office.
Barnsley welcomed friends from our twin town in southern Germany to celebrate together, a year late due to Covid restrictions, the 50th Anniversary of the signing of the twinning agreement.
There were a number of speeches expressing the importance of the friendship between the two towns.
Mayor Sarah Tattersall recalled being placed with a family as an eight-year-old girl visiting Schwäbisch Gmünd for the first time.
"It was a wonderful experience that I will cherish forever" said the mayor, adding that she was looking forward to renewing and deepening the partnership with Schwäbisch Gmünd.
She will be very happy to go to Schwäbisch Gmünd in July.

Oberbürgermeister Richard Arnold expressed his thanks for the invitation to the jubilee celebrations in Barnsley. In view of the political situation, "our friendship is more important than ever!" said Mayor Arnold.
He also fondly remembers his first visit to Barnsley as a ten-year-old boy, when the choir was on a concert tour of southern England. He invited his counterpart as well as other members of the town council for a return visit to Schwäbisch Gmünd and emphasised: "The good thing about this partnership is that we can learn from each other and work together!"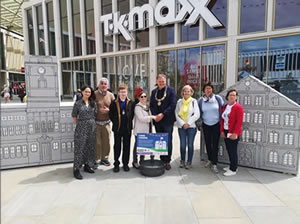 Both mayors reaffirmed the friendship of the two cities, signing a new agreement that acknowledges past cooperation and calls for a deeper partnership in the future.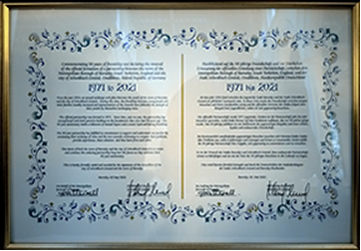 The 50th anniversary of the Town Twinning between Barnsley and Schwäbisch Gmünd was celebrated in a big way in England and the management of FC Normannia Gmünd took this occasion to promote the relationship between the two towns with a new partnership in the field of sports.
A further participant of this cooperation is FC Bargau who due to other club activities was unable to participate in Barnsley.

Worsbrough Bridge AFC in Barnsley, FC Normannia and FC Bargau from Schwäbisch Gmünd look forward to a possible three way partnership, learning and cooperating from each others planning, training and development methods including encouraging youth activities for the mutual benefit of all clubs.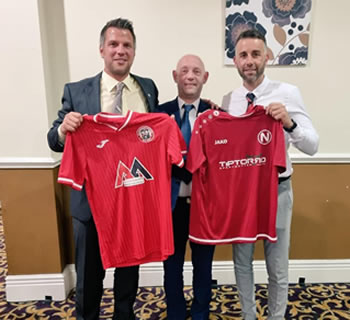 During the jubilee celebrations Normannia representative Christoph Kunze had the opportunity to exchange football shirts with his colleagues from the English partner club.
Plans for the future have already begun. In July the clubs will meet on the pitch in Schwäbisch Gmünd.
Joint training sessions are planned for the footballers from Worsbrough Bridge AFC leading up to a ceremonial match which will take place on Saturday July 9th in Gmünd against players from FC Normannia and FC Bargau.
To mark this occasion, we believe the Mayors from Barnsley and Gmünd will perform the first 'kickoff ' .....and then presumeably quickly run to escape the advancing opposing team members!
A further shirt exchange between the guests from Barnsley and FC Bargau will also take place.
"We are very much looking forward to get to know our counterparts during their trip to Gmünd. This could be the start to a much closer cooperation" says Marco Biegert, committee member with responsibility for football at FC Normannia.
Plans for a return match in Barnsley, a major highlight of Worsbrough AFC centenary year celebrations in 2023 is planned. Twinning in action ....today!
24/05/22
"Searching for Unicorns in Schwäbisch Gmünd"
Well, we have them......here in Barnsley........so visit the Barnsley Schwäbisch Gmünd stall in Barnsley town centre on Saturday 28th May if you want to see Unicorns, but only young people can see them !
Searching for Unicorns?
17/05/22
"Are there any 'real' Unicorns?"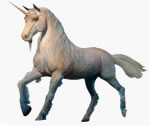 Barnsley Schwäbisch Gmünd Society along with guests from our twin town in Germany claim to have the secret to finding Unicorns.
"According to medieval legend only young people can find unicorns, so it is on this group that we have to focus if we want to spot them." says Alan Brentnall, Chairman of the society.

"Unicorns can turn up in places you might least expect them to and many times they will exhibit twinning, spot one and you will see another."

 "Si - Gmund the Unicorn, one of the fantastical beasts, has special powers to attract them, they are everywhere" Alan says, "but only young people will see them if they visit our stand in Barnsley town centre on Saturday 28th May."
Barnsley will welcome friends from our twin town in southern Germany to celebrate together in Barnsley, a year late due to Covid restrictions, the 50th Anniversary of the signing of the twinning agreement.
The unicorn has been the town's heraldic animal since 1277.
Plans to showcase the new town centre, the unveiling of our town twinning exhibition in Experience Barnsley Museum and a chance to "Meet the Public" are amongst a full programme of events during the weekend visit.
19/04/22
"Program 50th Anniversary celebrations in Barnsley"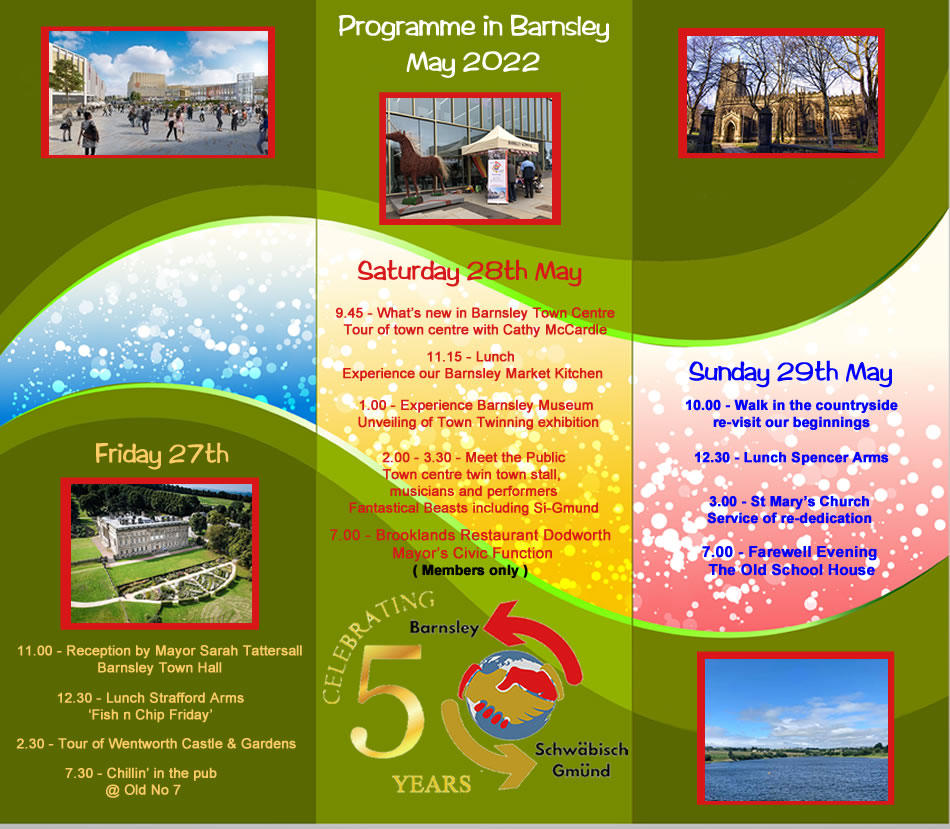 Our programme for the 50th Anniversary celebrations of the official signing of the twinning partnership agreement
between Barnsley and Schwäbisch Gmünd
to be held In Barnsley May 27th to 29th 2022 (delayed 1 year due to Covid)

We look forward to welcoming our guests from Schwäbisch Gmünd in Barnsley!
28/02/22
"Gmünd & Barnsley Twin Town Societies stand together in condemnation of the act of aggression"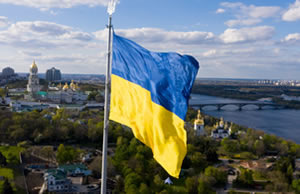 Barnsley Schwäbisch Gmünd Twin Town Society wish to echo and endorse the public statement below by our friends in Gmünd.
We stand together in solidarity of the condemnation of the act of aggression by Russia and support the promotion of all the values of town twinning and friendships by personal relations in pursuit of world peace.
"The Schwäbisch Gmünd Twin Town Society is stunned by Russia's unprecedented breach of diplomacy, law and humanity on the territory of the sovereign state of Ukraine.
Photo by
Oleg Petrasiuk
Town twinning, worldwide, is a result of reconciliation after the horrors of the Second World War and considers world peace, strengthened by personal relations, as an "indispensable condition in a scientific and technical world" (German physicist and philosopher C. F. Weizsäcker, 1964).
The attack on Ukraine also affects the people of Gorlovka (Horliwka), in the Ukrainian Donbass region. This town with its 300,000 inhabitants has been twinned with Gmünd's twin town Barnsley since 1987."
Phil Coppard, former Barnsley Chief Executive, told the Gmünd Association that recent events were a "tragedy on a tragedy" as from 2014 onwards a number of his twinning contacts in Gorlovka have been arrested, killed or forced to flee. This, eight years ago, was the first tragedy.

Both Twin Town Societies express their unwavering condemnation of these events and solidarity with the suffering people, regardless of their language or nation.
09/01/22
"50th anniversary - Seeking Jubilee children born in 1971"