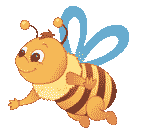 Forthcoming Events
| Date | Event | Topic |
| --- | --- | --- |
| 5th April 2020 | Easter Event - Easter Cafe, Crafts & Stalls | 3 - 5pm Thurgoland Village Hall S35 7AA |
Latest News


16/02/20
37th International Guggen Music Festival - colourful and imaginative costumes and 'mad music.'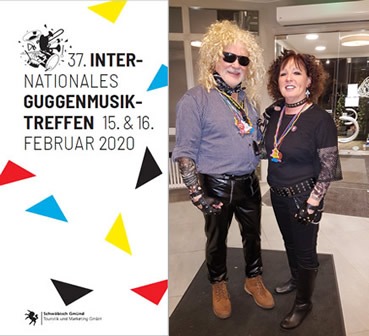 On February 15th and 16th Schwäbisch Gmünd, like every year was overtaken by 'mad music.'
20 Guggen bands consisting around 800 musicians arrive from Switzerland, Liechtenstein and Germany and descend on the oldest Staufer town, now also referred to as the "Mecca" of Guggen music.
The 37th International Guggen Music Festival, the festival of weird tones, starts on Saturday.
At 11am a parade starts with the fool's tree at Bockstorplatz. Two Guggen bands lead the Narrenbaum to the market square where the tree is set up by the masked group "Rudos" with the help of the Wetzgau fire department.
The weekend is also an opportunity to welcome back and hear Guggen groups that have not been guests in Schwäbisch Gmünd for a long time.

With the early arrival of many supporters, there are always very colourful and imaginative costumes worn by the supporters themselves to admire around the town centre bars on the Friday night.


You have to be very careful though, it can be somewhat scary ......... can anyone recognise what must definitely be
'the oldest rocker in town' spotted in Gmünd last Friday? Told you it was 'mad.'
08/02/20
Message reply to Michael Länge from Sir Steve Houghton - Leader of Barnsley Council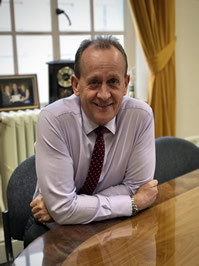 Dear Michael,
Sent on behalf of Cllr. Houghton.

Thank you for your kind words. I will forward your letter to our local newspaper, the Barnsley Chronicle.
Whatever happens with the UK leaving Europe, the friendship between Barnsley and Schwäbisch Gmünd will continue and we look forward to celebrating 50 years of our partnership in 2021.
Many thanks for your continued support.

Cllr. Sir Steve Houghton, CBE, Leader of the Council

01/02/20
Message from Prof: Dr. Reinhard Kuhnert - Schwäbisch Gmünd
Dear Friends,
Next year our twinning will have lasted for fifty years, so it is older than Britain joining the EU in 1973, and I am not sure whether it was the essential reason for our twinning to last that long. There is more substance because it all started with a Gmündian youth group stuck in Wales because of BSE. The roots of friendship lie deeper.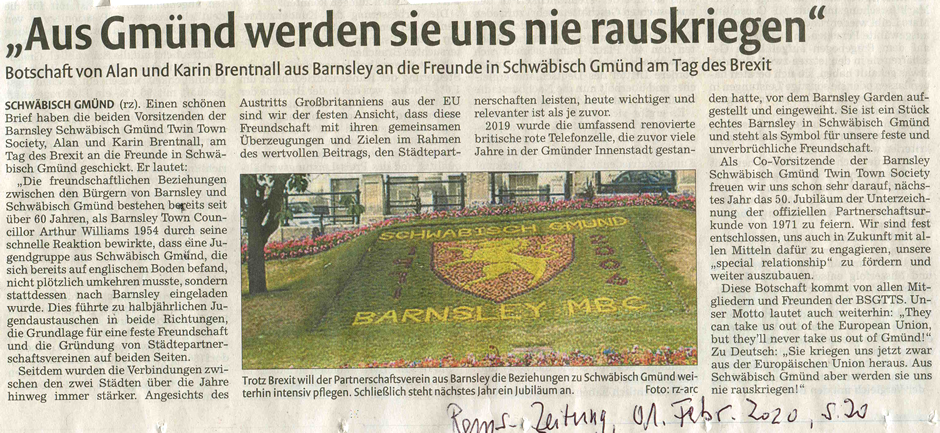 Our Remszeitung newspaper today confirmed your commitment to the Schwäbisch Gmünd link beyond Brexit Day. A wonderful message! It filled us with joy once again.
It reminds me of John Donne's famous poem: 'No Man is an Island'

No man is an island entire of itself, every man is a piece of the continent, a part of the main,
If a clod be washed away by the sea, Europe is the less, as well as if a promontory were,
as well as any manner of thy friends or of thine own were, any man's death diminishes me,
because I am involved in mankind, and therefore never send to know for whom the bell tolls, it tolls for thee.
You may also spell "Island" as "I-land", the land of me alone. This never worked nor works. We need each other, but whether we need the EU in its present form to make this come real is doubtful. Our I-lands cooperated before, friendship is older than that. So, let us not look back in anger and let us not look forward in fear, but let us look around in awareness.

Next year we celebrate our golden twinning jubilee. Let us make the world shout "Glory, Halleluja!

your old friend
Reinhard Kuhnert
31/01/20
Town twinning can help build a new people's Europe.
A special letter to Barnsley from the Chief Editor: Gmünder Tagespost in Schwäbisch Gmünd received today.
Featured in Gmünder Tagespost today 31.1.2020.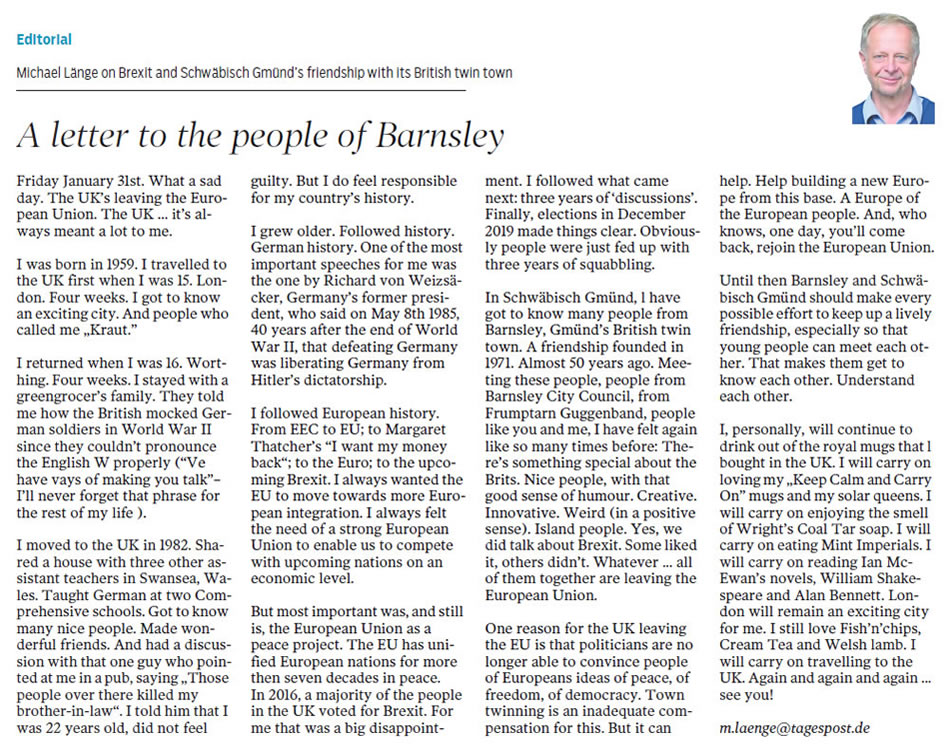 Our message to Schwäbisch Gmünd also sent today: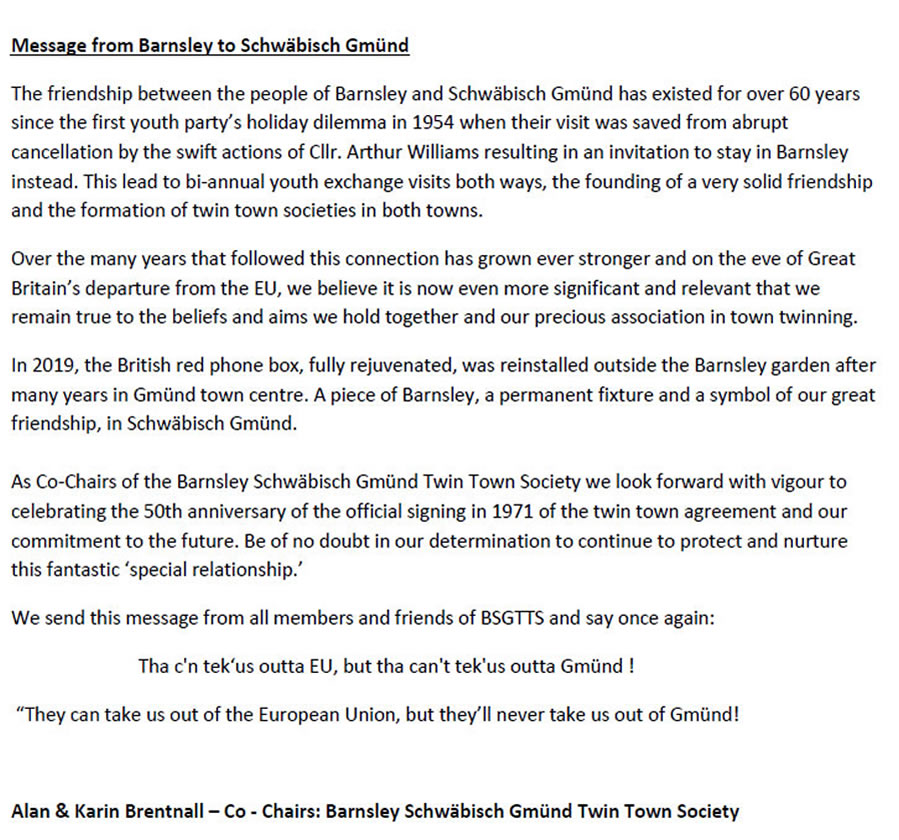 22/01/20
Weihnachtsmarkt to Ice Square - fun for all!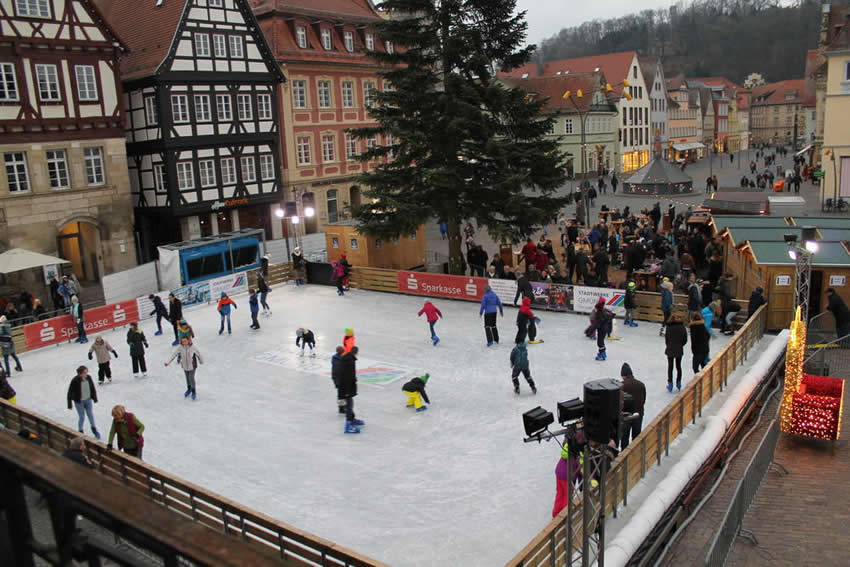 Upper Market Square in front of the town hall in Schwäbisch Gmünd has seen many a transformation for community events over the years, including everything from a beach complete with sand, deckchairs and children's play area to a jousting arena.
It is the main site for the annual Weihnachtsmarkt (Christmas market) and now that is over, once again the The Stadtwerke Eis-Arena is in full swing.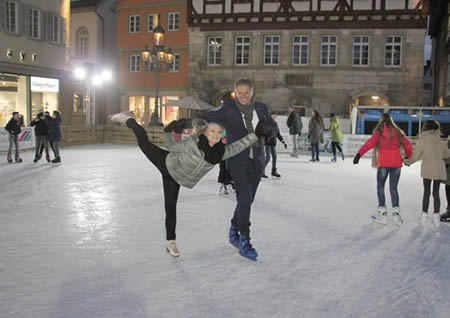 An ice rink with an area of 375 square meters will surely provide great January fun for all large and small ice skaters. Maintenance of the ice rink and collecting the admission fee is carried out by numerous volunteers. Of course, the well-being of the public is also taken care of by local experienced caterer Dominik Huppertz who offers a wide range of dishes, Mulled wine and punch as well as soft drinks to keep people warm during and after ice skating.
The official opening of the ice rink with Mayor Richard Arnold and figure skater Corinna Lutz took place on January 11th.

The Eis-Arena, operated 100% from natural gas from Gmünd, is open every day for a period of 8 weeks until March 1st, right in the heart of the historic centre.
The focus is firmly on family-friendly fun and activities for both young and old.
05/01/20
Film Night and buffet 'with a German flavour' to kick off Events 2020

Back by popular demand! Come and enjoy a 'Film Night' including a buffet with a German flavour.
An amazing true story about legend German goal-keeper Bert Trautmann, famous for playing the 1956 FA cup final for Manchester City with a broken neck.
Even if you're not a football fan you should not disregard this compelling story of a truly remarkable man!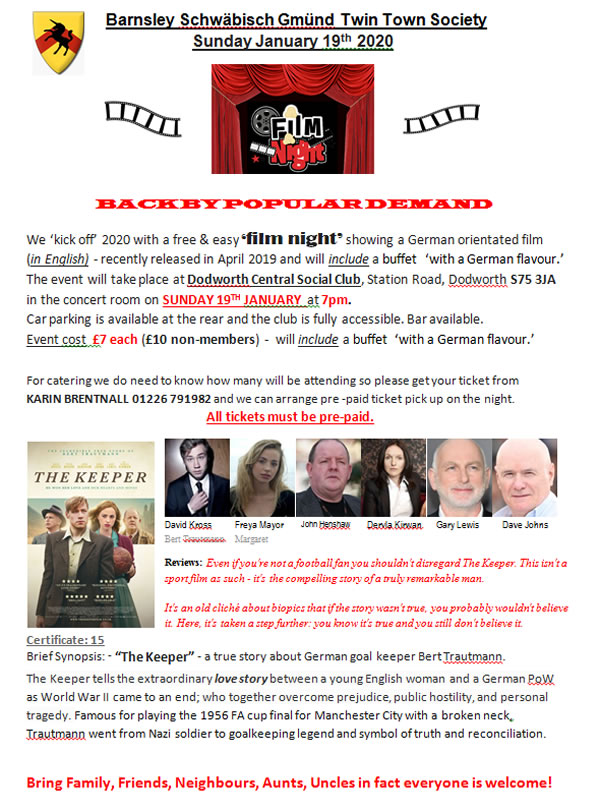 17/12/19
Gmünder Tagespost "Quote of the day"
Translation: We may be going out of the European Union, but they'll never take us out of Schwäbisch Gmünd!
Alan Brentnall - Chairman: Barnsley - Schwäbisch Gmünd Society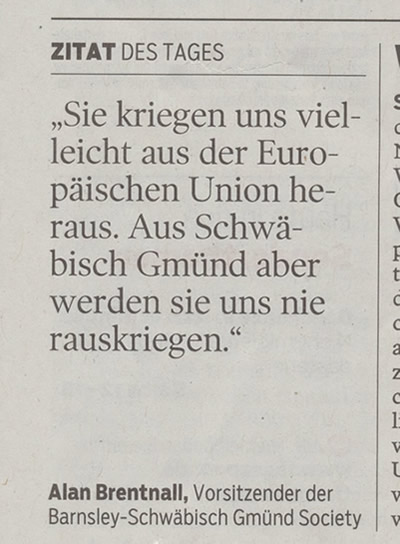 16/12/19
Festive Greetings from Barnsley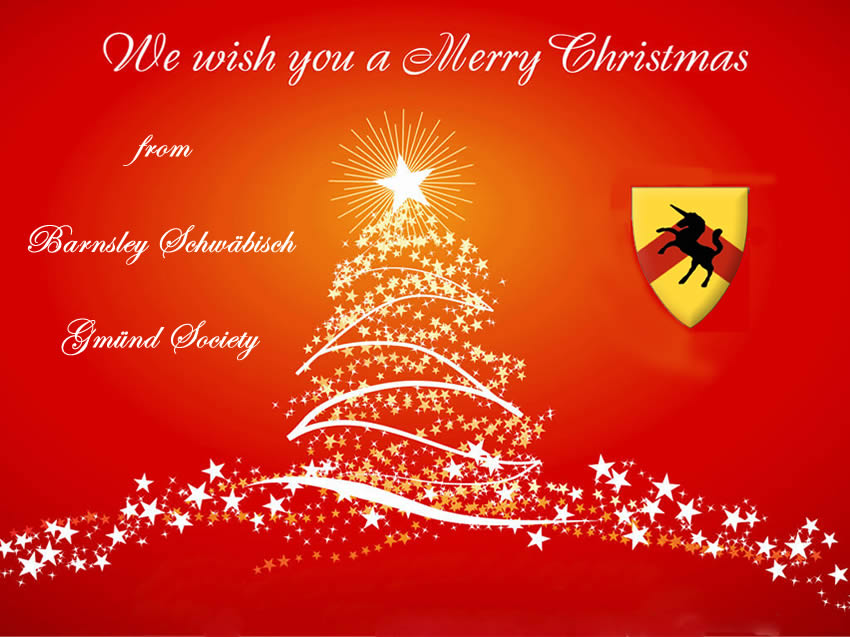 29/10/19
'

Mayor's personal support for BSGTTS

'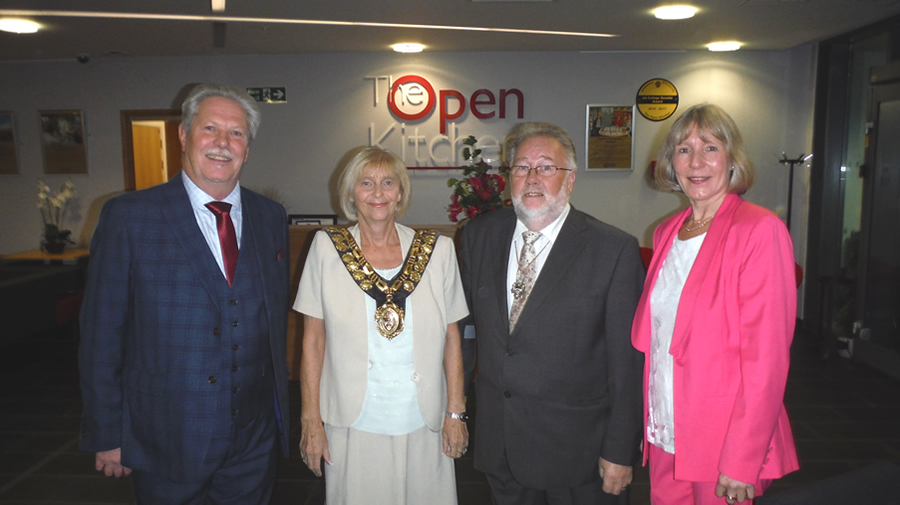 Barnsley Mayor Cllr. Pauline Markham and Consort Mr L Markham are welcomed by BSGTTS Co-Chairs Alan & Karin Brentnall
Mayor of Barnsley Cllr. Pauline Markham & Consort Mr Markham were thrilled to attend Barnsley Schwäbisch Gmünd Twin Town Society 'German Dinner 'held at the Open Kitchen in Barnsley College. The five course taster menu, specially put together under the direction of Chef James, provided a new and different challenge for the students included designing, costing, purchasing, cooking, front of house and also serving the meal.
Flavours provoked reminiscences of the many visits to and from the southern German twin town and the special friendships that have existed now for nearly 50 years between people of Barnsley and Schwäbisch Gmünd.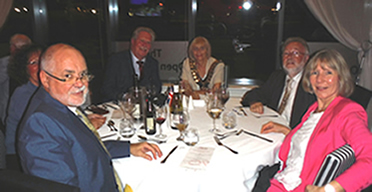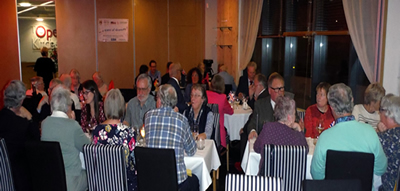 Friends from Dronfield Twin Town society, who are twinned with Sindelfingen (not far from Gmünd) also in Baden Württemberg, Germany, together with members of Barnsley's Frumptarn Guggen Band joined the mayor and BSGTTS members in thanking the students and staff for their hard work and providing a splendid evening.
New officers appointed in November 2018 are working hard to rebuild both the society's membership and the relationship with Barnsley Council, its employees and the people of Barnsley.
Looking forward to the 50 year anniversary of the signing of the official twin town agreement by the two councils in 2021, Chairman of the society Alan Brentnall declared "It is vital that working together with the council, we re-energise, excite and interest members of the Barnsley public, especially younger ones, in all things wonderful and good about town twinning if the agreement and the future of the society are to be continued. In today's troubled world there is a renewed need for us to meet, mix and get along and that's why town twinning is an important thing, especially poignant today with Brexit."

He was especially delighted to accept a commitment of personal support from Cllr. Pauline Markham throughout her mayoral year in sustaining and further promoting the historical link between the people of Barnsley and Schwäbisch Gmünd.
04/09/19
'A bit of Barnsley in Gmund'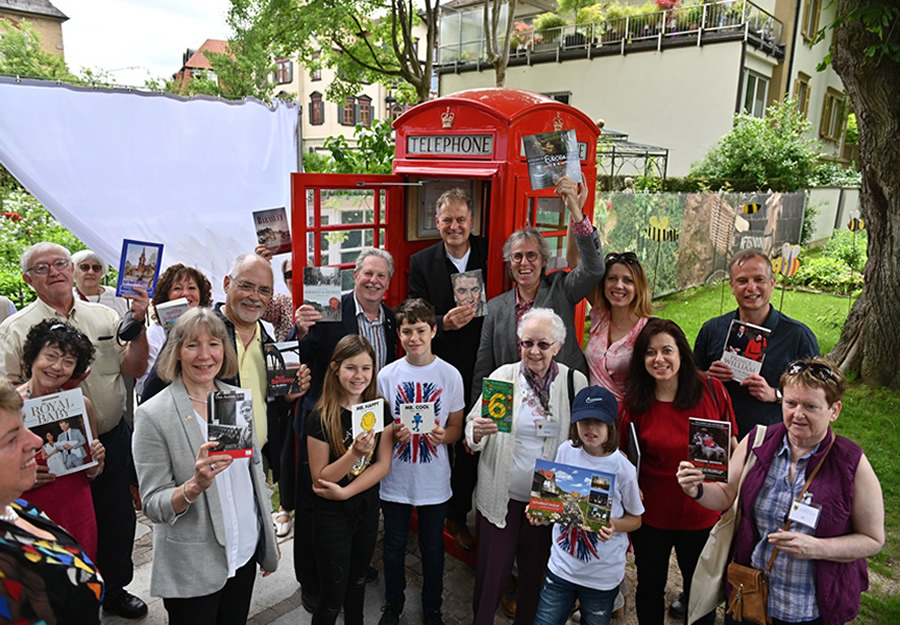 Photo courtesy of Jan Philipp Strobel

If you think of classic British design, the London bus or underground map or the post box comes to mind along with the key piece of technological history, the red phone box. In 1988 one was shipped to Schwäbisch Gmünd, sent as a gift to the Verein Städtepartnerschaft as a visible symbol of our friendship. It was installed in 1990 in Hintere Schmiedgasse in the town centre where it stood for many years. In the beginning there were many phone calls made to friends in England from this box, probably some to see if it actually did work, some just for the novelty and probably there were some people who were frightened to use it at first because they thought that it would only connect to England.

However, with the advent of mobile phones and usage declining by over 90% in the last decade Deutsche Telekom decided to cease connection and the call box was removed. Many kiosks in England now house defibrillation machines or information centres and with the collaboration of the Verein Städtepartnerschaft, the council and works department, our telephone box was completely refurbished and transformed into a library to house books donated from all their twin towns for people to borrow and read.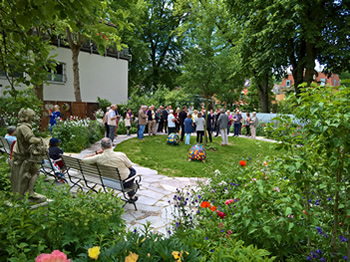 During a recent visit Oberbürgermeister Richard Arnold officially opened the library and the first books donated by BSGTTS members were added.
OB Arnold emphasised the strong and close connection with Barnsley, their first and longest twin town and due to Brexit, this was especially important.
Alan Brentnall, Chair of Barnsley Schwäbisch Gmünd Society explained
"This domed top cast iron box was first introduced in 1926 and standardised to celebrate King George V Silver Jubilee in 1935, so it is possibly around
100 years old. This key piece of classic British technological design is 'a bit of Barnsley in Gmünd.' It has been splendidly renovated and re-energised, and now has been given a new lease of life in another form. We really commend the choice of location, it's like the library has come home next to Barnsley Garden. We already know how very popular our garden has become with the public and our hope is that situated here, many more people including children will be encouraged to make use of this library, spend a short time, maybe making regular visits, sitting in the garden to enjoy a nice experience reading and learning through the literature from all the twin towns contained in this multi-lingual library."

Books from their other twin towns, Antibes (FR), Székesfehérvár (HU), Bethlehem (US) and Faenza (Italy) will be added later this year.
17/07/19
'Snazzy' new library opens in Barnsley
Library @ the Lightbox is the snazzy title for the new state of the art community hub and the first brand new building of
The Glass Works redevelopment in Barnsley town centre. It opened its doors on Saturday 13th July. This flagship facility, a major foundation of the new town centre development is four floors high and provides a range of digital services including virtual reality, a training facility complete with a 65-inch interactive touch screen and tablet computers plus a range of other innovative technology. Help to develop speech, language and reading will be a new initiative with the incorporated digital technology, interactive story times with innovative software that will bring stories to life through images, lights and sounds.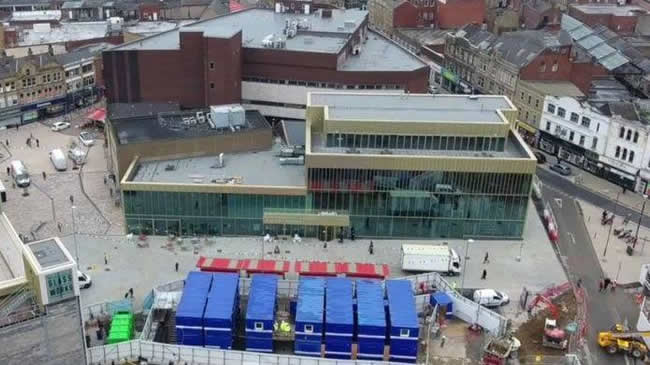 The library also has an events space which will act as a multi-purpose venue able to hold large events, workshops and activities as well as a rooftop terrace which offers fantastic views of the town centre. The building is fully accessible and community groups are encouraged to make use of the space the building offers. The traditional book library remains a key feature of the Lightbox and access computers and Wi-Fi as well as printing and photocopying facilities are included. Brand new lounges, cafés, a bar and restaurant adjacent to the library offers new food and drink destinations in the heart of the town centre.

24/05/19
'A unique and rare opportunity - Inside the mind of the artist.'
Don't miss this unique and rare opportunity of discovery including 'Art demonstration.'
Fresh from his succesful international exhibition and workshops in Schwäbisch Gmünd, Barnsley artists Richard and Joanne Kitson disclose all - well almost !
The planning, the approach and the execution ......."Inside the mind of the artist"
Works by both artists will also be on display and may be available to purchase.
Everyone is welcome !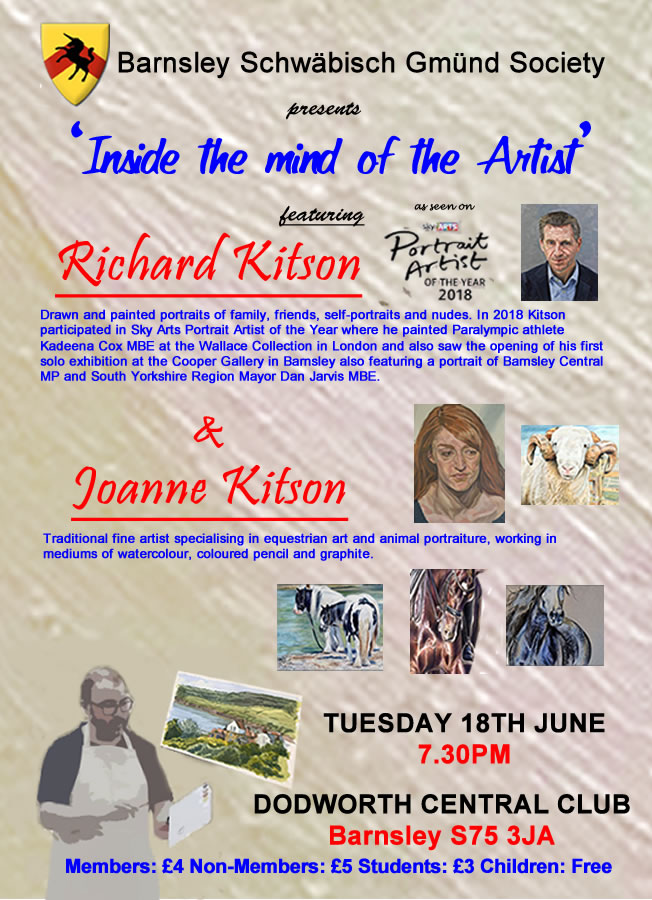 20/05/19
'Yorkshire Garden' to get the Remstal Garden Show mood.

To keen gardeners everywhere and all our members who are getting excited and looking forward to our visit to Gmünd in a few days for the Remstal Garden Show, we try to get you "in the mood" by showing you some pictures of the spectacular
'Yorkshire Garden' exhibit at this year's RHS Chelsea Flower Show.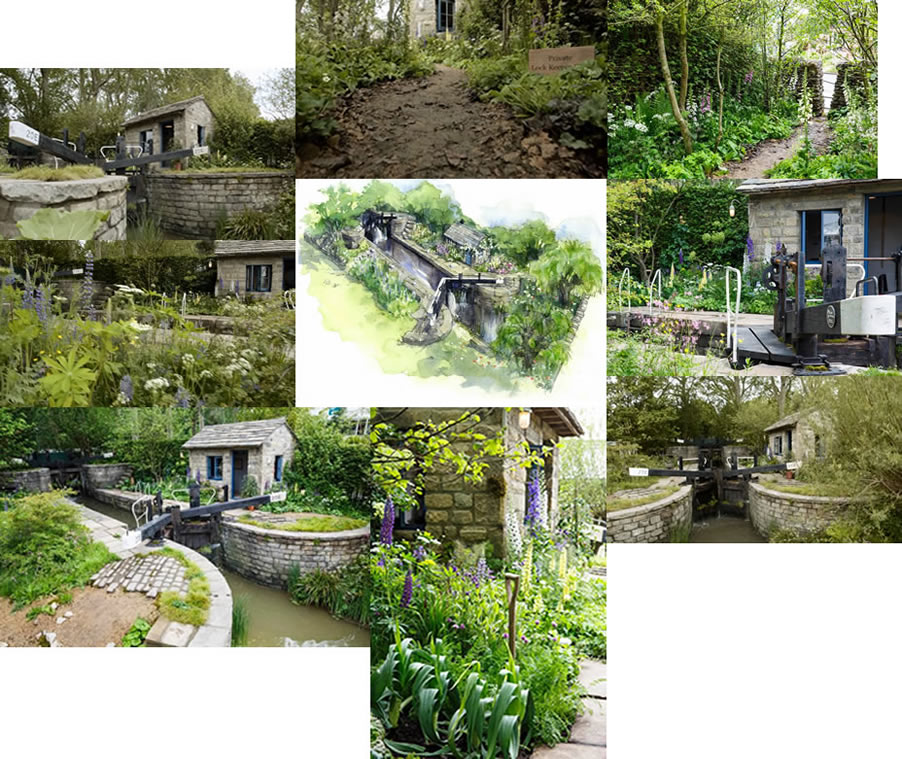 Set in the grounds of the Royal Hospital Chelsea, London, transformed each year with stunning horticultural displays for the prestigious RHS Chelsea Flower Show. World-renowned garden designers, plant specialists, florists and nurseries come together every year to one of London's most charming and affluent neighbourhoods to show off cutting-edge garden designs and inspirational floral exhibits. You can stroll through themed show-stopping and award-winning gardens built specially for the show.
(Follow link below, scroll down to 'Watch Next' and see the video of construction of the Yorkshire garden from start to finish, absolutely amazing !)
Discover rare flowers and plants, and creative floral artworks. Spot emerging gardening trends. And browse the horticultural products on sale, from gardening gadgets to sculptures and plants. Note to self: must put this in diary for next year!
Link : https://www.housebeautiful.com/uk/garden/a25786928/chelsea-flower-show-2019/
12/05/19
Kitson in the Chronicle...again!