Forthcoming Events
Date
Event
Topic
5th March 2019
Film Night - (pre-paid ticket entry only)
Dodworth Central Social Club Station Road, Dodworth S75 3JA at 7pm
28th May 2019
Visit to Schwäbisch Gmünd
Remstal Garden Show 28 May to 1 June
Latest News

15/02/19
A 'mad music' Guggen weekend in Schwäbisch Gmünd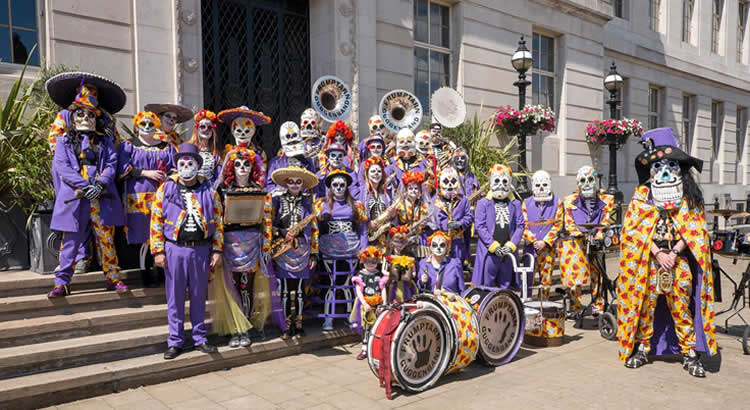 Our very own Frumptarn Guggenband is proud to be representing the UK in the 'Internationales Guggenmusiktreffen Festival' held every year in Barnsley's twin town of Schwäbisch Gmünd.

"Naturally the band are delighted to be invited to this very prestigious event" explains Frumptarn President Craig Wolstenholm, "The festival features twenty guggen bands from all over the world including Switzerland, the Principality of Liechtenstein, Germany and the UK and involves over 800 musicians."

The weekend event has become very popular, often now referred to by the locals as 'mad music' weekend attracts large audiences of around 10,000 people every year, all descending upon Schwäbisch Gmünd creating a unique and very vibrant and lively atmosphere!

The band travel next week so we wish them a great 'mad' time in Schwäbisch Gmünd.

You can follow the band at the festival through updates and photos on their Facebook page https://www.facebook.com/frumptarn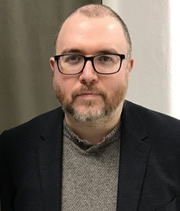 A bit more support for Richard………….


Barnsley College
Our Sixth Form Art tutor Richard Kitson is exhibiting his portraits in Barnsley's German twin town, Schwäbisch Gmünd, next month - we're sure he'll be a big hit!
See more: https://bit.ly/2URZk0q
06/02/19
English phone box in Schwäbsich Gmünd Book Appeal
A special request has been received from Schwäbsich Gmünd headed by Dr. Lukas Amadeus Schachner, chairperson of the Verein Städtepartnerschaft. For decades there has been an English red phone box in Gmünd as a symbol of the twinning friendship with Barnsley. It is no longer used as a telephone but will be re-designed to house a library.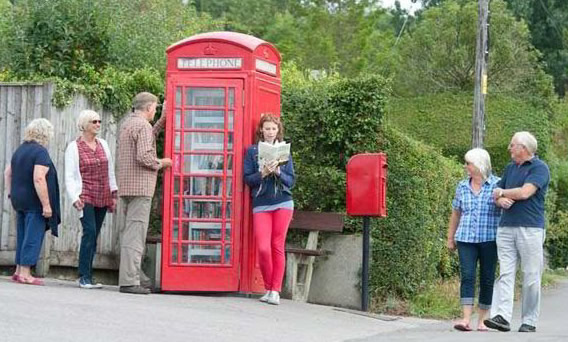 "The idea is to make available to the public, books from our twin towns in foreign languages" explains Lukas "the phone box hadn't been a present from the English twin town of Barnsley to the City of Schwäbsich Gmünd but to the Verein Städtepartnerschaft Schwäbsich Gmünd. It is currently being restored by the SG Works department and the Technical Academy with the agreement of the Verein Städtepartnerschaft to make it fit for its future use."

The English phone box will exclusively house books with a direct connection to their twin towns Barnsley, Antibes, Bethlehem, Faenza and Szekesfehervar in English, French, Hungarian and Italian which can be read and borrowed by citizens. Apart from general information on twinning it will also contain books for children and young people in these languages. Appeals for book donations have gone out to all twin towns.
The Verein Städtepartnerschaft favours a re-installation near the Barnsley Garden and is currently appealing for 'Book Volunteers' in Schwäbsich Gmünd who would look after the books on a regular basis.
"It would be nice to fill the phone box with books you'd like to share with us, it could be anything, novels, illustrated books, dictionaries, cook books, whatever you can think of" said Lukas, "each with a personal dedication to VSP and Gamundians interested in reading English literature. We would like you to ask those who might be able to donate used tomes and bring them with you when you visit in May, when the re-installation of the Library Phone Box will take place."
Happy hunting everyone !
01/02/19
SG Visit programme a real tempter !
The programme for our forthcoming visit to Schwäbisch Gmünd and the Remstal Garden Show in May is really tempting with something for everyone and lots of activities for the young ones amongst us, lots to see and do, great hosts to show us around and have a good 'natter' with, over fabulous food and drink as well as a day adventure along the Remstal Valley and exploratory visits to Schorndorf and Waiblingen too, ...... and on top of all that, the great bonus is that the weather will be positively 'balmy,'
(I promise !) .......so what more could you ask for?
The whole experience begins with flights to Frankfurt on 28th May and for the next few days encompasses a full programme of events and sight seeing and also includes an official welcome by Oberbürgermeister (Lord Mayor) Richard Arnold and the re-installation of the English red phone box specially organised and gifted by the members of the Barnsley Society some years ago.
Take a good look at the programme shown below ................ it's intentionally not too busy, to allow time to relax over a beer or wine, a coffee or ice cream and take in the atmosphere, reflect on the day and enjoy the whole experience. The opportunity to meet lovely people from Schwäbisch Gmünd is guaranteed, many of the over 300 members of the Verein Städtepartnerschaft there are eager to host and get to know people from their twin town in Barnsley. Friends from their twin town of Faenza in Italy will also be arriving at the same time as us, so it will be a truly international event to enjoy.
If you like what you see and read below and would like to join us then please get in touch via our contact page for further information but don't delay as spaces are limited !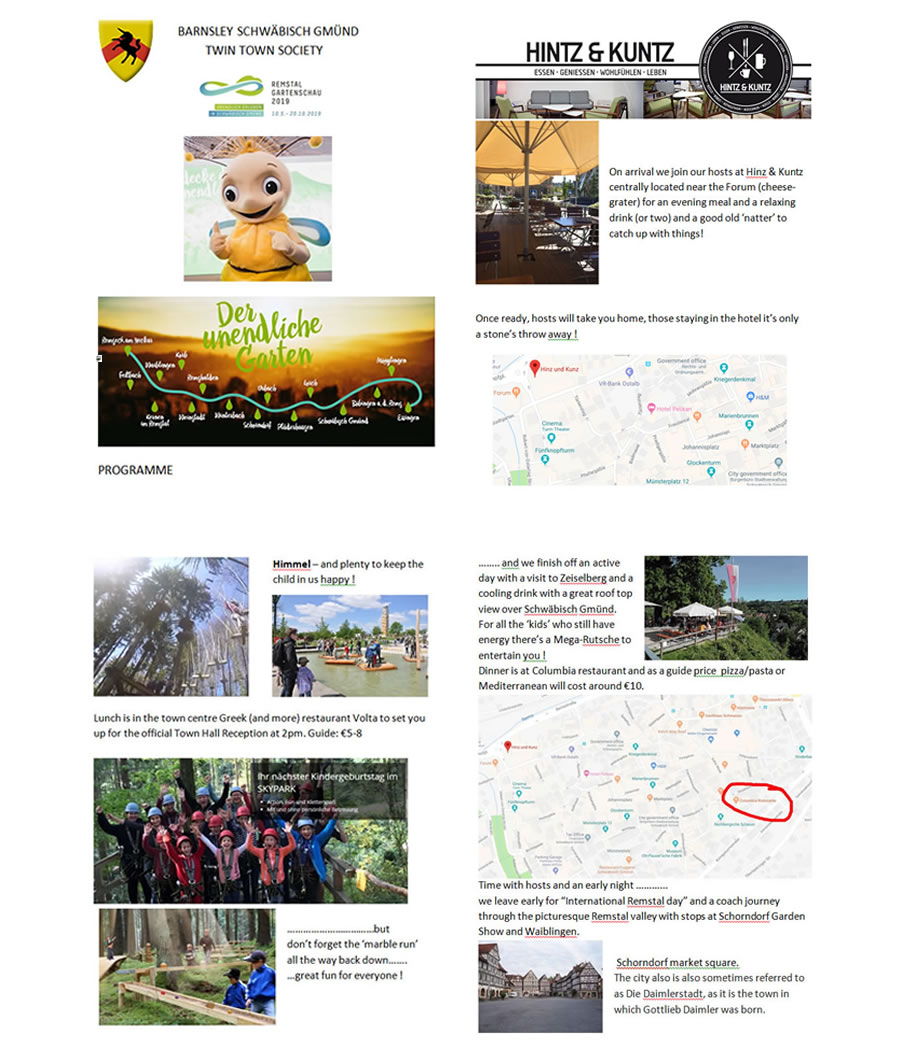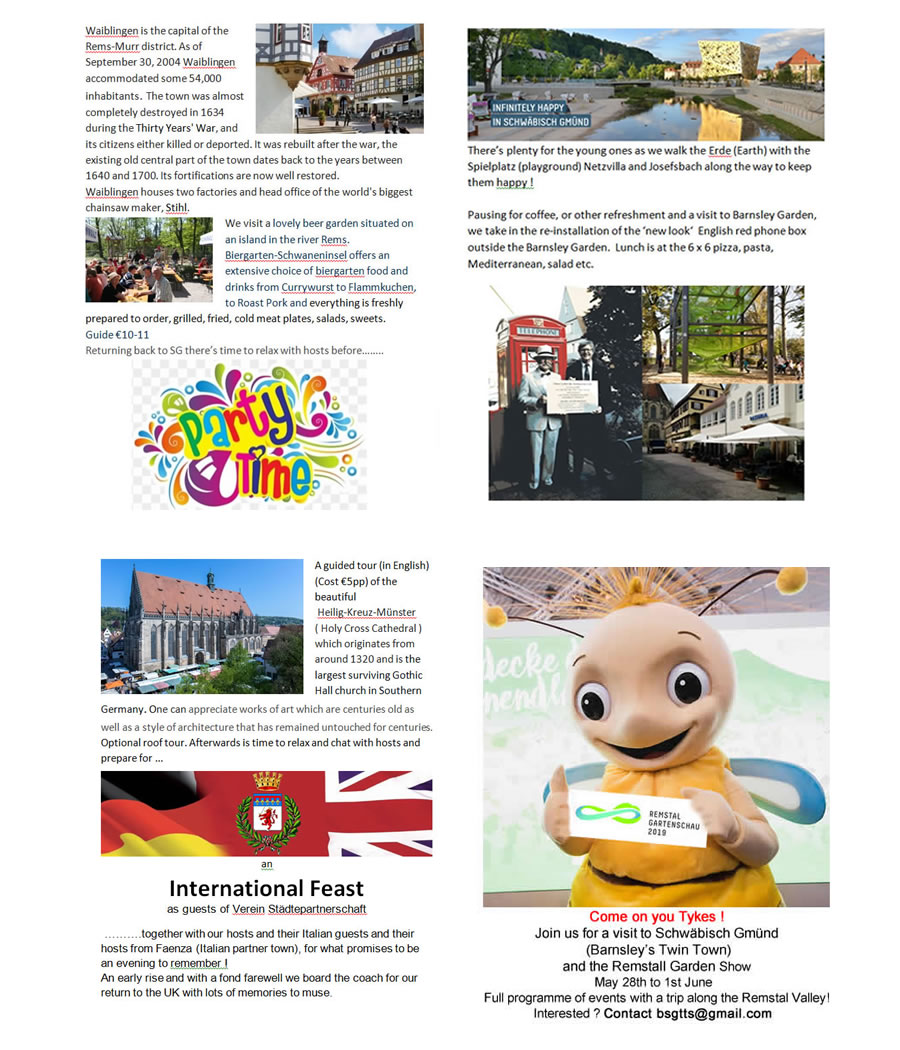 20/01/19
Sadness at the loss of a long standing member.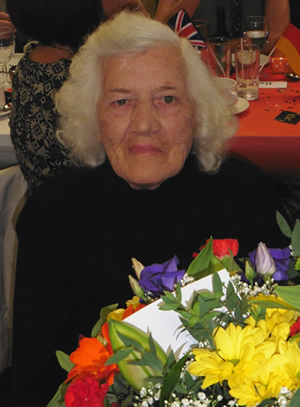 It is with great sadness that we have to report the passing of Olive Gaunt in the early hours of Saturday morning 19th January.
Olive, a long standing member of our society was simply characterised as a very nice, gentle 'lady,' liked by everyone who she came into contact with. She never lost her farming background and often talked about her great love of ploughing competitions.

Reinhard Kuhnert – Honorary President of the Verein Städtepartnerschaft - Schwäbisch Gmünd sent the following message;

"On behalf of our twin town society let me express my deep sympathy with you, our Barnsley friends and Olive's family. Olive was such a nice, warm-hearted 'lady' and I had the honour to enjoy her company for so many years. She had such a wonderful sense of humour, especially when discussing politics. It was in 2015 that she appeared all of sudden at our farewell evening, this was the place that I took the photograph shown here. Rudi and Marianne Pröbstle were her direct friends and partners whom Olive spent her days with while visiting them and Schwäbisch Gmünd.

In mourning"

Reinhard

19/01/19
Birthday Greetings


We send Professor Dr Reinhard Kuhnert – Honorary President of the Verein Städtepartnerschaft in Schwäbisch Gmünd our congratulations in celebration of his 80th Birthday. Many will know both he and his wife Adelheid had an "annus horribilis," suffering ill health but with the help of many doctoral visits and some 'TLC' along the way they are now well on the path to recovery even though they inform us they are continuously nursing and cultivating their indispositions. We send our best wishes to both and hope that God has great and pleasant plans for them to look forward to in their biblical years and beyond.
18/12/18
Einen Guten Rutsch ins Jahr 2019 aus Barnsley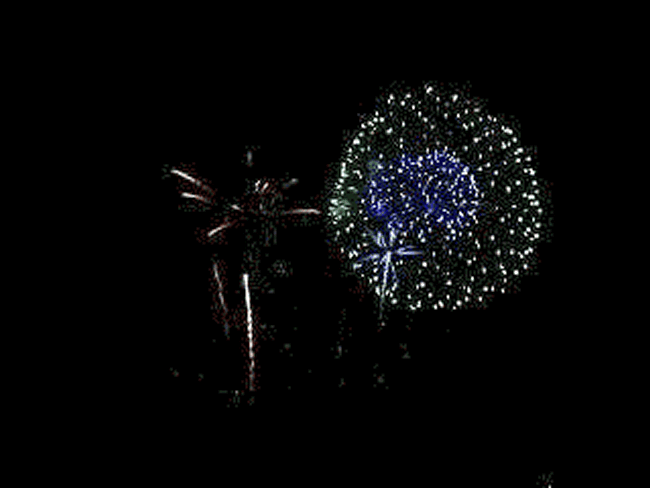 18/12/18
Christmas Greetings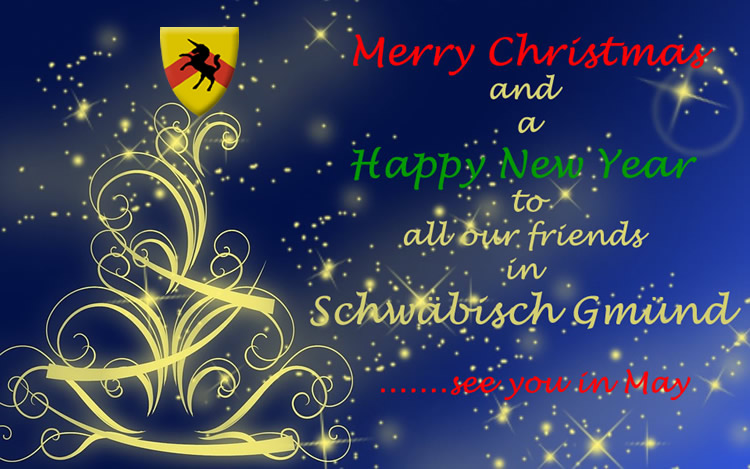 20/11/18
A nice warming glass of Hot Mulled Wine !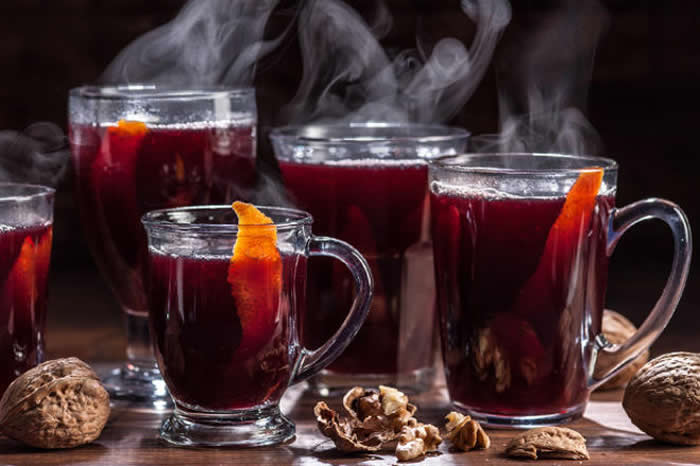 The society will have a stall at this year's Town Hall Open Day event on Saturday 1st December between 10am and 4pm.  As well as an incredible light projection on the town hall, there will be a Christmas market, fantastic family entertainment, a range of food and drink stalls, choir singers, a big wheel and a family fun fair. Keep the kids busy for hours !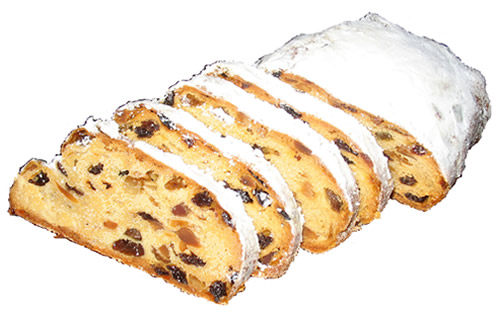 Our stall will be selling Gluhwein and Stollen with Orange juice and chocolate Santas for the children, just the thing in this freezing cold weather Brrrrr !
Come down and say Hello, we'd love to see you, one thing's for sure 'you'll get a warm welcome' !

12/11/18
10,000 memorial lights Tower of London for WW1 Centenary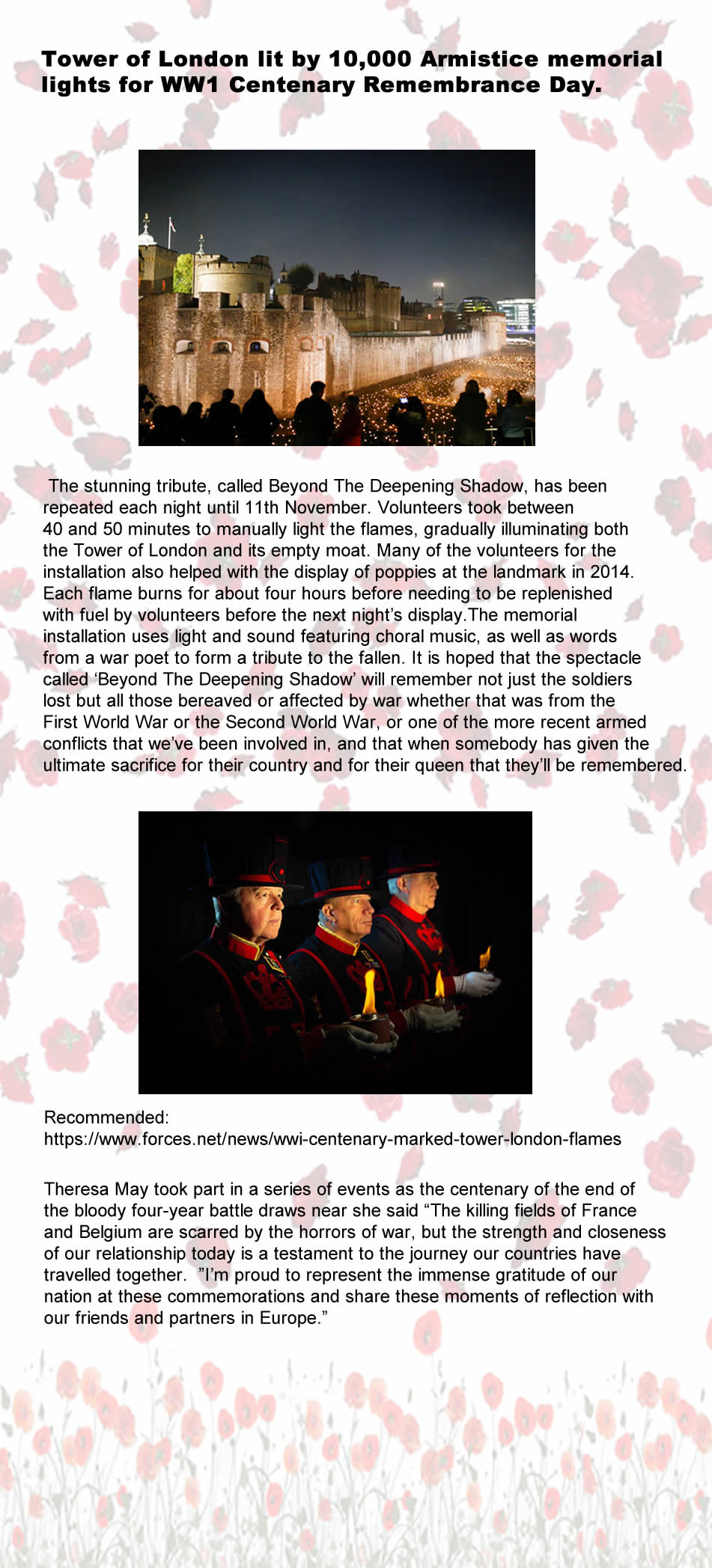 See also news archive entry 8/11/14
Link: https://www.forces.net/news/wwi-centenary-marked-tower-london-flames
07/11/18
German-English friendship strengthened through art, culture and joint football training.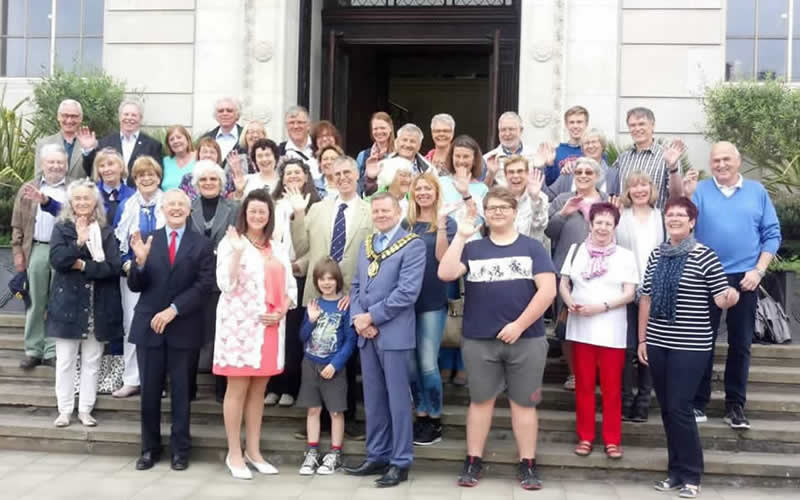 Thirty one members of the Verein Städtepartnerschaft in Schwäbisch Gmünd explored the country, people and way of living of their friends in the English twin town Barnsley. The topic of the one-week-long "Meeting people" trip was "Experience Barnsley" with the aim to meet with lots of people interested in town twinning and thereby revive the long relationship between the two towns.
"Apart from the typical English hospitality Barnsley has a lot of exciting things to offer. The town is undergoing a transformation, architecturally and culturally" declared Dr Lukas Amadeus Schachner, Chairman and responsible for Barnsley. Together with his English counterpart they planned an attractive and extensive programme including receptions, talks, museum visits, meetings with artists, concerts, dinners, Fish'n Chips and parties at hosts' houses. The youngest guests had the opportunity of experiencing a highly original side of Barnsley during a joint training session with English children at the Oakwell stadium , home of Barnsley FC.
Lukas Schachner hopes that relationships will develop from meeting people which will be strengthened in 2019 in Gmünd. The efforts of the Verein Städtepartnerschaft complemented those of the town council which recently had been very cordially received by their counterparts in Barnsley.
Bearing in mind the general political situation, the spirit of town twinning becomes just as important again as it was when these twinnings were first established, i.e. to build relationships between people on a private basis which will overcome any political and historical obstacles.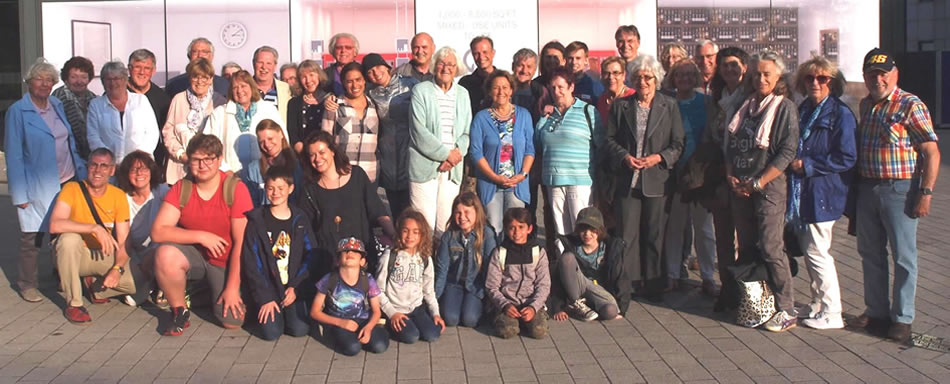 07/10/18
Unbreakable and strong bonds between Barnsley and Schwäbisch Gmünd.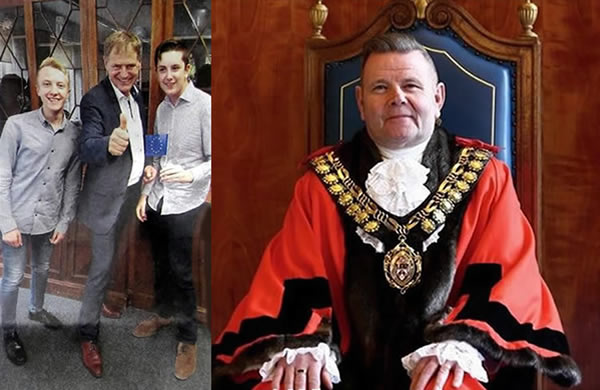 Barnsley Youth Councillor Brandon Green          Barnsley Mayor Cllr. Steve Green
with SG Mayor Richard Arnold and
Youth Councillor Dominic Jones.      (Photo sv)
A delegation with Oberbürgermeister Richard Arnold was very cordially received in Barnsley. They had been invited to the "Mayor Making" ceremony, the inauguration of the new mayor Steve Green. After the visit of the old and the new mayor of Barnsley to Schwäbisch Gmünd in mid-April this was an ideal opportunity to strengthen the newly revived bonds. During the festive and emotional ceremony the importance of the friendship between the two towns was high on the agenda. Richard Arnold and the councillors from Schwäbisch Gmünd were greeted as honorary guests, all speakers stressed the unbreakable and strong bonds between Barnsley and Schwäbisch Gmünd.
Brexit or no Brexit, "We might be leaving the EU but we are not leaving Europe" became more or less the slogan for the talks with the guests from Schwäbisch Gmünd. Mayor Steve Green and Mayoress Tracey Green were pleased to share their inaugural day with their friends from Schwäbisch Gmünd and hope that the planned projects between them can be turned into reality soon.
Sir Stephen Houghton, Leader of the Council, also declared his commitment to twinning during his speech which he mainly held in nearly error-free German. He stressed that Barnsley took the twinning with Schwäbisch Gmünd very seriously and that in view of Great Britain leaving the EU the strong bonds between the two towns had to be of heartfelt concern to all people responsible.
During the two-day-trip to the English twin town Oberbürgermeister Richard Arnold, councillors Katharina Pfeifer (CDU), Gerhard Bucher (SPD), Gertraude von Streit (Greens) and Brigitte Abele (Citizens List) as well as the person responsible for town twinning, Katharina Aubele, learned a lot about the current redevelopment of Barnsley town centre. Similar to Schwäbisch Gmünd before the garden festival, Barnsley also sees the biggest redevelopment of its town centre in recent history. The towns are planning an exchange between experts in this area in order to share their knowledge and experience. Further projects discussed were a continuation of the exchanges between the Youth Councils as well as cooperation with the Barnsley Youth choir, one of the best in Europe.