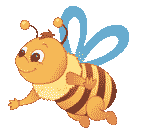 Forthcoming Events
| Date | Event | Topic |
| --- | --- | --- |
| 31st December 2020 | DUE TO CURRENT CORONAVIRUS ALL EVENTS SUSPENDED | PLEASE CHECK BACK LATER - STAY SAFE ! |
Latest News

24/09/20
"A brief look back at Town Twinning with our great friends and hosts Keith and Margaret Jowett."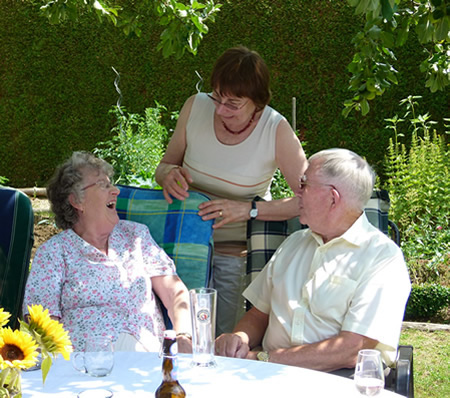 In 2003 we stayed with Keith and Margaret for the first time and straight away we had the impression that they were a very hospitable couple who liked to welcome everyone to their home.
I vividly remember one time, when Wine and Winfried Baum could not stay with their usual hosts for some reason and Keith and Margaret immediately offered to host them at their house. Not only that, we were mortified (and astonished) when we found out that in order to make their visitors as comfortable as possible they had given up their own bedroom to them. As four guests we had a lot of fun together and got up to some mischief but Keith and Margaret treated us like a benevolent and tolerant set of parents would do. It was easy to see from the many family photos in their living room that they were extremely committed parents and grandparents.

Usually during town twinning visits to Barnsley, one of the highlights for us was the party at Keith and Margaret's place as they very much believed in "mixing with people" and "socialising". We always thought they came across as a strong team on such occasions, effortlessly providing a successful night with a delicious buffet. Often it was Keith who took on a more front-of-house role during the parties whereas Margaret did a great deal of the background work, both of them contributing in their own, very effective way. Due to Keith's great sense of humour the atmosphere at such events was always fantastic and Margaret loved to join in with laughter and chuckles.

I also have great memories of our trip together to visit Margaret's father on the East Coast. It was a lovely day and Keith knowledgeably pointed out features of the landscape. After some sightseeing and an extended visit at her dad's we set off home again. That evening a dinner had been scheduled for both Societies.
Keith judiciously took us back to Barnsley in the car. We even had enough time for a quick change of clothes as the festivities were not starting until 7pm.

When we arrived at the venue we were met by a very agitated John Bennett who informed us that the party of guests had already been waiting for their Chairman for a full hour! As a man of precise timing Keith was extremely distraught. But he picked himself up, squared his shoulders and proceeded to enter the room in order to hold his speech in English and German in his typically unflappable way. Margaret couldn't stop laughing about the whole episode and was extremely amused. By nature, she was a jolly and cheerful person who was generally in high spirits.

In 2014 Margaret and Keith stayed at our house in Waldstetten during a Society visit to Gmünd. Unfortunately Margaret had a bit of an accident and was in some pain. We decided to organise her a wheelchair in order to explore the different areas of the Garden Show in Gmünd. Keith took great care in pushing the wheelchair and Margaret endured this new mode of transport with poise and grace. We all had some fun taking turns to push her. Margaret had a pleasantly modest and unassuming personality which never revealed how dedicated she was to her lifelong work for charity and in the community.

Discussions about politics never became a problem due to the respect they both showed towards people of a different opinion, although Klaus liked to coax Keith to such talks on a regular basis over a glass of delectable malt whisky.

The four of us really did have some enjoyable and interesting times together and we are extremely saddened by Margaret's death and the fact that it will no longer be possible for us to meet in that way.

We wish Keith all the best and hope he can find the strength and fortitude to live his life without Margaret. Both of us, however, are confident that the strong family ties they both have, their commitment to the Methodist Church community and their many friends in England, the society and all over Europe will provide a great deal of comfort and support to him in the future.

Isolde and Klaus Leyhausen
11/08/20
"Greetings from the 'blooming' Barnsley Garden"
Some members of the Verein Städtepartnerschaft in Gmünd have recently arranged to meet for a few snacks, a drink and a good 'natter' in the sunshine and nowhere is better than the Barnsley Garden. They send greetings and best wishes to their friends in Barnsley.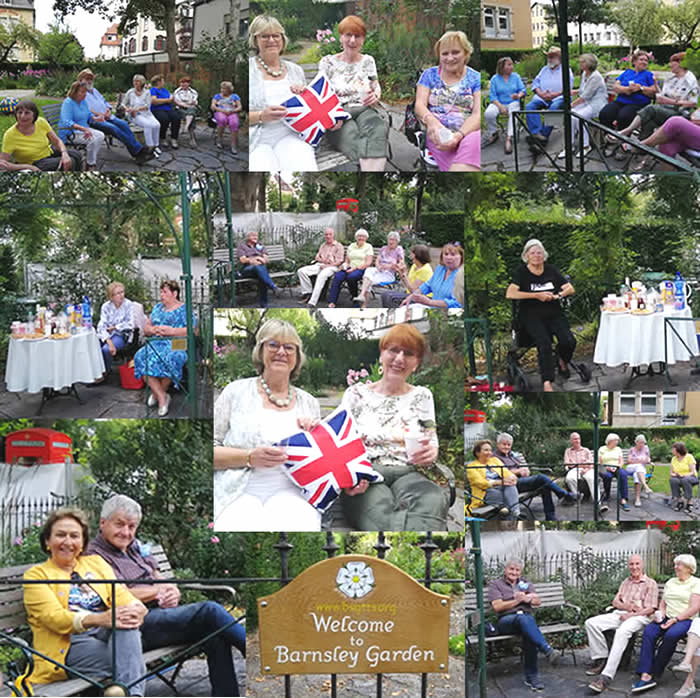 Photos by Traute Schmidt

"The Garden is in great form and looking particularly colourful at the moment with the blooming of the Peonies," says Dagi Glassenapp, who devotedly looks after the garden."Whenever I was there, photographers came and sometimes it was as if they would have crawled into the blooms if they could. I think that this year every camera in Gmünd has taken the Peaonia blooms in the Barnsley garden."

Groups of members have met several times for Tea and/or Champagne afternoons in the garden and some have arranged cosy and culinary breakfasts in the morning sun there.

"I think people have found it a little escape in fresh air and it provides a mentally smoothing atmosphere, in the current situation the garden has provided a real benefit to many. I have witnessed people there to relax, to have a break or even to have coffee or tea with one or two friends and as always in the early afternoons, there is a group of mums with their toddlers who love to crawl on and enjoy the grass" Dagi tells me.

Barnsley Garden is now so popular that a reservation has to be made if the Verein Städtepartnerschaft want to use it for activities on their own. As the saying in Germany goes…
Barnsley Garden is quite a "GeheimTip" ie. the secret whisper or 'the in place to be.'

I also learned that we now have two gardeners, Dagi has a new gardener friend who used to be the community dentist in Gmünd, now retired. She also loves gardening and has volunteered to help. At this moment we do not know her name or any more about her, but send our grateful thanks to both her and Dagi for the time and work they devote to making our Barnsley Garden look so well and be so very popular with everyone in Gmünd.
12/07/20
"Our joint video entry for the Barnsley 'Virtual' Mayor's Parade 2020"
For those who did not see the Barnsley Mayor's Parade on the day, here's a chance to see our joint entry.
11/07/20
"

Barnsley tackles Corona virus with help from twinned town

"
ITV National News 10.7.2020 feature strengthens the twin town bonds between Barnsley & Schwäbisch Gmünd
The special friendship between Barnsley & Schwäbisch Gmünd is clearly evident during interviews with Steve Houghton, Barnsley council leader and Oberbürgermeister Richard Arnold in Schwäbisch Gmünd. Steve Houghton is  'getting the inside track' on the German town's success against the virus. Working together, exchanging ideas and helping each other through the pandemic has "strengthened the bonds between the towns" says Richard Arnold.
ITV National News 10.7.2020 feature strengthens the twin town bonds between Barnsley & Schwäbisch Gmünd.

Posted by Alan Brentnall on Saturday, 11 July 2020
Courtesy of ITV News at 10
20/06/20
"Twin towns on air"
Corona station delivers global reports on the pandemic situation - Gmunder Tagespost 14.6.2020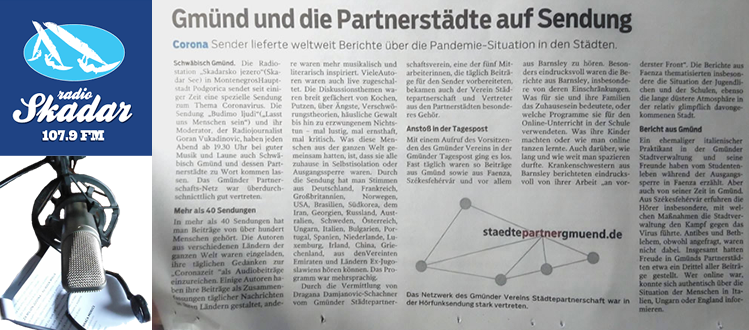 Over the last few weeks the radio station "Radio Skadar" in Podgorica, the capital of Montenegro, has been broadcasting a special programme on the Corona virus. Every night from 7.30 CET the radio station offered musical items, a good atmosphere and contributions from various places, amongst them Schwäbisch Gmünd and its twin towns who contributed a higher than average number of items to the programme. People online around the world could find out authentic information about the situation in Italy, Hungary and England. In over 40 broadcasts, contributions from more than 100 people who had been invited to share their daily thoughts in the times of Corona as audio files were transmitted. Some made live contributions.
Broadcasts dealt with the daily news situation in the respective countries, others were inspired by music or literature.
Themes varied widely, from cooking and cleaning, fears and anxieties, conspiracy theories, violence at home, enforced idleness – some were funny, others serious. The thing all these people had in common was that they were self-isolating or under lockdown. The programme brought voices from Germany, France, Great Britain, Norway, USA, Brazil, South Korea, Iran, Georgia, Russia, Australia, Sweden, Austria, Hungary, Italy, Bulgaria, Portugal, Spain, Netherlands, Luxemburg, Ireland, China, Greece, UAE and the countries of the former Yugoslavia.

Facilitated by Dragana Damjanovic-Schachner from Gmünd Twin Town Society, one of five contributors who prepared items for broadcast on a daily basis, Verein Städtepartnerschaft and representatives from the twin towns got a lot of attention.

Appeal in Gmünder Tagespost
It all started with an appeal in the Tagespost by the Gmünd Society, which resulted in almost daily broadcasts from Faenza and Székesfehérvár but mainly Barnsley. The Barnsley contributions were striking, especially concerning the tight restrictions people found themselves under and what staying at home meant for individuals. There was comment about online lessons for school, how to occupy children and how to learn dance online! A lot of information on the allowed daily outdoor exercise, such as how far and how long people were allowed to go for walks.
A most impressive report came from a nurse in Barnsley who spoke about her work on the front line. Contributions from Faenza concentrated on the situation of young people there and the schools and also reflected the long very gloomy time in the town, luckily it wasn't hit too hard by the virus.
Report from Gmünd
A former Italian intern at the Gmünd Council and his friends talked about student life during the Corona lockdown but also about his time working in Gmünd. Székesfehérvár mainly reported on the measures the council was taking to combat the disease. Antibes and Bethlehem had been approached but did not take part.
Overall, friends in the twin towns of Gmünd contributed over a third of the broadcasts.