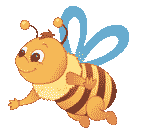 Forthcoming Events
| Date | Event | Topic |
| --- | --- | --- |
| 1st January 2022 | DUE TO CORONAVIRUS ALL EVENTS SUSPENDED | PLEASE CHECK BACK LATER - STAY SAFE ! |
Latest News

14/07/21
"Postcards connecting the world - Twin Town Postcards"

Schwäbisch Gmünd partner towns:

Barnsley -Yorkshire, England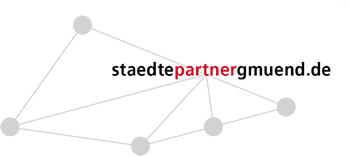 Antibes - Côte d'Azur – France

Bethlehem – Pennsylvania, USA

Faenza – Northern Italy 
                           
Székesfehérvár – Central Hungary

Citizens can establish personal contacts not only from Barnsley to Schwäbisch Gmünd but also from and to other Gmünd partner towns.
You can do this online, access the website at the following link:
https://www.schwaebisch-gmuend.de/partnerstaedte-postkarten.html
Enter your name and contact details to write an initial message to the partner city you want. Your message will be passed on to those responsible for town twinning in the respective cities and from there to interested citizens.
More information about Gmünd Partner cities: https://www.schwaebisch- gmuend.de/partnerstaedte.html
Youtube Channel of the partnership association:https://www.youtube.com/channel/UCyvrZixd2oZXhF9SHT2Qb6Q
01/07/21
"Garden joy for a lifetime - The Barnsley Garden in Schwäbisch Gmünd"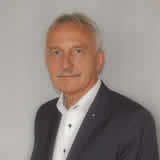 Giving the town twinning a permanent place: This idea was on the program for the 2014 State Horticultural Show. This is how the Barnsley Garden was created on Grabenallee, designed according to English gardening tradition.
Not a garden for one season, but for the whole gardening year with blooming surprises that are also colour-coordinated. Even the development in height is no coincidence, low and high-growing plants are arranged accordingly.
Seven years after the garden show, the Barnsley Garden area is one of the most popular places along the city walk.

By Kuno Staudenmaier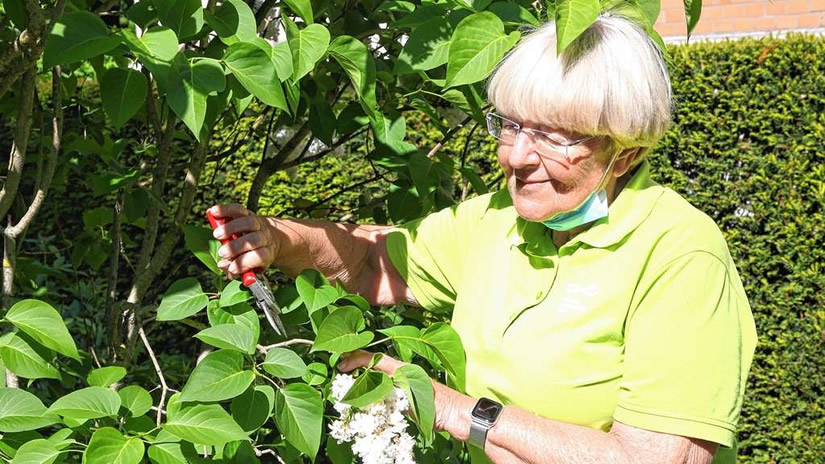 Garden joy for a lifetime
The well-tended appearance of Barnsley-Garden in Schwäbisch Gmünd is no coincidence:
Dagi Glasenapp tends the flowers and bushes almost every day and intervenes when necessary. She has been maintaining the Barnsley Garden in Schwäbisch Gmünd since the state horticultural show.
It is a destination for many visitors to the city and a feast for the eyes all year round.
In all of us, some stimulus can evoke a childhood memory. For some of us it is the memory of the flowers that we saw in our grandparents' gardens and are now looking for in vain. This was written by the English gardening icon Vita Sackville -West (1892 to 1962). A sentence that may also apply to Dagi Glasenapp from Schwäbisch Gmünd, who never forgets that she "took her gardening passion from her grandma". Today this passion also benefits the general public.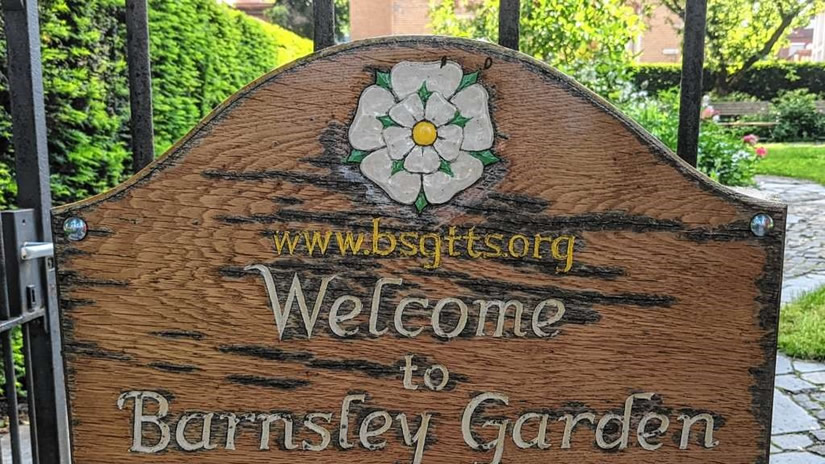 Entrance to a little paradise.
© mayr
Dagi Glasenapp volunteers to look after the "Barnsley Garden" on Grabenallee in Schwäbisch Gmünd, which was created for the 2014 State Horticultural Show. A little paradise where strollers feel just as comfortable as bees and butterflies. A garden that reveals its beauties all year round.
But first things first: Dagi Glasenapp grows up in Oberndorf as the oldest of three children. The relationship with grandma is close, grandma's passion is seamlessly transferred to the grandchild. The flowers, the colours, the scent of the summer blooms have done it to her. Nothing has changed to this day. Dagi Glasenapp has never been without a garden throughout all her life.
She gets married, moves to Essen with her husband - he is employed by the UN - and experiences "a high garden culture" there. Small gardens around the house are a matter of course there. Flowers are part of it, the many miners in the Ruhr area also grow vegetables. As a garden connoisseur she appreciates the proximity to Holland, also the proximity to the English gardens, experiments with seeds and saplings, and devours books that expand her gardening knowledge.
Change of location:
Due to her husband's job, they re-locate to Bangkok "I had a garden there too," says Dagi, who now comes into contact with other vegetation and other plants. But she keeps having the same experiences "You always experience the plant three times." You have a pictures in mind, imagining how it looks, taking a seedling in your hand, nurturing it and see it later in all its glory.
Many years later, back in Germany, Dagi Glasenapp decided to move to Schwäbisch Gmünd. Her son has settled there. And because her new home does not have a garden, she adopts one.
"The Barnsley Garden" caught my eye straight away at the garden show, "she recalls. It is one of those gardens that enriched the villas on Parlerstrasse at the beginning of the 20th century. The city was able to lease one of the private properties for the garden show. The idea was to give it up again afterwards. Then the garden lover Dagi comes and offers her services. She does it with such great commitment and success that property owners and the city alike are happy about the garden paradise. The garden is a constant attraction, many visitors come and take a seat on the garden benches or in the pavilion. Dagi Glasenapp also gets into conversation with some of them, often receiving recognition for her work and commitment.

Designed in the style of the English garden tradition, the Barnsley Garden should have been laid out by experts from the English twin town of Schwäbisch Gmünd. Because this was not possible at the time, horticulturists Lutz and Jakob Hokema took over. What became of it is what Dagi Glasenapp enthuses to this day: "There is not a month that I would not be enthusiastic about"
"While a rose garden is full of splendour for perhaps six weeks a year, the English garden has its highlights all year round. That is the real feature and focus of the garden, the coloured accents are everywhere almost continuously over the whole year."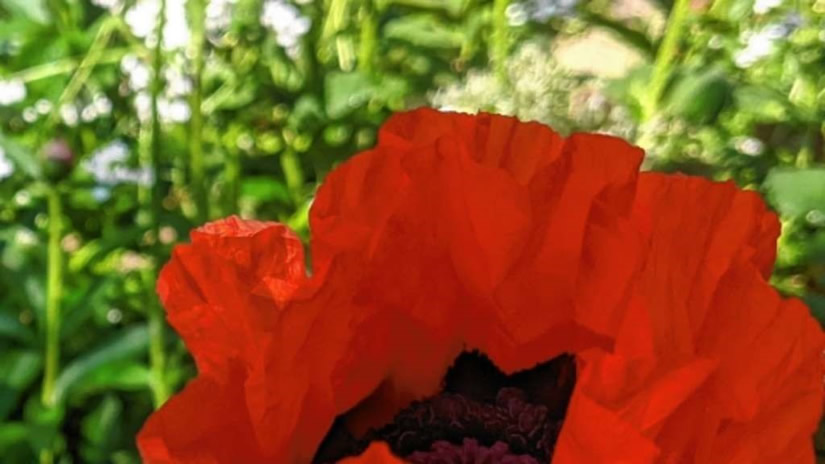 The flowers of summer.
© mayr
At the end of winter, the snowdrops are the first harbingers of early spring, but the Grabenallee area is really famous for its large number of crocuses. They had their origin in the villa gardens.

Dagi is eagerly awaiting the highlights, the flowering of the lilacs enchants the garden in May, then the secondary violets which correspond in colour with the lilac open up and of course the peonies, which are a little later this year and will really delight even after Whitsun. Not to be overlooked are the splendid spherical Allium flowers, a member of the leek family. The rambler rose adds a splash of colour to the pavilion. It's still early summer, but with the poppy seeds and especially the phlox, midsummer is already arriving, they are the plants of July and August.
Vita Sackville-West gives in to melancholy: "I always get sad when the first phlox appears. It heralds the end of intoxicating early summer and reminds us to think about autumn," she writes in her book 'From my garden'.
Dagi Glasenapp takes care of them all, dead heading what has faded and waters on dry days. She is there every day if necessary and is happy that life can also be seen above the flowers. Hundred-year-old maples are part of it and a young pear tree in the middle is a reminiscence of the time the villas were built. At that time it was customary to plant a pear tree in a villa garden.
Then it really is autumn. With the asters, again in the beautiful colours red, lavender, blue and white, the garden year ends - just to restart weeks later.
The Christmas rose is already beginning to show.
Courtesy of

01/06/21
"'Sigmund' the Unicorn marks the start of 50th anniversary celebrations of Barnsley's town twinning"
We are delighted to begin celebrations to mark the upcoming 50th anniversary of the official signing of the twinning document between Barnsley and Schwäbisch Gmünd in Germany and welcome 'Sigmund' to Barnsley – a giant willow sculptured unicorn which is the logo of Schwabisch Gmund.

To celebrate the anniversary, we had several plans in place - but sadly, due to the pandemic and travel restrictions, these plans have been put on hold this year. It's hoped that next year 2022, celebrations will be hosted in both towns to mark the huge milestone. However, not to let the occasion go unnoticed in the meantime, the Mayor of Barnsley, Leader of the Council and
Cllr Steve Green were joined by members of the Barnsley Schwäbisch Gmünd Society, Secretary Phil Coppard, Honorary President Keith Jowett and Vice Chairman Peter Saxton to welcome 'Sigmund' the unicorn. This fitting tribute to the anniversary forms part of the Fantastical Beasts event being held in Barnsley.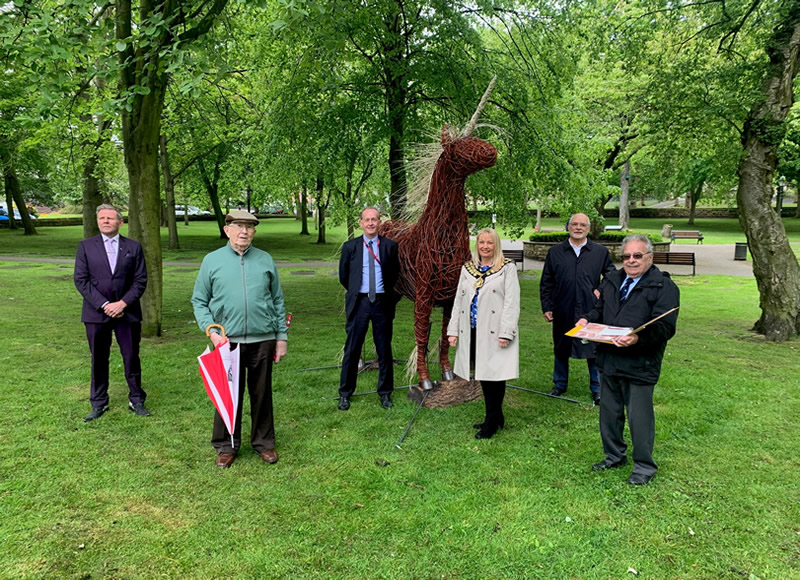 Our society was invited to name the Unicorn sculpture and Sigmund was unanimously chosen.

SiGMUND – Si – GMUND (See GMUND)

Is an old German boys name
Old German Meaning: Sigu – Victorious and munt(d) – protector

Victorious – our partnership reaching 50 years and ........ Protector – the intention (renewal) to protect and nurture our relationship for the next 50 years…and more!

The unicorn promises harmony and friendship, a sign of optimism and hope. It has been Gmünd's town heraldic animal since the 13th century and featured on their coat of arms. According to Medieval legend only virgins can see unicorns.
So, we have to concentrate on young people if we want to spot them.

Mayor of Barnsley, Cllr Makinson said "It's wonderful to be part of these special celebrations to commemorate the coming together of Barnsley with Schwäbisch Gmünd all those years ago. Our partnership with Schwäbisch Gmünd is clearly very special and I have no doubt that it will continue for another 50 years and beyond. It's a real shame we are unable to give the anniversary the celebration it deserves this year, but we will definitely make up for it next year. The history and stories behind the twinning is lovely and we even have a direct link to where it all began in our present council as our very own Cllr Steve Green is related by marriage to Arthur Williams who started this amazing partnership."

Sigmund the Unicorn is part of "Twisted -Barnsley's Fantastical Beasts, a series of giant willow sculptures which will be in locations across Barnsley town centre from Saturday 29 May to Sunday 13 June. This free family trail is inspired by local creatures and legends and features sculptures designed by six renowned artists from across Yorkshire and the North.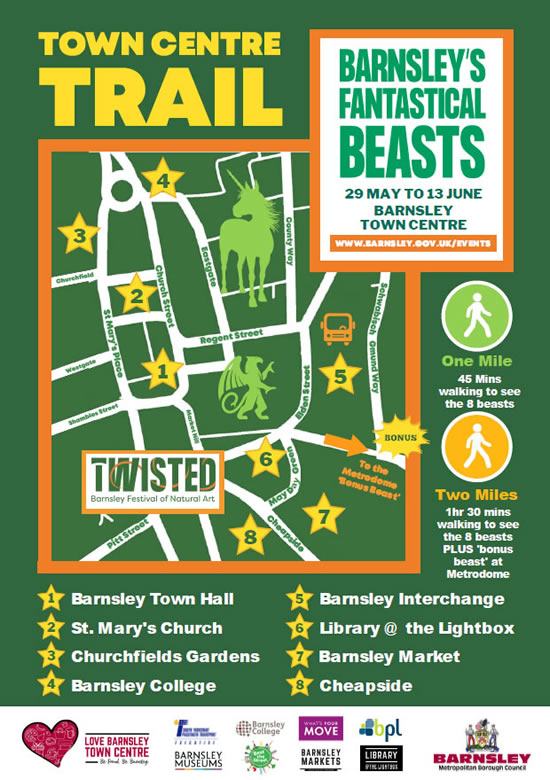 12/03/21
"Bocksgasse - Boulevard of twin cities - brightly coloured into the future"
May 9th 1945 was a very important date for Europe and the world and marked the ending of the devastating second world war. May 9th 1950 witnessed the birth of the European Coal and Steel Community.
To mark these two days, from 8th May to 11th September the city partnership project "Boulevard of twin cities - brightly coloured into the future" takes place in Schwäbisch Gmünd.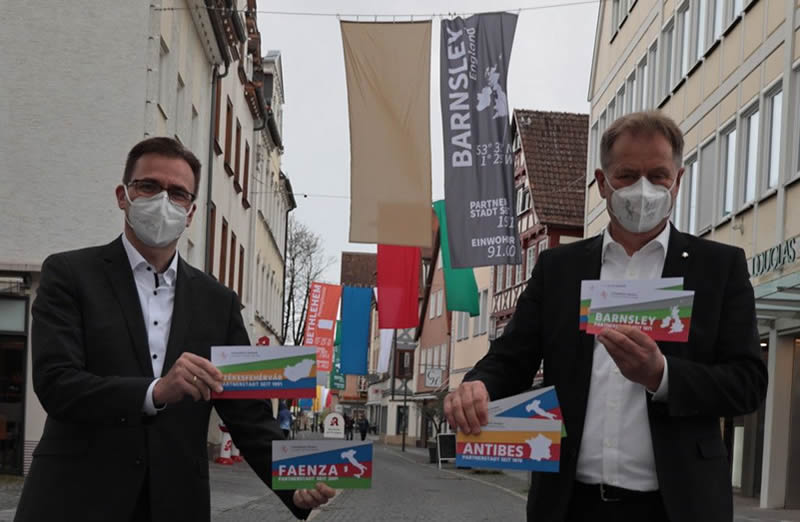 Consisting of three project parts the five partner cities of Schwäbisch Gmünd, Antibes Juan-les-Pins (France), Barnsley (Great Britain), Bethlehem (USA), Faenza (Italy) and Székesfehérvár (Hungary) will be involved, implemented by the city administration in conjunction with photographer and artist Ingrid Hertfelder and Gmünder Städteparterschaftsverein (Gmünd's town partnership Association).

Strips of fabric in the colours of the Gmünd partner cities with brief information about the partner towns were hung in Bocksgasse in Schwäbisch Gmünd. Mayor Richard Arnold and district Administrator Dr. Joachim Bläse were both enthusiastic about the project idea. "The Boulevard of Twin Cities is a young, fresh idea that takes the city population with it and contributes to international understanding. "This is exactly what Europe and the world needs now"  said Oberbürgemeister Richard Arnold.
"A united Europe also requires the commitment of the citizens, this project has the chance to inspire young and older people alike for Europe." added Dr. Joachim Bläse.
The walk-in art installation "Boulevard of twin cities - colourful into the future" was the idea of Ingrid Hertfelder and together with Daniel Cavli from the Prediger cultural centre in Gmünd, Franka Zanek and Inga Adam from the International, Integration and Europe department and the partner town association, an overall concept for the twinning exchange in 2021 was developed.

It began in April with the fabric panels in the colours of the Peace flag. The lengths of fabric symbolise the peace-building character of the city partnerships and the cosmopolitanism of the city of Schwäbisch Gmünd. Strips of fabric in the colours of the city of Schwäbisch Gmünd form the end of the boulevard.

In addition to all this, there is also the possibility for Gmünders to establish direct, personal contacts in the partner city of their choice with a postcard campaign. These postcards are displayed in the town hall, in the city library and in the Gmünder Adult Education Centre. Digital format postcards are also available.
The third part of the project is a special program on the subject of "Youth encounters in Europe". Young representatives from each of the partner towns have been invited to comment on their exchange experiences and their own thoughts on Europe.
This has been recorded for transmission on the Gmünd town partnership association YouTube channel on May 30th.
Link: https://www.youtube.com/channel/UCyvrZixd2oZXhF9SHT2Qb6Q
08/04/21
"Memorable experiences never to forget"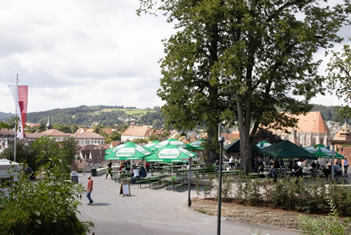 To many people, Zeiselberg, which towers over the city by some 60 meters at a height of almost 400 meters above sea level, is a foothill of the Swabian Alb that extends into the old town of Schwäbisch Gmünd and that is the fact.

Students have been making a pilgrimage to the Schlossberg for decades to enjoy the magnificent views of the city but I think more importantly, it was an excuse to visit the Biergarten am Zeiselberg there.
Those lucky enough to have visited on a warm summer evening, sitting under the two old linden trees, enjoying a wine, cool beer or cider or two, having something hearty to eat and in good company, it takes on a whole new ambience and a memorable experience that one will never forget.
Photo: Mario Klaiher
A restoration of the biergarten and the building of a viewing platform for the state horticultural show in 2014 began the transformation and recapture of the whole mountain area which was completely overgrown with carob and blackberry bushes.

The viewing platform, built with a 5% incline weighs 3.5 tons and extends 5.5 metres to provide fantastic panoramic views of Schwäbisch Gmünd with particularly good views of the 700 year old, 40 meter high Königsturm, the old synagogue in the Jewish quarter, the town hall and the beautiful Heilig Kreuz Münster with its huge nave and tiny tower on top.


Photo: Ingeborg Nagele

Add to this the background of forest rising in the distance to complete the picture perfect views and it's no wonder time easily drifts by and unforgettable memories are framed, to treasure forever.

The hit for children and young people is the almost 30 metre long giant slide to keep them busy all day.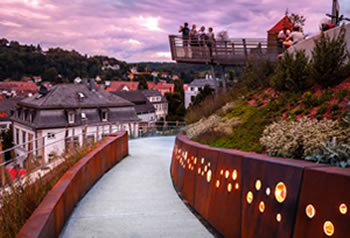 Gone now are the blackberry bushes and weeds, with new landscaping the mountain is gradually turning green again, even the first vines are growing
on the slopes.

Access is easy, even for those less able, a stepless path over a ramp twists
in a serpentine from the city up and back down again.

When it's dark, innovative motion detectors switch on semi-precious stones
such as Calcite orange (orange), Rose quartz (pink), Rock crystal (transparent) or Amethyst (purple) embedded into the wall to light the way in four different colours.


Photo Antonia Nieddu

So next time you pay a visit to Gmünd to stay with friends, make sure you plan a 'kleine Pause' at Zeiselberg, it's a must!

Savour the atmosphere, soak in the views, you're sure to bring back home a whole lot more than you went with.
Good memories are most often created without conscious effort, but I believe the best thing is making them.
08/03/21
"Staedtepartnerlive 3 real 'live' cultural integration"
The 3rd edition of Staedtepartnerlive broadcast on Sunday 7th March is a great success.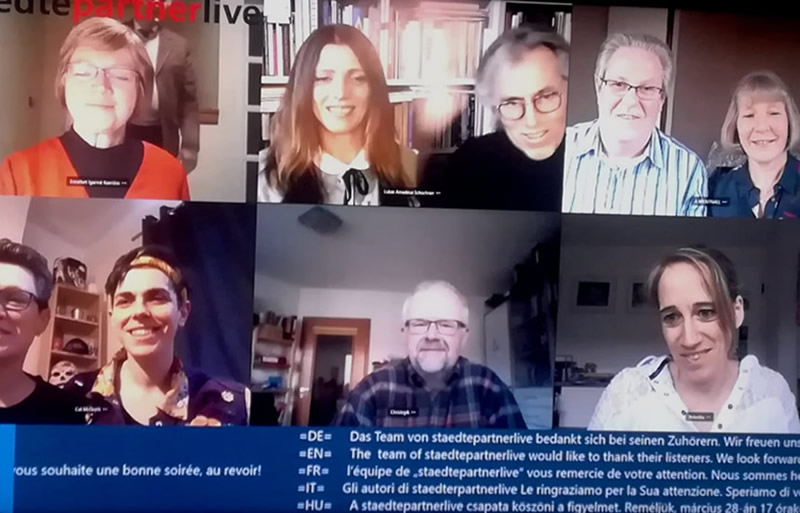 The sheer technical challenge in bringing together no less than three different locations in Schwäbisch Gmünd, two in Barnsley, England – 800 miles away and one in Szekesféhervár, Hungary – some 930 miles away would be enough to send most minds boggling and should not be underestimated. Not to mention the task of adding multilingual translation so everyone can understand and follow most of the 'LIVE' broadcast.  Add to all that, the use of photographs, cooking demonstrations and 'live' musical performances, with the individual sound challenges that poses, the technical 'guru' must either have real talent or many, many sleepless nights wondering whether perhaps by chance, it will all work, fingers crossed….or both!

The bringing together of all their twin towns, as a way of keeping 'in touch' was an idea sparked as the second Covid peak struck and confined everyone to yet another lockdown. Initially, the idea was to share news reports from each partner town, Antibes in France, Székesfehérvár in Hungary, Barnsley in England, Faenza in Italy and Schwäbisch Gmünd in Germany on how people were coping with the severity of mass hospitalisations and rising infection rates, and their life experiences generally under different levels of restrictions. This soon expanded into the more cheerful friendship and exchange, the sharing of tradition through art and culture and building real world social relationships, albeit digitally.
The monthly broadcast format now features one of their five partner towns amid News items from around the world, a musical item and includes a Quiz with a prize for listeners to solve. This particular broadcast (Sunday 7th March) featured BSGTTS showcasing the ongoing development of Barnsley town centre, the planting of a Ginko Tree, a sign of peace and hope, a gift from the people of Gmünd now planted here in Barnsley and a tribute to Sir Tom Moore, Inspiration for the World.

Making their debut appearance for Barnsley was Cat and Claudy, members of Frumptarn Guggen Band, (who would normally be across in Gmünd for the International Guggen Festival held around this time every year) producing their own professionally performed contribution about the origins of Guggen Music and how Barnsley Frumptarn Guggen Band became one of, if not, the first in the UK. They went on to describe how the two bands, Frumptarn and Gmünder Gassafetza became firm friends and how Gmündian Claudy now resides in the Barnsley area. A truly wonderful story of real twinning!
The previous Quiz question (the answer to which I can now reveal) set the task to find a word that connected all the partner towns and sounded the same in all five languages, using one letter from each town name. Amongst the answers, interestingly were Nähe, meaning near or closeness, Vital, meaning vital and Alive, all correct, but the one they were looking for and winner of the first prize came from Family Monastory in Hungary, who correctly took the R from Szekesfehervar, E from Antibes, L from Bethlehem, A from Fienza and Y from Barnsley to form RELAY.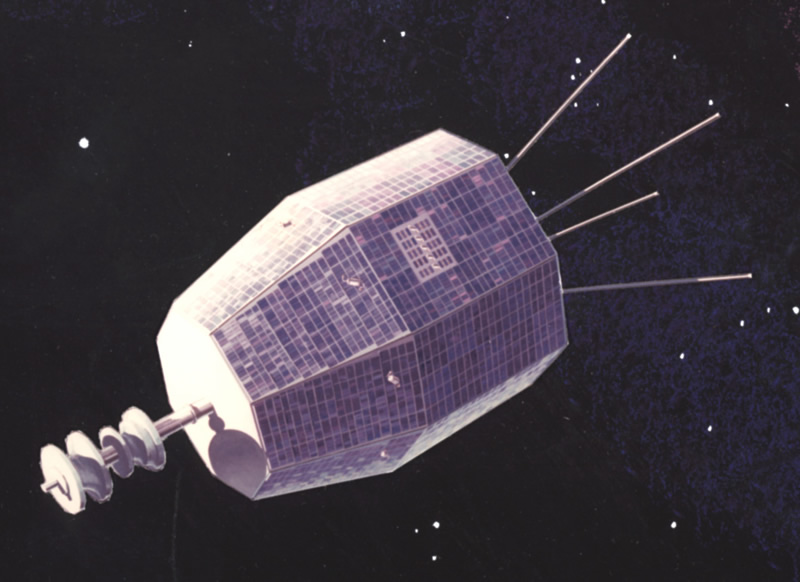 Relay 1 was launched by NASA in 1962 to take news signals from ground stations and then transmit them to other locations on the earth's surface.
A really good 'fit' you might say for the first quiz question.
The Ginko Tree featured by Barnsley in the broadcast is the topic of this month's (March) quiz poser!
Where in Gmünd is the brother of the Barnsley Ginko tree to be found?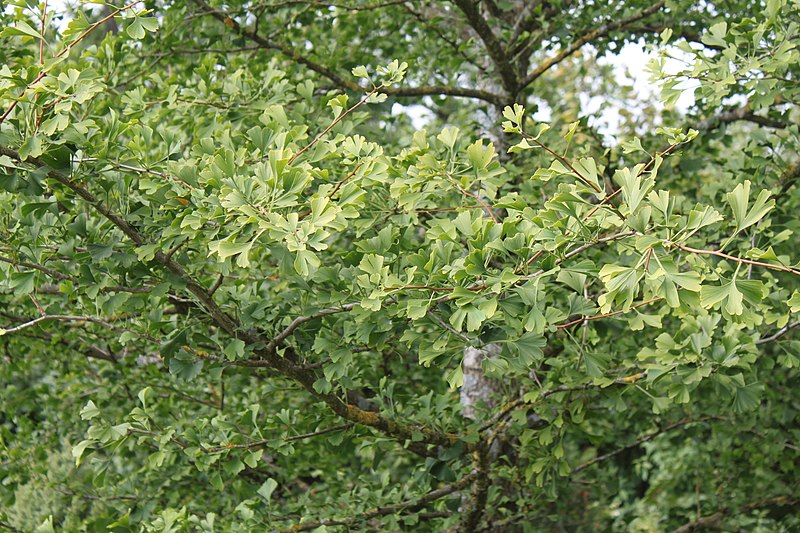 The whole broadcast is done 'LIVE' and OK, things could and do go wrong along the way with connection difficulties and signal delays, some unfortunately you see for a second or two especially when connecting across countries, and some you don't even know about. This is not the BBC, nor are there professional presenters, however it would be very remiss not to give a special mention to the person solving any technical difficulties before and during broadcasts, displaying pictures, controlling connections and the sound and vision ensuring a first class product for every viewer around the world.
"It's all down to my little box" he would say but .....

Clemens Weller, our technical guru, we thank you, you are a star !!!

You can imagine, it takes an unbelievable amount of hard work and committed effort to get these broadcasts together, this is real 'live' cultural integration, bringing communities beyond borders together.

If you did not join us 'live'…… why not?
The broadcast is still available to view via this link: https://www.youtube.com/watch?v=PrZhJCIPr4s
The next "staedtepartnerlive" is in planning, date to be confirmed soon.
05/02/21
"Major incident declared as Christoph heads to UK."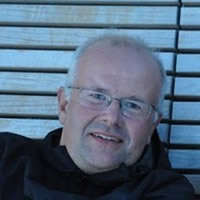 A major incident had been declared in South Yorkshire as Christoph was set to visit Yorkshire.
The Meteorological Office warned that the extreme phenomenon would likely cause floods and road closures and could be extremely dangerous and also that Yorkshire would be 'particularly' hit.

Well, what an entrance and a rise to fame eh, Christoph?

However, whilst we wish to extend our 'Big Barnsley Welcome' to Christoph Bertenrath to his new post - responsible for Barnsley in the Verein Städtepartnerschaft Schwäbisch Gmünd committee
re -shuffle, I should add that this particular warning was caused by his namesake 'Storm Christoph' which hit the UK this last week.
Christoph Bertenrath
VSP Schwäbisch Gmünd

Following on from the melting of the first snow falls in 2021, an Amber warning for rain and severe flooding, with possible "danger to life," we greeted the first named weather storm of 2021. Thankfully Barnsley mostly escaped without serious incident.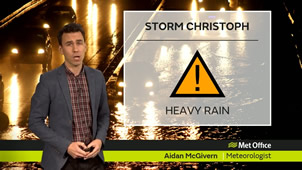 The Met. Office started naming storms about six years ago to "aid the communication of severe weather through media partners," naming a storm means it's easier to talk about. Together with its Irish counterpart Met Éireann and the Dutch weather forecasting service KNMI, the Met. Office chooses storm names by asking members of the public to send in suggestions.

Interestingly, only Christoph will be featured in 2021, with the next storm named Darcy, followed by Evert, Fleur, Gavin, Heulwen, Iain, Julia, Klaas, Lilah, Minne, Naia, Oscar, Phoebe, Ravi, Saidhbhín, Tobias, Veronica and then Wilson.
I don't think there is anyone with any of these names on the VSP Committee though.

So Christoph, we still wait to welcome you in Barnsley but in the meantime we think of the quote by American author Willa Cather: "There are some things you learn best in calm, and some in storm" …… we think we will be really lucky to have both!
14/01/21
"
World premiere
of
staedtepartnerlive"
As we reflect on the difficult times we have seen and are still experiencing with lockdown and restrictions on meeting other people, we must have realised how important human contact and community is to us all. For almost a year now the global Covid crisis has meant isolation being endured by so many around the world, including our members and friends. Other world tensions continue to stir bad feelings and with the added recent turmoil in the US and Brexit of course the intensity remains.

There is though, a bright light at the end of the tunnel and we should all stay positive but it is very clear, (even more so now) how necessary our connections with people, especially family and friends either by phone, Skype or zoom, but also too our partnerships with friends in other cities is so very important in our lives. Nothing replaces actually meeting 'in person' and being able to hug and hold.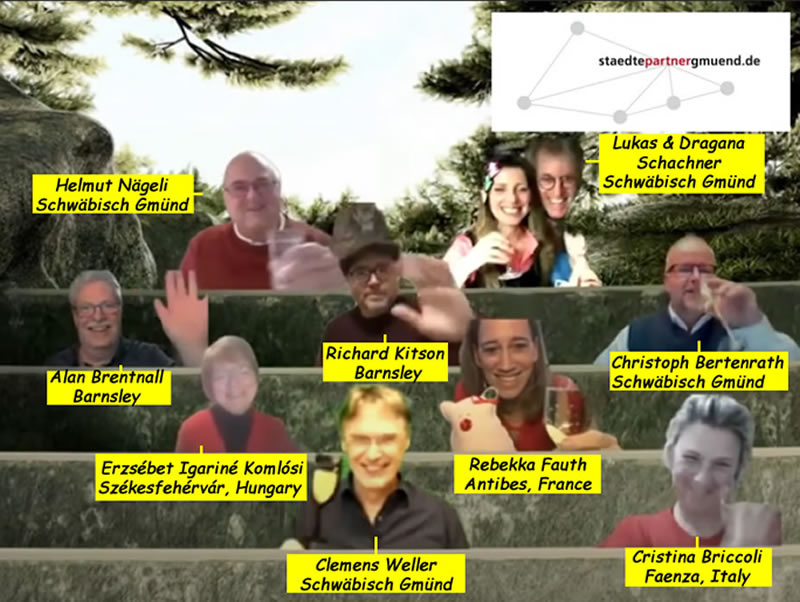 A new venture to connect people of all their twin towns was proposed in Gmünd with an intention to continue on a regular basis and at a fixed time for everyone. This contemporary exchange to include contributions from Antibes, France;
Székesfehérvár, Hungary; Barnsley, England; Faenza, Italy and hosted by Schwäbisch Gmünd, Germany to go 'live' on YouTube allows us all to connect by computer or via a simple internet access, like almost every mobile phone has these days.

The fantastic "World premiere" of "staedtepartnerlive" - Association of twin cities Schwäbisch Gmünd on Friday,
January 1st, 2021 at 5 p.m (4pm BST) was a great success with lots of really good feedback, especially from the partner cities and has confirmed and encouraged it to continue.
If you missed it or want to watch again….

Link: https://www.youtube.com/channel/UCyvrZixd2oZXhF9SHT2Qb6Q...

or Link: https://www.youtube.com/channel/UCyvrZixd2oZXhF9SHT2Qb6Q/featured
CONTENT
- Welcome and lighting situation Johanniskirche (Dr. Lukas Schachner, Christoph Bertenrath)
- School under Covid - Contribution from Faenza (Cristina Briccoli)
- Coronation Games - contribution from Székesféhérvar (Erzsebet Igarine Komlosi)
- Galette de rois - Contribution to Antibes (Rebecca Fauth)
- 50 Years of Twinning - Contribution from Barnsley (Alan Brentnall)
- Richard Kitson & The Arts - Contribution from Barnsley (Richard Kitson)
The next "städtepartnerlive" is in planning, date to be confirmed soon.