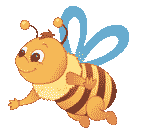 Forthcoming Events
No forthcoming events found.
Latest News

14/11/22
Nations fall silent on Remembrance Day

Across the world Remembrance Day is a memorial day observed since the end of the First World War to honour armed forces members who have died in the line of duty. Member states of the Commonwealth of Nations adopted Remembrance Day, while the US chose Veterans Day.

Following a tradition inaugurated by King George V in 1919, the day is also marked by war remembrances in many non-Commonwealth countries. In most countries, Remembrance Day is observed on 11 November to recall the end of First World War hostilities. Hostilities formally ended "at the 11th hour of the 11th day of the 11th month" of 1918.

A two-minute silence was held across the UK on Friday to mark Armistice Day.

On Remembrance Sunday (the closest Sunday to 11th November) all around the UK people gathered at the local cenotaph in their cities and villages to pay respect.

In Barnsley a large crowd gathered, The Mayor led the Civic Remembrance Sunday commemorations at 11am outside the
Town Hall at the War Memorial, joined by Sir Steve Houghton, Dan Jarvis and other civic dignitaries. Students from Barnsley College, read a poem, and several local schools laid wreaths and artwork.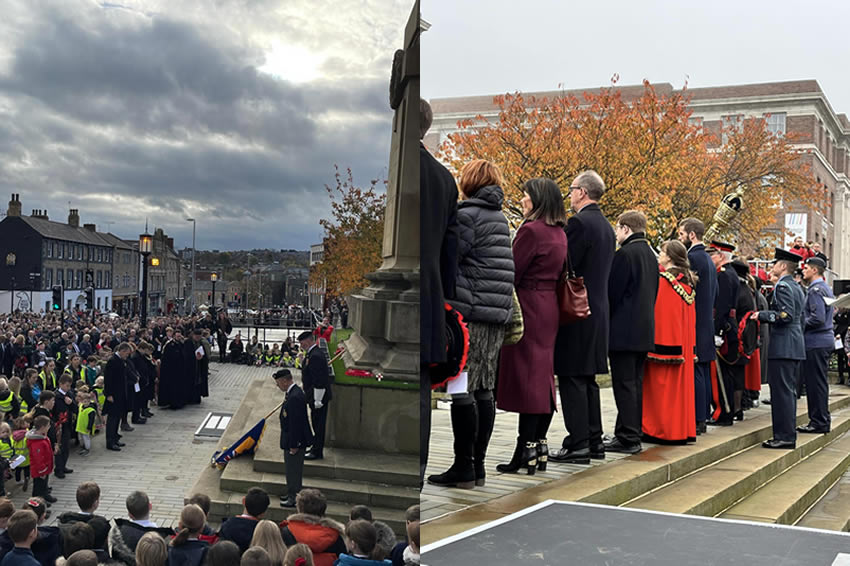 Barnsley Schwäbisch Gmünd Society were represented by Honorary President Mr Keith Jowett together with
Secretary Mr Phillip Coppard, laying a wreath on behalf of the society.
In London, King Charles III led a ceremony and laid a wreath at the Cenotaph in front of other royals and senior politicians.
This year's commemorations to remember the war dead involved the recently restored Big Ben striking 11 times.

Approximately 10,000 Royal British Legion veterans, representing 300 different Armed Forces and civilian organisations, took part in the March Past; they were joined by an estimated 10,000 members of the public who lined Whitehall to watch the service.

Among those marching was 100-year-old Second World War veterans and those who served in recent conflicts including in Afghanistan. 400 members of the South Atlantic Medal Association marched past the Cenotaph to commemorate the 40th anniversary of the Falklands War. They were also joined by bereaved family members with the youngest marcher aged eight years old.

Prime Minister Rishi Sunak said: "This year more than ever, we are reminded of the huge debt of gratitude we owe those who lay down their lives to protect their country."

The German national day of mourning is the secular public holiday of Volkstrauertag, which since 1952 has been observed two Sundays before the first Sunday of Advent, in practice this is the Sunday closest to 16 November. The anniversary of the Armistice itself is not observed in Germany.


10/11/22
Early Youth Exchange Reunion sparks an appeal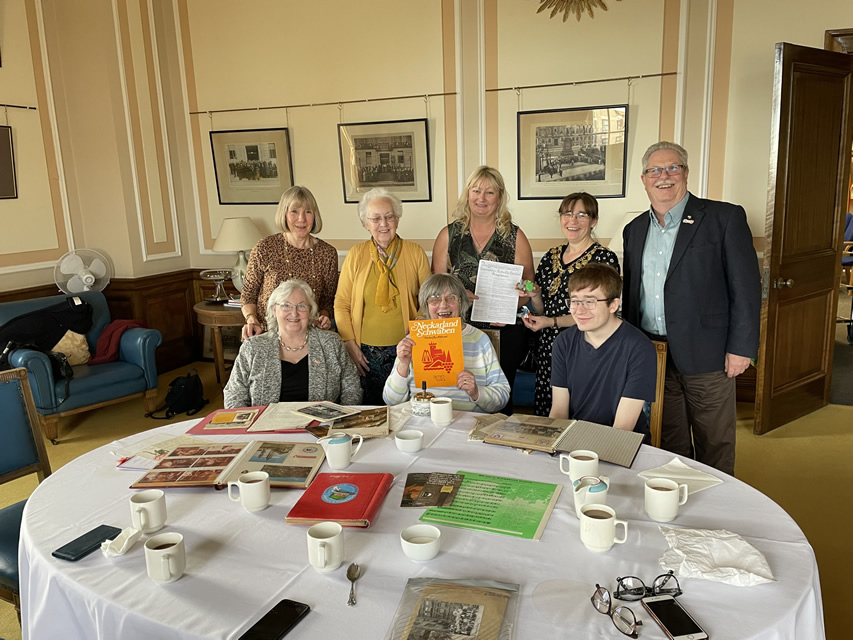 L to R Karin Brentnall - Co-Chair BSGTTS – Dorothy Hayward – Linda Stott – Mayor Sarah Tattersall - Alan Brentnall – Co-Chair
Seated : Valerie Barker – Margaret Tattersall – Consort Ethan Tattersall


Barnsley and twin town Schwäbisch Gmünd are celebrating the 50th Anniversary of the signing of the twinning agreement this year (postponed 1 year due to Covid).

During the festivities held here in Barnsley and in Germany, Barnsley Mayor Sarah Tattersall for St. Helens Ward revealed that she had previously visited Schwäbisch Gmünd as a child, taken there by her mother Margaret as part of a youth exchange programme in the early 80's.
Members of Barnsley Schwäbisch Gmünd Society Dorothy Hayward and Linda Stott remembered the visit well as they both took part in the same exchange, Linda also as a child and Dorothy as a parent.

Long standing member Valerie Barker and former Barnsley Youth Services Officer responsible for organising the early youth exchanges was thrilled to join the reunion at the Mayor's request. Her contact with Margaret Tattersall has remained constant throughout the many years.
Member Linda Stott found the actual programme from the visit amongst photos at home and along with other memorabilia brought together, ignited many happy memories.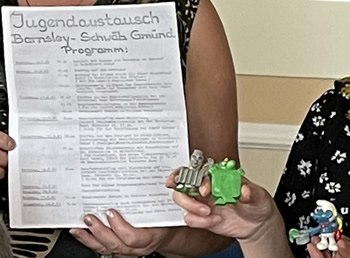 The actual programme of the early exchange and
some of Mayor Sarah Tattersall's childhood toys
brought back from the visit to Gmünd
A highlight was the discovery of toys brought back from the visit that Mayor Sarah played with as a child.
These included a Smurf manufactured in Gmünd, the character that brought the Schleich company to the world's attention.
There must be many other Barnsley people who took part in the early youth exchanges or visits via schools, youth clubs or sports clubs, if so, we would love to hear from you.

Please contact Barnsley Schwäbisch Gmünd Society:
Email: bsgtts@gmail.com
Tel: Secretary: Phil Coppard 01709 812187

16/09/22 In happier times – When Elisabeth met Elizabeth: Mayor's wife and Queen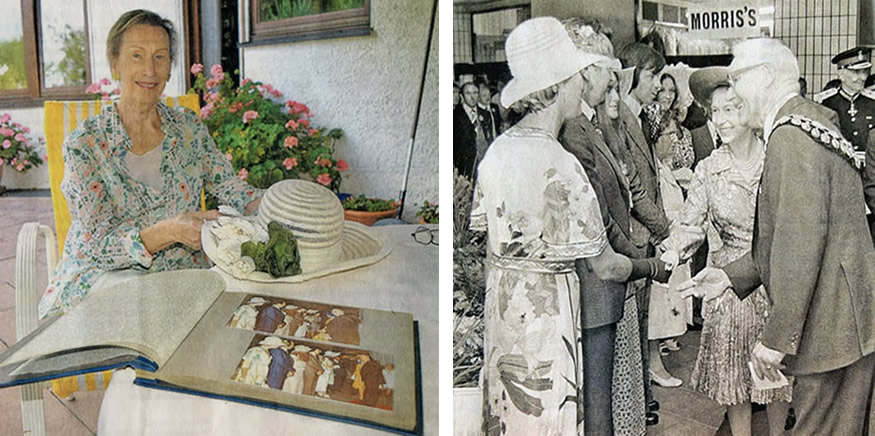 Elisabeth Schoch (84) still has many photos of her meeting with the Queen, as well as her hat which she had
specially made for the visit to Barnsley.

29. July 1975: Elisabeth and Oberbürgermeister Norbert Schoch from Schwäbisch Gmünd are presented to the Queen
in Barnsley.

Queen Elizabeth II and Elisabeth Schoch came face to face during the visit to Barnsley.
Elisabeth Schoch the wife of the Schwäbisch Gmünd Oberbürgermeister Norbert Schoch had the honour to meet the Queen and Prince Philip in Barnsley when a new shopping Centre was opened in 1975.

This week, Rudolf Böhmler, Former Permanent Secretary of Baden-Württemberg, and the widow of Dr. Norbert Schoch met and recalled cordial moments with sadness, gratitude and with and a measure of serenity.
09/09/22
Barnsley, the English twin town of Gmünd, mourns the death of the Queen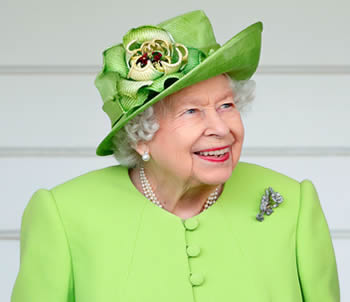 Courtesy of GERALD BAUER & Rems Zeitung
THURSDAY 08 SEPTEMBER 2022
Schwäbisch Gmünd's English twin town, Barnsley, mourns the death of Queen Elizabeth II, who passed away on Thursday.
As head of state, the monarch has visited the old mining town several times. There are film recordings of these visits, which can be found on the Internet platform Youtube under the keyword "Queen visits Barnsley".
In 1971 the official partnership between Barnsley and Schwäbisch Gmünd was sealed. The 50th anniversary of the partnership was celebrated this summer with a big open-​air festival in the city garden in Schwäbisch Gmünd.

In addition to official encounters, many private friendships developed over decades. This direct and personal international exchange of people from the twin towns is the major concern of the Gmünd partnership association.

Barnsley is in South Yorkshire. Since the first half of the 1970s, Barnsley has been a "metropolitan borough" with 231,000 inhabitants (2011).
In 1086 'Berneslai' was first mentioned in the Domesday Book and in 1249 it was granted market rights by King Henry III. From the Middle Ages until 1993, Barnsley lived mainly from coal mining. Due to the structural change in mining, Barnsley had to initiate the transformation process years ago and create jobs in other areas.
In accordance with English local law, part of the council is elected for three years in a row. The highest representative of the city, the mayor, is elected from among the council (municipal council) for one year. The city government is headed by the Chief Executive.
On the occasion of the death of the English Queen, the Friday edition of the Rems-Zeitung reported extensively on Queern Elizabeth II, who enjoyed an absolutely special position among the reigning monarchs in Europe and who impressed many people around the world with her extraordinary biography.
BSGTTS join with our twin town friends around the world in mourning the passing of a very unique and special lady,
Queen Elizabeth II, rest in peace your Majesty and Thank you for everything.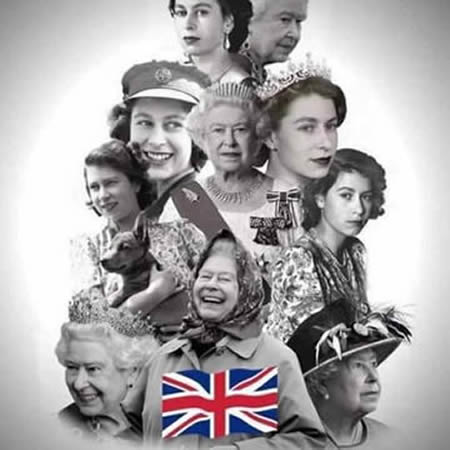 22/07/22
Common values shared over 1200 years


Author: Bernd Müller
Courtesy of Gmünder Tagespost

Festive service in the Münster as final event of the European Staufer Days – The Saga, The Town Twinnings and our Youth, all to be carried on in the future.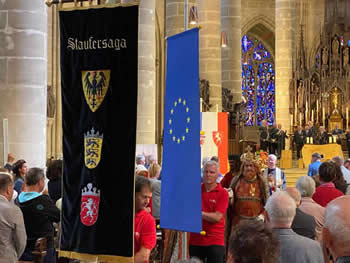 Festive service in the Münster as
final event of the
European Staufer DaysNot a word has been spoken yet but the flags already show what this festive service will be about, - about the Staufer dynasty, about Europe and about six towns who want to be connected with each other. It will be about common values.
This week we saw how hundreds of actors in the play "Moments of the Staufersaga" represented just that, with their stories, with fantastic images, with their cooperation and teamwork:

After the service Gundi Mertens, deputy chair of the Staufersaga Society, put it like this: The best thing of all had been "to achieve things together, as friends, to build cohesion".
This ecumenical church service in the Münster on Sunday morning with all its participants strongly emphasises the common values of this community which spans different eras, borders and languages.
Konrad Sorg in the robes of Emperor Barbarossa reminds us of the "values of chivalry". Sarah Gros NF, representing his wife Beatrix, says: "We want to build a house in which peoples can live in peace. This house is our Europe."
Zeynel Alkis, dressed as the Arabic scholar Ibn Zafar, underlines the diversity of all people on earth who, after all, are all human: "In all our differences we are all the same".
This is a clear message, and not only because of the European flag displayed in the Münster: We belong together, and we are happy to be enriched by the integration of other people and their culture: For example when listening to the gospel singer
Janine Dyer from Barnsley whose lovely solo voice filled the Münster twice during the service.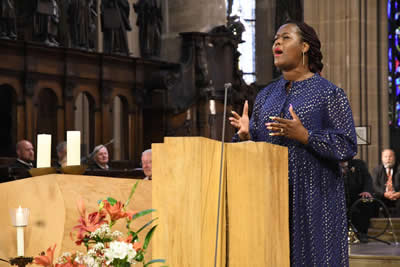 Cohesion, community, connections – these key terms come up again and again this morning. According to the sermon of Catholic Dean Robert Kloker it is all about "understanding history and mastering the future together."
Kloker calls himself a "hobby historian" and reminds us that kingship in the Middle Ages was often not a despotic rule from the top but a "consensual rule." Protestant Dean Ursula Richter speaks against things which divide us, like fences and boundaries.
"Togetherness in diversity" (Richter) is also evident in the hymns sung this morning, each verse in a different language: German, English, Italian, French. Only Hungarian is missing, perhaps because it was recognised, as Dean Ursula Richter admits during her welcome words to all people who attended the service, that "Hungarian is the most difficult of them all..."
A Week Of Lasting Effect
After the Service the flag wavers from Faenza show their skills in front of the Münster, and the royal couple Konrad Sorg and Sarah Gros NF willingly pose for keepsake photos. "How do I address you: Your Majesty?" one women asks. How many times have they had to pose for photographs so far? "I stopped counting after ten", says Konrad Sorg.
Amongst glasses of sparkling wine, words of thanks and many conversations Oberbürgermeister Richard Arnold sums up the important points once again: "Togetherness doesn't appear from nowhere, it is something we have to achieve ourselves.
We very much need it for the future."

........ and what about the future? Will this Staufer week have a lasting effect?

According to Richard Arnold it will. He says that he cares about young people in particular. "175 years of partnership – that sounds ancient, for this reason it was so important to get young people involved, for example during the sports tournaments between teams from the twin towns."
20/07/22
"There must never be another fence like this!"
As part of the the town twinning celebrations 'Service in the Münster' in Schwäbisch Gmünd, we heard two sermons delivered in German, the second sermon about Europe and Values, by Dean Ursula Richter from the Evangelical Church in Württemberg has now been translated into English and is shown below, well worth a read.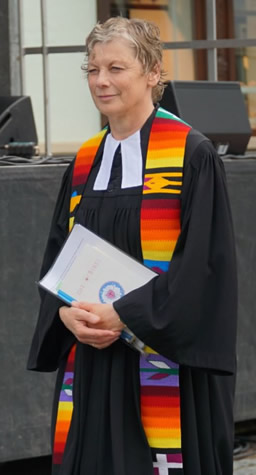 Dean Ursula Richter
Evangelical Church in Württemberg. Dear friends, Europeans, people from all over the world, dear sisters and brothers. "There must never be another fence like this."

During a recent event older people were reminded of the Second World War when Switzerland and National Socialist Germany erected a border fortification which proved particularly disastrous for Jewish refugees, and many were also reminded of the border, the wall which ran through the middle of Germany: The event bringing on such memories was that in March 2020 between Constance in Germany and the adjoining town of Kreuzlingen just over the Swiss border, a fence was installed to contain the pandemic.
It was twice reinforced at later stages. Even lovers could no longer come together.
To the applause of several hundred people, the border fence was dismantled again in May of this year. Today this fence has been placed as a contemporary record in the House of History Museum – as a reminder not only of Corona (we are not through yet) but of the basic values of freedom of movement, coming together and of the common European idea.
It is good that we are so touchy when it comes to barriers like this, after all, the peace project Europe came into being because following the devastating World Wars people started reaching out to one another for peace and reconciliation, churches approached their counterparts in other countries and encounters, exchanges and partnerships were stimulated on many levels, and are still going on as we see today in this church.

Looking at the 175 years of town twinning we celebrate today, it is good to experience togetherness in the diversity of music, culture and character. Let us never lose sight of the fact that diversity, not uniformity, is our greatest wealth. After all, God created such a diverse world.

We owe great respect to the politicians who after the terrible experiences of the wars in Europe strove for new beginnings between their peoples, based on peace and togetherness,and we also respect all those who today promote unity and peace in the face of Europe's great challenges, even beyond the EU.

"Seek peace and pursue it." reads Psalm 34. The origins of European values are essentially shaped by the Judeo-Christian religion and also by impulses from Islam which for centuries was more open to the world than the Church. But there are always people who oppose values like freedom and equality of all people, tolerance and participation.

We can all feel this opposition, in terrorism of all kinds and the current atrocities in Ukraine. In stoking fears and distorting the truth. We all know how devastating and destructive this is in everyday life, on the internet and in our streets. Nationalistic and autocratic currents are gaining strength, and sealing ourselves off from the outside world appears to be the answer.

"There must never be another fence like this!" Yes, this much is true. How fantastic is it to be welcome and at home in Antibes, Faenza, Székesfehérvár and, despite Brexit, in Barnsley, and even across the Atlantic in American Bethlehem – just as we welcome you as our guests here.

But what about the borders to the outside world? What about the people who flee to us across dangerous routes like the Mediterranean or overland because they have no livelihood, flee from war zones, are displaced, are starving? Churches and humanitarian organisations are working hard to ensure that Europe does not become a bastion. To achieve this, we apply the principles of our tradition and religion. For example, Jesus' parable of the rich man and the poor Lazarus who suffers at his door. In the eyes of God, this behaviour is intolerable. Intolerable from a point of view of humanity. God himself became man in Jesus Christ, and He calls upon us to act as fellow human beings. St. Elisabeth, St. Martin: these are not just folk tales. Jesus is serious: he who has two coats, give to him who has none. Peace needs justice.

This also applies to our common house of Europe. Putin's attack on freedom and democracy makes us more aware of our common values – and, if necessary, we must defend these values with prudence and wisdom. It is good to see that Europe is taking in refugees from Ukraine. Our house has open doors. But are there refugees – people, after all – of first and second class? For years Gmünd has rejected this way of thinking. And many others in Europe did the same.

In Africa I heard a wise proverb: "I am because you are, and you are because I am." We are all different, and yet like one body. In Europe, in the world, as churches and religions. I am because you are and you are because I am.
The whole body is affected when one limb suffers. The Apostle Paul emphasises this again and again. He means the body of Christ with its various limbs. I cannot imagine that this only includes the constituted church or only those who are like us.
For to Him and through Him are we all. This is what I believe. Therefore I say: "There must never be another fence like this."
I conclude with the Jewish Talmud. One question in the Talmud is: "When does the night end and when does the day begin? When you recognise your hand in front of your face? When you can distinguish a tree on the horizon? The night ends and the day begins when in the face of another human being you recognise your brother and your sister".
May our values in Europe at all times be measured against these words.
Amen.
16/07/22
Worsbrough Bridge AFC guests in Gmünd
Courtesy of Rems Zeitung, - Schwäbisch Gmünd - Saturday 9th July
Successful start of a new football three-way friendship in Bargau


The active footballers and managers of FC Normannia Gmünd and FC Germania Bargau met in Bargau with the footballers of Worsbrough AFC, an English club from Gmünd's twin town Barnsley, for the kick-off event of their new partnership.

At the end of May, a Gmünd delegation visited Barnsley for the launch of this new football partnership. Now the return visit follows, as the twinning weekend was scheduled in Gmünd.

On Saturday the first match will be played between the three clubs at 1pm at the Normannia stadium. Players from Normannia and Bargau will meet the footballers from Barnsley for a friendly.
After a welcome by those responsible in Gmünd the footballers got to know each other on the pitch during a joint training session at the kick-off event in Bargau. During this training session, which was conducted jointly by the English and German coaches, interesting differences in training methodology and football philosophy became apparent. Last but not least, the more physical English style of play stood out.
The final game ended in a fair draw, which is why a penalty shoot-out followed. There is probably no need to say anything about the outcome of a penalty shoot-out between Germany and England, however, everyone agreed that it was a very high-level training session that was great fun.

The officials used the time during the training to present their clubs, compare their structures and discuss the differences between the two football systems. The absolute highlight though, was the third half, during which German and English popular songs were sung.

A visit to England is already planned for the 100th anniversary of Worsbrough AFC next year.

23/06/22

"European Staufer Days" with integrated anniversary promises to be a spectacular
The "European Staufer Days" festival from 6th to 10th July with an integrated anniversary evening on July 8th promises to be another spectacular !
This festival is a time for the city people to come together again, Oberbürgermeister Richard Arnold invites all citizens in and around Schwäbisch Gmünd to the newly written open-air theatre piece "Moments of the Staufer saga - a magical journey through time" in the Remspark.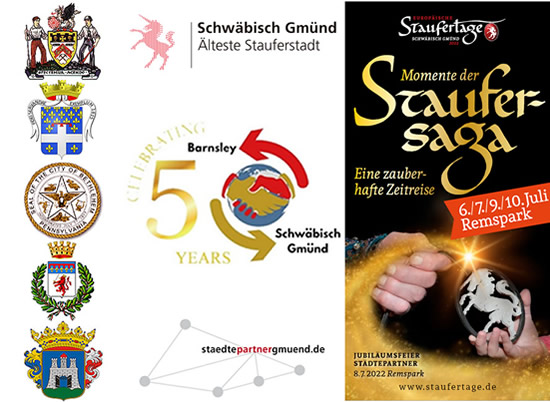 Carmen Bäuml has the task of bringing the 538 participants together for rehearsals and the dress rehearsal. She also manages the
700 volunteers who are assigned in front of and behind the stage to ensure that everything runs smoothly, it will be once again, a massive production. The audience will be whisked away into the past and back into the future. Many children will be involved. You can look forward to well-known scenes from the Staufer Saga performances in 2012/2016.
A highlight of the festival week in Schwäbisch Gmünd will be the town twinning anniversaries on Friday, July 8th with all the twin towns.
Barnsley, Great Britain, has existed for 50 years,  
Antibes, France, has existed for 45 years,
Székesfehérvár, Hungary, has existed for 30 years.
Bethlehem, USA, has existed for 30 years,
Faenza, Italy, has existed for 20 years
Some of the delegations will take part in the play and there is a varied program in the city centre and in the Remspark.
"European Staufer Days" festival Programme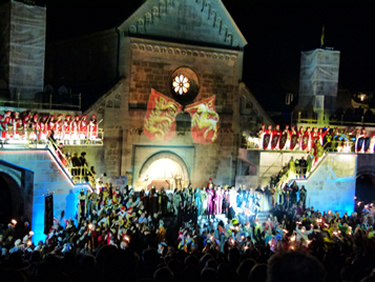 Wednesday, July 6
8 p.m. - Premiere "Moments of the Staufer saga - an enchanting journey through time" in the Remspark

Thursday, July 7
8 p.m. - "Moments of the Staufer saga - an enchanting journey through time" in the Remspark

Friday, July 8
6:30 p.m - Town twinning anniversary evening in the Remspark

9 p.m. - "BESAR" - rock & blues band from Barnsley in the Remspark
Saturday, July 9th
The hockey clubs from Antibes and Schwäbisch Gmünd celebrate 101 years of friendship, the football clubs from Barnsley and Schwäbisch Gmünd start a football friendship,
the swimmers from Hungary, the gymnasts from Antibes and other Athletes from Faenza
meet their opponents from Schwäbisch Gmünd


2 p.m. - Sports Olympics on the football field of FC Normannia Gmünd

4 p.m. - hockey field, gymnastics and fencing in the large sports hall
and swimming in the indoor pool

8 p.m. - "Moments of the Staufer saga - an enchanting journey through time" in the Remspark

Sunday July 10th
10.30 a.m. - Ecumenical service in the Heilig-Kreuz-Münster

8 p.m. - Dernière "Moments of the Staufer saga - a magical journey through time"
with sign language interpreter, in the Remspark
Anniversary evening on Friday, July 8, in the Remspark
From Antibes, jazz musicians from the Conservatoire de Musique will play.
There's a gospel singer from Barnsley singing.
A new piece to confirm friendship was written from Bethlehem especially for the anniversary, which is being rehearsed and premiered by the music school in Schwäbisch Gmünd.
From Székesfehérvár comes a 35-person folk dance group with music.
Flag-wavers from Faenza will show their art of flag-waving not for the first time.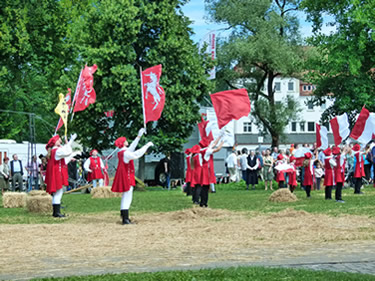 After the anniversary celebration, the rock & blues band from Barnsley "BESAR" will play on the same stage.

A little introduction to our favourite little band from Barnsley - https://fb.watch/eu8a8YnbHO/

18/06/22
50th Anniversary celebrations - three days full of welcome, new friendships and new impressions.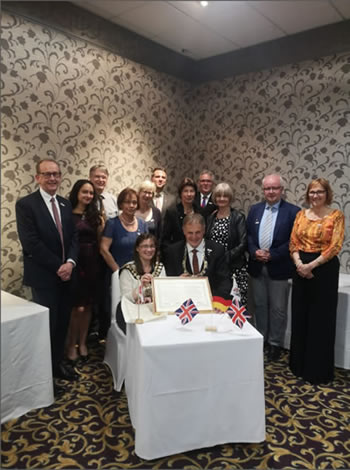 Three days full of welcome, new friendships and new impressions – this is how the delegates from Gmünd town council sum up their trip to celebrate the 50th anniversary of the town twinning between Barnsley and Schwäbisch Gmünd.
Oberbürgermeister Richard Arnold was accompanied by Brigitte Abele, Dorothea Feuerle, Brigitte Weiß and Uwe Beck, representatives of Schwäbisch Gmünd town council and Anna Klamann from the cultural office.
Barnsley welcomed friends from our twin town in southern Germany to celebrate together, a year late due to Covid restrictions, the 50th Anniversary of the signing of the twinning agreement.
There were a number of speeches expressing the importance of the friendship between the two towns.
Mayor Jane Tattersall recalled being placed with a family as an eight-year-old girl visiting Schwäbisch Gmünd for the first time.
"It was a wonderful experience that I will cherish forever" said the mayor, adding that she was looking forward to renewing and deepening the partnership with Schwäbisch Gmünd.
She will be very happy to go to Schwäbisch Gmünd for the return visit in July.

Oberbürgermeister Richard Arnold expressed his thanks for the invitation to the jubilee celebrations in Barnsley. In view of the political situation, "our friendship is more important than ever!" said Mayor Arnold.
He also fondly remembers his first visit to Barnsley as a ten-year-old boy, when the choir was on a concert tour of southern England. He invited his counterpart as well as other members of the town council for a return visit to Schwäbisch Gmünd and emphasised: "The good thing about this partnership is that we can learn from each other and work together!"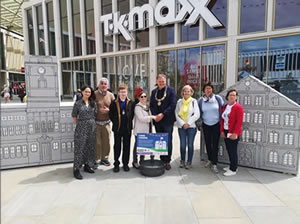 Both mayors reaffirmed the friendship of the two cities, signing a new agreement that acknowledges past cooperation and calls for a deeper partnership in the future.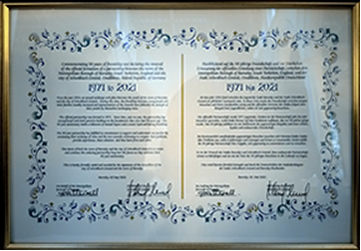 The 50th anniversary of the Town Twinning between Barnsley and Schwäbisch Gmünd was celebrated in a big way in England and the management of FC Normannia Gmünd took this occasion to promote the relationship between the two towns with a new partnership in the field of sports.
A further participant of this cooperation is FC Bargau who due to other club activities was unable to participate in Barnsley.

Worsbrough Bridge AFC in Barnsley, FC Normannia and FC Bargau from Schwäbisch Gmünd look forward to a possible three way partnership, learning and cooperating from each others planning, training and development methods including encouraging youth activities for the mutual benefit of all clubs.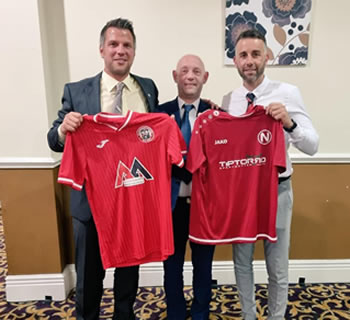 During the jubilee celebrations Normannia representative Christoph Kunze had the opportunity to exchange football shirts with his colleagues from the English partner club.
Plans for the future have already begun. In July the clubs will meet on the pitch in Schwäbisch Gmünd.
Joint training sessions are planned for the footballers from Worsbrough Bridge AFC leading up to a ceremonial match which will take place on Saturday July 9th in Gmünd against players from FC Normannia and FC Bargau.
To mark this occasion, we believe the Mayors from Barnsley and Gmünd will perform the first 'kickoff ' .....and then presumeably quickly run to escape the advancing opposing team members!
A further shirt exchange between the guests from Barnsley and FC Bargau will also take place.
"We are very much looking forward to get to know our counterparts during their trip to Gmünd. This could be the start to a much closer cooperation" says Marco Biegert, committee member with responsibility for football at FC Normannia.
Plans for a return match in Barnsley, a major highlight of Worsbrough AFC centenary year celebrations in 2023 is planned. Twinning in action ....today!
24/05/22
"Searching for Unicorns in Schwäbisch Gmünd"
Well, we have them......here in Barnsley........so visit the Barnsley Schwäbisch Gmünd stall in Barnsley town centre on Saturday 28th May if you want to see Unicorns, but only young people can see them !
Searching for Unicorns?
17/05/22
"Are there any 'real' Unicorns?"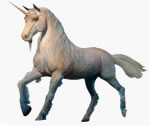 Barnsley Schwäbisch Gmünd Society along with guests from our twin town in Germany claim to have the secret to finding Unicorns.
"According to medieval legend only young people can find unicorns, so it is on this group that we have to focus if we want to spot them." says Alan Brentnall, Chairman of the society.

"Unicorns can turn up in places you might least expect them to and many times they will exhibit twinning, spot one and you will see another."

 "Si - Gmund the Unicorn, one of the fantastical beasts, has special powers to attract them, they are everywhere" Alan says, "but only young people will see them if they visit our stand in Barnsley town centre on Saturday 28th May."
Barnsley will welcome friends from our twin town in southern Germany to celebrate together in Barnsley, a year late due to Covid restrictions, the 50th Anniversary of the signing of the twinning agreement.
The unicorn has been the town's heraldic animal since 1277.
Plans to showcase the new town centre, the unveiling of our town twinning exhibition in Experience Barnsley Museum and a chance to "Meet the Public" are amongst a full programme of events during the weekend visit.
19/04/22
"Program 50th Anniversary celebrations in Barnsley"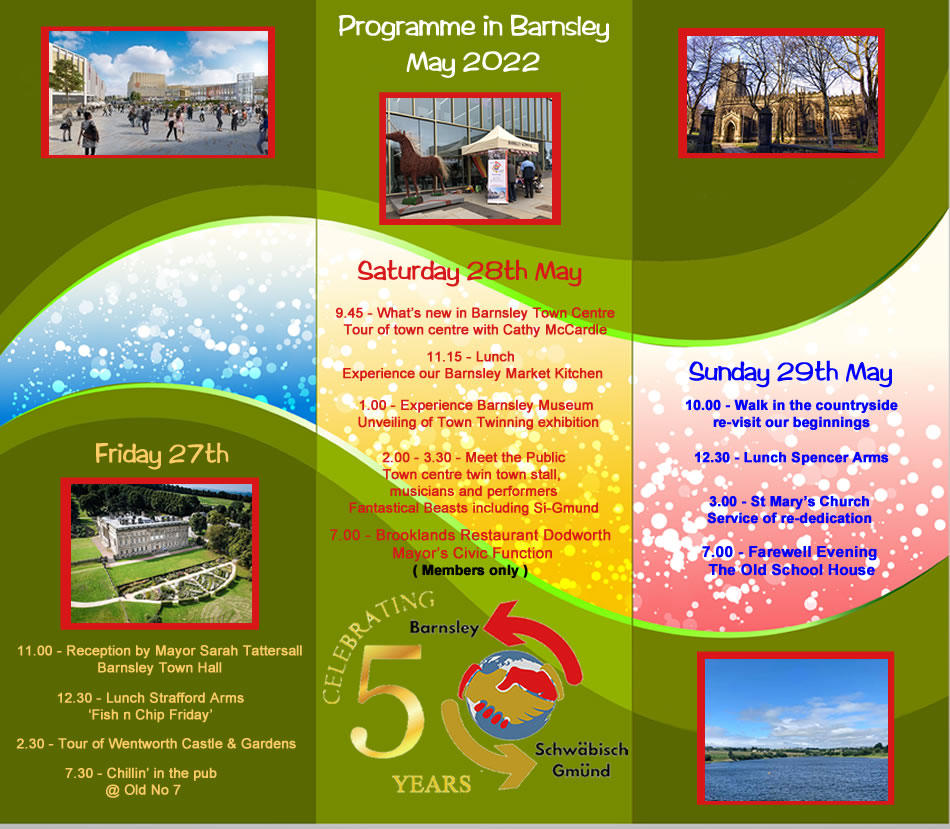 Our programme for the 50th Anniversary celebrations of the official signing of the twinning partnership agreement
between Barnsley and Schwäbisch Gmünd
to be held In Barnsley May 27th to 29th 2022 (delayed 1 year due to Covid)

We look forward to welcoming our guests from Schwäbisch Gmünd in Barnsley!
28/02/22
"Gmünd & Barnsley Twin Town Societies stand together in condemnation of the act of aggression"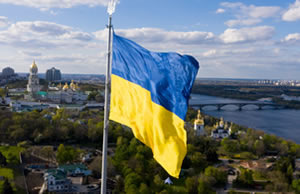 Barnsley Schwäbisch Gmünd Twin Town Society wish to echo and endorse the public statement below by our friends in Gmünd.
We stand together in solidarity of the condemnation of the act of aggression by Russia and support the promotion of all the values of town twinning and friendships by personal relations in pursuit of world peace.
"The Schwäbisch Gmünd Twin Town Society is stunned by Russia's unprecedented breach of diplomacy, law and humanity on the territory of the sovereign state of Ukraine.
Photo by
Oleg Petrasiuk
Town twinning, worldwide, is a result of reconciliation after the horrors of the Second World War and considers world peace, strengthened by personal relations, as an "indispensable condition in a scientific and technical world" (German physicist and philosopher C. F. Weizsäcker, 1964).
The attack on Ukraine also affects the people of Gorlovka (Horliwka), in the Ukrainian Donbass region. This town with its 300,000 inhabitants has been twinned with Gmünd's twin town Barnsley since 1987."
Phil Coppard, former Barnsley Chief Executive, told the Gmünd Association that recent events were a "tragedy on a tragedy" as from 2014 onwards a number of his twinning contacts in Gorlovka have been arrested, killed or forced to flee. This, eight years ago, was the first tragedy.

Both Twin Town Societies express their unwavering condemnation of these events and solidarity with the suffering people, regardless of their language or nation.
09/01/22
"50th anniversary - Seeking Jubilee children born in 1971"