News Archive
01/06/21
'Sigmund' the Unicorn marks the start of 50th anniversary celebrations of Barnsley's town twinning
We are delighted to begin celebrations to mark the upcoming 50th anniversary of the official signing of the twinning document between Barnsley and Schwäbisch Gmünd in Germany and welcome 'Sigmund' to Barnsley – a giant willow sculptured unicorn which is the logo of Schwabisch Gmund.

To celebrate the anniversary, we had several plans in place - but sadly, due to the pandemic and travel restrictions, these plans have been put on hold this year. It's hoped that next year 2022, celebrations will be hosted in both towns to mark the huge milestone. However, not to let the occasion go unnoticed in the meantime, the Mayor of Barnsley, Leader of the Council and
Cllr Steve Green were joined by members of the Barnsley Schwäbisch Gmünd Society, Secretary Phil Coppard, Honorary President Keith Jowett and Vice Chairman Peter Saxton to welcome 'Sigmund' the unicorn. This fitting tribute to the anniversary forms part of the Fantastical Beasts event being held in Barnsley.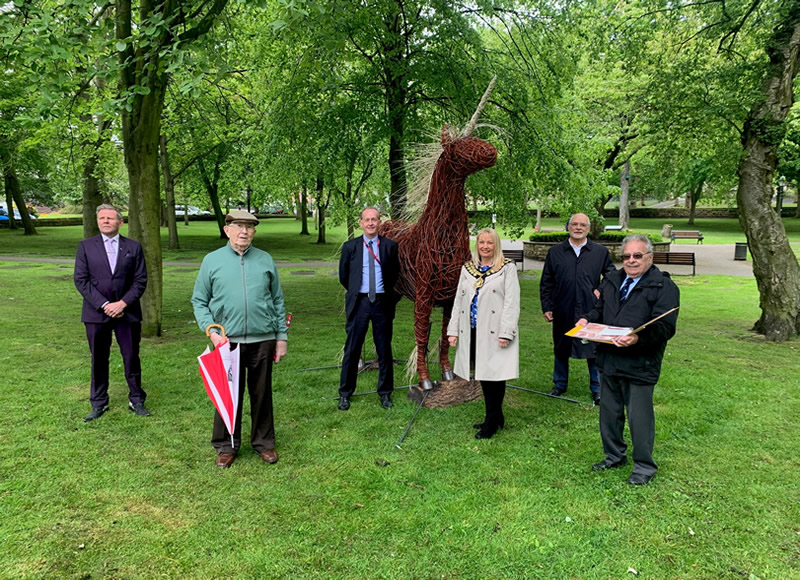 Our society was invited to name the Unicorn sculpture and Sigmund was unanimously chosen.

SiGMUND – Si – GMUND (See GMUND)

Is an old German boys name
Old German Meaning: Sigu – Victorious and munt(d) – protector

Victorious – our partnership reaching 50 years and ........ Protector – the intention (renewal) to protect and nurture our relationship for the next 50 years…and more!

The unicorn promises harmony and friendship, a sign of optimism and hope. It has been Gmünd's town heraldic animal since the 13th century and featured on their coat of arms. According to Medieval legend only virgins can see unicorns.
So, we have to concentrate on young people if we want to spot them.

Mayor of Barnsley, Cllr Makinson said "It's wonderful to be part of these special celebrations to commemorate the coming together of Barnsley with Schwäbisch Gmünd all those years ago. Our partnership with Schwäbisch Gmünd is clearly very special and I have no doubt that it will continue for another 50 years and beyond. It's a real shame we are unable to give the anniversary the celebration it deserves this year, but we will definitely make up for it next year. The history and stories behind the twinning is lovely and we even have a direct link to where it all began in our present council as our very own Cllr Steve Green is related by marriage to Arthur Williams who started this amazing partnership."

Sigmund the Unicorn is part of "Twisted -Barnsley's Fantastical Beasts, a series of giant willow sculptures which will be in locations across Barnsley town centre from Saturday 29 May to Sunday 13 June. This free family trail is inspired by local creatures and legends and features sculptures designed by six renowned artists from across Yorkshire and the North.