News Archive
09/11/20
"A CENTURY OF TWINNING by

Sarah Wilson

- Senior Digital Journalist, JPI Media"
IN 1920, KEIGHLEY MADE HISTORY AS THE FIRST UK TOWN TO "TWIN" WITH ANOTHER,
SPARKING THOUSANDS MORE LINKS IN ITS WAKE.
A HUNDRED YEARS ON, AGEING VOLUNTEERS, DWINDLING RESOURCES AND CHEAP TRAVEL
COULD THREATEN TOWN TWINNING WITH EXTINCTION.

A CENTURY OF TWINNING
MARKING A HUNDRED YEARS OF THE BENEFITS OF TWIN TOWNS
by Sarah Wilson, Senior Digital Journalist, JPI Media
Originally featured in and by courtesy of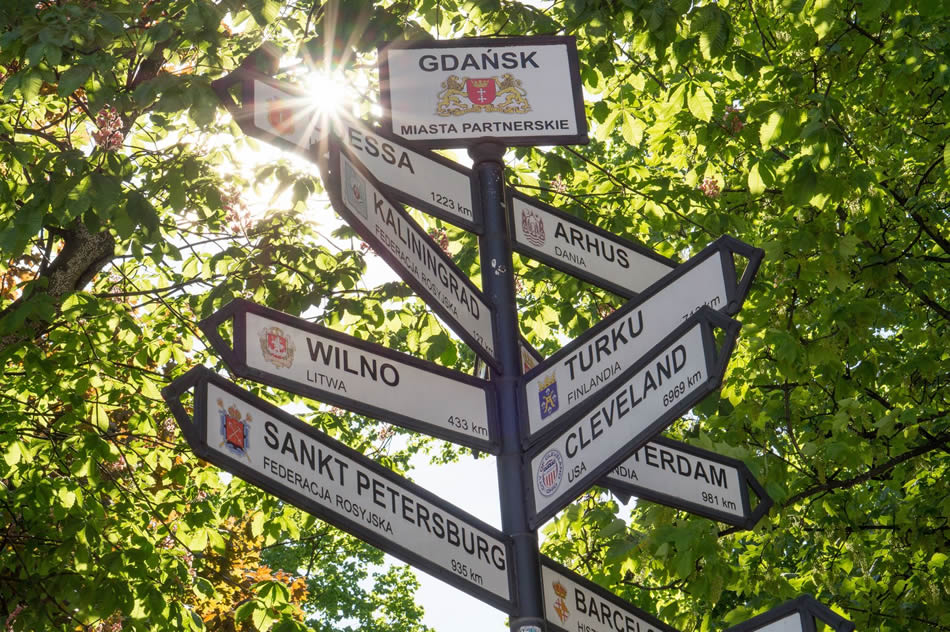 Nestled in the northern foothills of the Swabian Alps, around 31 miles east of Stuttgart, Schwäbisch Gmünd is, for all intents and purposes, a typical southern German town. Were you to stroll through it, you'd encounter all the usual hallmarks: gothic church spires; brightly-coloured toy town houses on wide, open streets; a pedestrianised Marktplatz (marketplace) bordered by 400-year old buildings.

Wander a little further, however, and you'd come across something rather less conventional: a British red telephone box. Though no longer functional, today you'd find an international library inside - with books in English, Hungarian, Italian and German free to borrow, read and return.

On sunnier days, locals and tourists sit reading in the adjacent "Barnsley Garden" - so named because Schwäbisch Gmünd and Barnsley, South Yorkshire, have been twin towns since 1971 - though unofficially linked since 1954.

The telephone box was a gift from Barnsley to Schwäbisch Gmünd, and, in the days before mobile phones, locals from the two towns would regularly orchestrate calls to and from the booth, chatting to old friends from hundreds of miles away.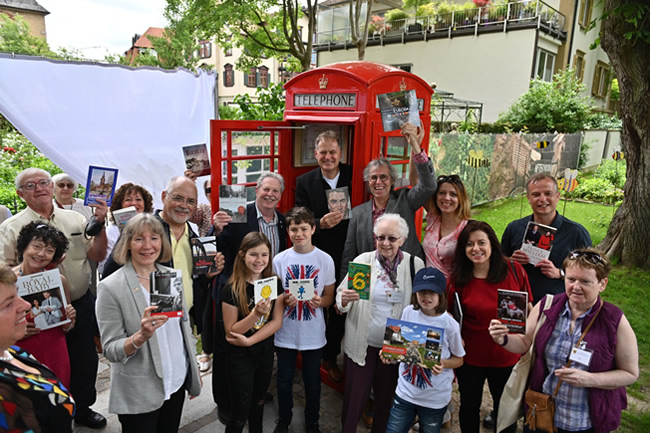 The once-functional telephone box now serves the people of
Schwäbisch Gmünd as a mini library. (Photo: Jan-Philipp Strobel)
Alan Brentnall, Chair of the Barnsley-Schwäbisch Gmünd Twin Town Society, has it on good authority that of all Schwäbisch Gmünd's twin town links - spanning Italy, France, Hungary and beyond - Barnsley remains "their favourite of all".

It's a story of long-standing friendship that's far from unusual among UK towns and their international "twins", some of which have now been linked for decades. Though there is some dispute over the matter, Yorkshire is generally acknowledged as the home of the world's first link which we'd recognise today as a town twinning pact.

One hundred years ago, Keighley soldiers who'd been stationed in Poix-du-Nord, France, during WWI, saw the devastation wrought on the battle-scarred town and implored Keighley council to draw up a town twinning agreement as an official gesture of solidarity. The twinning was made official in 1920, with a fundraising drive by the people of Keighley leading to the erection of "Keighley Hall", Poix-du-Nord, in 1922 - a venue still in use today.

Keighley's link turned 100 this year, but ask most Keighley locals - indeed any UK locals - what their "twin town" is, and you may be met with a blank stare. Even Keighley Mayor, Coun Peter Corkindale, who was pouring his energy into centenary celebration plans before the pandemic hit, sheepishly admits he only knew of the link "because I previously worked on roadsides - I saw it on the [Keighley] sign".

The presentation of Keighley Hall, 1922
It's a fitting example of how many in the UK experience their twin town links today. At best, they're a subject of passing interest; at worst, an excuse for councils to squander public money on junkets abroad. As a result, many links have been neglected or forgotten. The trend is partially a result of a decade's worth of cuts to UK council budgets, but the result of a changing world, too. In the century since Keighley first brought town twinning into being, we've entered the age of the internet, budget travel and mass communication; an age some say makes twinning obsolete.

Scratch beneath the surface, however, and twin town links also reveal tales not just of friendship and cultural enrichment, but of disaster relief in times of need, of political solidarity and building local, international communities - even where official support has wavered. For advocates of town twinning, there's never been a better time to renew and encourage links both old and new. With the UK developing an increasingly isolationist outlook, Brexit looming around the corner, and the pandemic demonstrating the need for international cooperation, town twinning advocates believe the practice could prove more important than ever.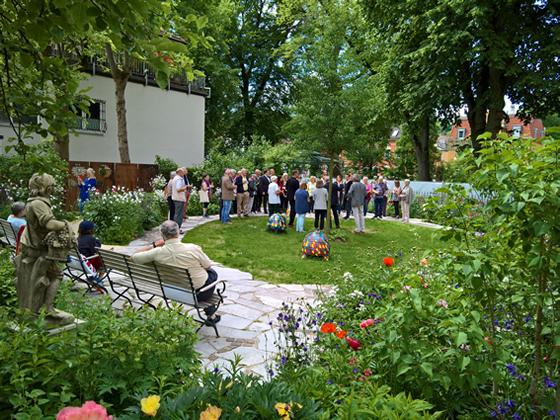 Barnsley Garden, Schwäbisch Gmünd. (Foto: Clemens Weller)
"It was quite mind blowing for a lot of them"
Keighley is somewhat of an outlier when it comes to twin town links, given the majority were not forged in the wake of the First World War, but the second. After decades of war between European nations, town twinning agreements were made en-masse from 1947 onwards as a benevolent gesture of reconciliation and peacekeeping between former "enemy" nations - largely Germany, France and Britain.
A flurry of enthusiastic twinning activities followed, from first trips abroad to regular school exchanges, friendships and language learning. Much has been written and said about these original town twinnings - their success, their purpose and their longevity. Yet, says Dr Holly Ryan, who is currently researching a project on 'International Friendship', "there hasn't been a whole lot of up-to-date research discussing what's happened since the post-war era".
"
.
Where are your twin towns?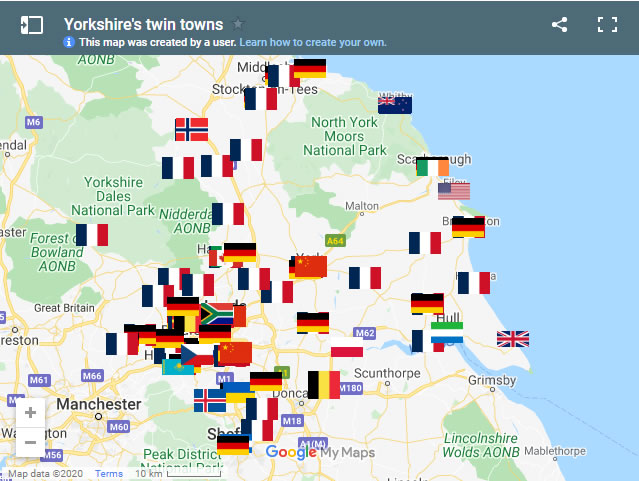 Since the war, twinnings have not only expanded beyond Europe, but developed beyond their original purpose. Officials quickly realised that the practice could relay mutual benefits in the form of investment, trade and tourism - building what Dr Ryan refers to as "soft power".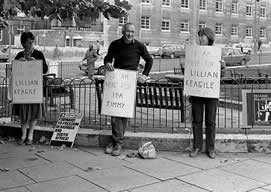 Leeds was home to a strong anti-apartheid movement. Foto: Dr. Salim Essop/Voices
Against Apartheid, Leeds
Most interestingly of all, however, twinning also developed as a means for some local areas to express political solidarity or even push against national government affiliations and policy. At one stage during the Cold War, the UK government went as far as restricting access to town twinning with nations in the east, driven by fears of communist infiltration.
In 1998, Leeds twinned in solidarity with the newly-liberated Durban, South Africa, after years of anti-apartheid struggles. The twinning, says Karen Murgatroyd, Leeds' International Relations Manager, was a natural step following years of vocal campaigning against apartheid in the city:
"During the apartheid years, a few big apartheid activists fled South Africa and came to Leeds...It meant as soon as there were free democratic elections in South Africa in the 1990s, enough of our politicians were engaged with the anti-apartheid movement that they were really enthusiastic about having a South African partner".
At the time, explains Karen, the national government began pushing community cohesion and international partnerships - meaning local authorities benefited from an abundance of funding. British Council funding became available for linking schools, leading to partnerships - at their peak - between 45 schools in Durban and 45 in Leeds.

The links saw students from the other side of the world collaborate on projects around democracy and politics, music, art and culture.

The impact was huge, in some cases life-changing, says Karen:"A lot of disadvantaged school children who had never been out of Leeds, who don't think of themselves as citizens of the world were suddenly exposed to children on the other side of the world who they were writing to or composing music with. It was quite mind blowing for a lot of them".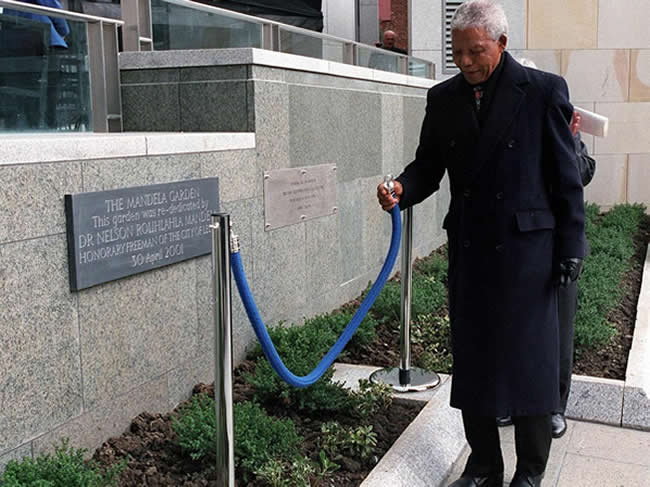 Nelson Mandela visiting the Mandela Gardens, Leeds in 2001. (Photo: Bruce Rollinson)
"The economic offer has been the main motivation"
In spite of success in the early 2000s between Durban and Leeds, Karen actually believes that town twinning is - in Leeds at least - "an outdated mode of doing things".
Leeds, like many other large towns and cities across Yorkshire, has accumulated twin town links across the globe, from post-war twinnings in France and Germany to partnerships with Chinese cities forged in the 1980s. Yet not all of these links are currently active. These days, says Karen, activity is concentrated on partnerships where both towns share "strategic priorities" in common.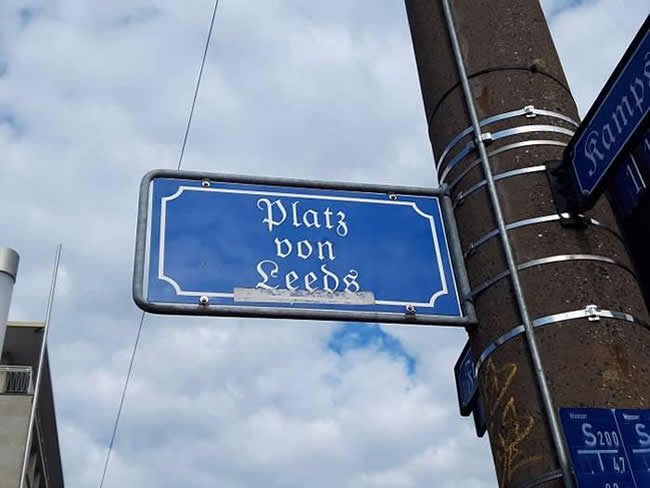 Karen says that twin town links provide economic opportunities as well as cultural ones.
(Photo: International Relations Leeds)
While the Durban link has been inactive for some time, Leeds' link with Lille, France, has been revived due to Lille's experience in urban planning around the introduction of the Eurostar. As HS2 development gets underway, Karen says Lille provides "the perfect example" to learn from.

Similarly, Leeds are hoping to learn from their French and German twin towns about coronavirus recovery, given, says Karen, "they're a little bit further ahead" in terms of disease progression.

It's a good example, says Dr Ryan, of the way in which the functions of town twinning have transformed since the first spate of post-war links: "The economic offer has been the main motivation behind many recent twinnings with towns and cities - in fast growing economies in particular".
As soon as they heard we were struggling they sent over a van load of PPE
ALAN BRENTNALL

Beyond economics, this kind of relationship can also enable local areas to benefit from direct action when "the national government is at an impasse", says Dr Ryan.

During the height of the coronavirus pandemic, Barnsley saw this played out first-hand when Schwäbisch Gmünd officials sent over personal protective equipment (PPE) to the town after hearing that supplies were low. "As soon as they heard we were struggling", says Alan, "they sent over a van load of PPE...face masks were handed out in the town centre".

A delegation from Leeds visited Lille last year to share knowledge around railway regeneration. (Photo: International Relations, Leeds)
"When the Barnsley miner families were at their lowest they put out an appeal"
To boil down acts of generosity like this to strategic maneuvers or politics, however, would be misleading. Though many larger towns and cities have indeed used their links in recent years as a means of building capability, seeking investment and working on mutual strategic priorities, Dr Ryan stresses that "there's a lot that can be overlooked when you just focus on the economic benefits of town twinning".
In her research interviews, says Dr Ryan, something that's "come across very strongly" from those actively involved with twin town links is "the intrinsic benefits...the feelings of warmth and worth that we associate with having another person or group of people dear to us".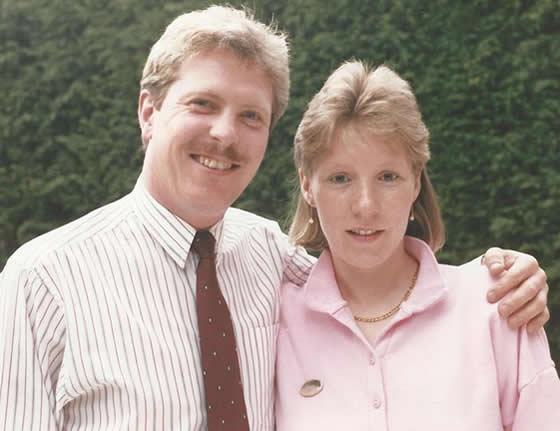 Alan Brentnall says he "took town twinning very literally",
meeting his wife, Karin, through Sheffield's town twinning with Bochum, Germany.
It's a sentiment expressed widely by town twinning groups in Yorkshire. In Keighley, Coun Corkindale describes the people of Poix-du-Nord as "pseudo family members", while in Barnsley, Alan describes how an initial act of generosity towards the people of Schwäbisch Gmünd has been reciprocated down the years:

"Arthur Williams - an old town councillor - was travelling back from a meeting abroad in 1954 when he came across a group of German schoolchildren by the roadside, all crying and upset.
"They'd been en route to a trip in Wales, but an outbreak of foot and mouth disease meant they were going to have to return home. [Williams] called his council colleagues and arranged for them to stay in Barnsley's scout camp instead". The chance encounter led to biannual youth exchanges, and, eventually, a twin town agreement.

The relationship has continued in much the same vein, says Alan, with the people of Schwäbisch Gmünd responding to Barnsley in crisis more than once: "During the miner's strike, when the Barnsley miner families were at their lowest…when they couldn't afford to feed their kids, they put an appeal out in Schwäbisch Gmünd and raised the equivalent of £15,000 which was then distributed to mining families in need".

It's a touching tale that's surprisingly common among twin towns in Yorkshire: both York and Hebden Bridge, for instance, have received donations from their twin counterparts during bouts of devastating flooding.
The generosity goes both ways too, with Hull's twin town partner, Freetown, Sierra Leone, (linked through Hull-born slave abolitionist William Wilberforce) receiving a myriad of support from their far-away friends over the years, from food aid during the civil war (1991-2001) to disaster relief for a series of mudslides in 2017.
Unlikely partners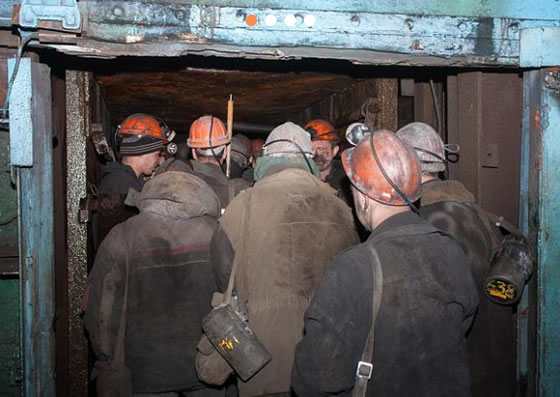 BARNSLEY, SÜDYORKSHIRE & GORLOVKA, UKRAINE

Both mining communities, Barnsley and Gorlovkatwinned during the cold war in 1956.
In 1998, Gorlovka Cosmonaut Alexander Volkov took Barnsley Chronicle charachter "Sam Barn " into space.
"There's little evidence of these so-called jollies"

Of course, not every story of twinning in Yorkshire is so rosy. In 2011, to some fanfare, ex- Doncaster Mayor Peter Davies cut ties with five twin towns as a means of saving council cash, refuting claims at the time that the move signalled the town's insular outlook. Even where councils were not opposed to twin town links in principle, a similar picture emerges from every area where links have been cut or neglected: a decade of austerity crunching council budgets, leaving little cash for town twinning activities. In Doncaster, Rotherham, and Sheffield, no council money has been spent on twinning over the past five years. In other areas, councils have previously relied on external EU funding which may soon dry up.
Yorkshire council spending on twin town arrangements, 2015-2019

Negative attitudes haven't helped the twin town cause either, with several accusations of public money being used to send council officials on "jollies" and "junkets" in recent years. While a "healthy cynicism" should be applied to trips taken by officials, says Dr Ryan, her research has in fact revealed "little evidence of these so-called jollies...council trips are usually undertaken for technical exchange, capacity building or diplomacy".

Even where self-funded, volunteer-led twinning groups have kept links alive, bad press has damaged their cause nonetheless, with some councils now reluctant to even vocally support town twinning links, let alone fund them.

"There seems to be a feeling in the council that if they make any kind of effort with regards to twinning, it could be mistaken for a 'jolly'", explains Alan.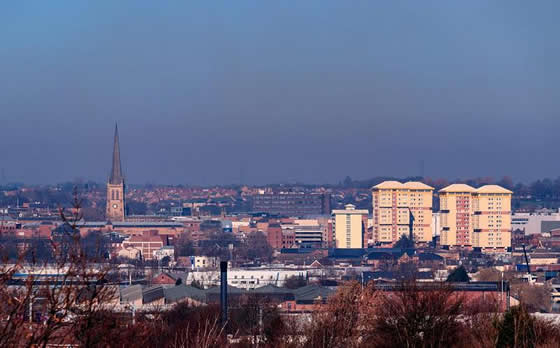 Twin break ups: Wakefield may scrap their link with Nanning City over human rights concerns.
Without amplification or support from the council, he explains, the problem then becomes less one of negative attitudes among the public, but of total ignorance:"We've had several meetings with [Barnsley] Council where they kept telling us, 'we haven't got any money.

"We keep telling them we're not looking for any money, what we want is for them to show support for town twinning from the top. That happens in Germany...the twin town society in Schwäbisch Gmünd is strongly supported by the council - it's a public, community thing".

This lack of vocal support from the council, says Alan, means that local people are increasingly unaware of the support and value Barnsley's link with Schwäbisch Gmünd has provided over the years: "My question to those miners who were helped by Schwäbisch Gmünd is this: Where are you now? Because I think they should have impressed on their children that they were helped when they most needed it - and that help came from our twin town".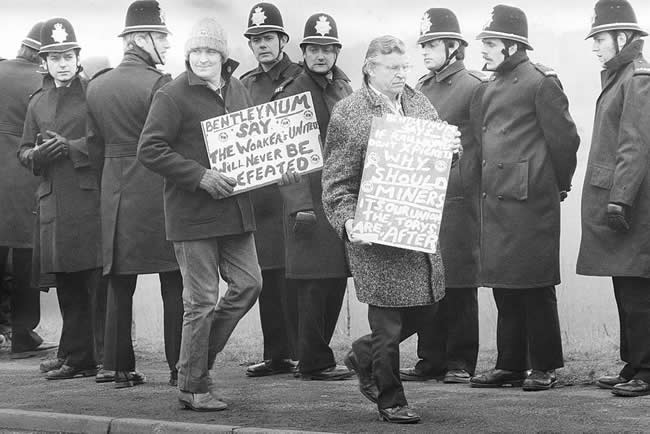 During the miners' strike, when miner families were struggling to put food on the table,
Barnsley's twin town raised funds to feed local families.
(Photo Moore and Nicol/Express Newspapers/Getty Images):
"People can't really make up their own minds"
It's those children - and indeed younger people in general - who now pose a threat to the survival of twin town links across the country. Many of those involved with post-war town twinning links have now passed on, while those remaining in twinning societies are ageing fast.

"Attracting younger people is an issue", explains Alan, who puts the lack of interest down to the accessibility of travel, which allows "people to jump on a plane and go anywhere in the world for £19.99". Additionally, Dr Ryan believes that the problem is compounded by the type of travel people search for in the modern age:"For several decades, twinning quite happily coexisted with the growing travel industry...what's changed is tourists today are more interested in a novelty experience. "The sort of travel that takes place through twinning has an edge - the travel isn't centred on consumption or novelty, but centred on really knowing a place".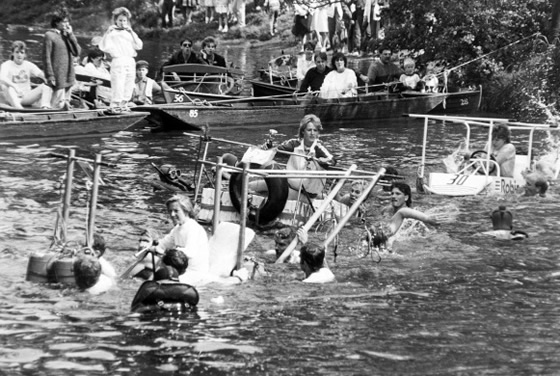 Locals from Knaresborough and Knaresborough's twin town, Bebra,
taking part in a 1985 race along the River Nidd. (Photo: YPN)
A number of societies are already searching for ways to get the next generation on board with town twinning: in Todmorden, a scheme allows children under 14 50 per cent off travel to Todmorden's twins in Bramsche or Roncq."We have to try to keep costs down", explains Anne Foster, Chair of Todmorden's twinning society, "because young families in particular don't have much cash".

In other areas, twinning societies are attempting to strengthen links between schools, hoping that the connections will inspire younger generations to take up the mantle. At a time when society and global politics feel more divided than ever, twinning societies believe that international links - especially between schools - could play a crucial role in promoting tolerance and understanding between people of different backgrounds:

"Experiences [with other cultures] have an impact beyond schools", says Karen, of the Leeds-Durban school partnerships."It shapes the way not only that [children] think, but the way their parents and families think too".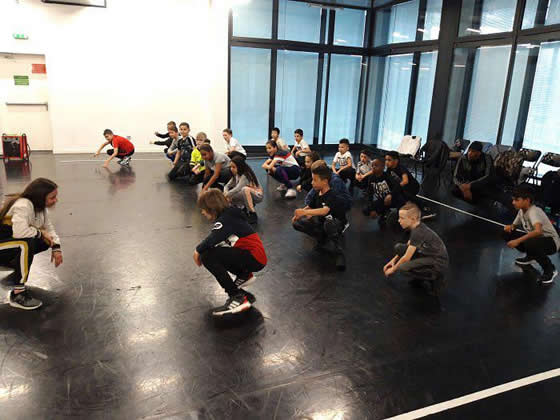 Students from Leeds and Lille took part in a urban cultural exchange
last year as part of an EU-funded education project.
(Photo: Leeds International Relations)

At its simplest, says Coun Corkindale, who admits that "politics at the moment is particularly nasty", town twinning "promotes the idea that there are so many nice people out there who are nice no matter what their nationality". Many like Coun Corkindale see their partnerships as a means of building friendship that transcends politics entirely - even in the politically fraught case of Brexit.

"I'm not actually aware of any concrete examples where towns have un-twinned because of Brexit", explains Dr Ryan, who says that many twin towns are in fact trying to "project an alternative type of narrative [to Brexit] centred on their own experiences of historical friendship".

A number of twin town champions see their biggest challenge not as Brexit, but of making people more aware of twin links and their enduring value to local communities.
"We [the UK] have a slightly odd situation compared to somewhere like the United States, which has a big umbrella organisation called 'Sister Cities International…we don't have a national body like that", explains Dr Ryan."The impact of that is that people can't really make up their own minds, because they're not in possession of these local stories about what twinning has done, and can do for their community - who's going to collect these stories?"

Town twinning has retained its "original radical edge and ambition", she believes, with examples of newer twinnings including links with besieged Palestinian localities and partnerships between localities in the Republic of Ireland and Northern Ireland. Yet it's again the "lack of resource - human and financial", Dr Ryan believes, that means these examples are rarely heard about.
In the absence of such support, from local councils, government or elsewhere, it's passionate volunteers who are left to determine the future direction of twin town links.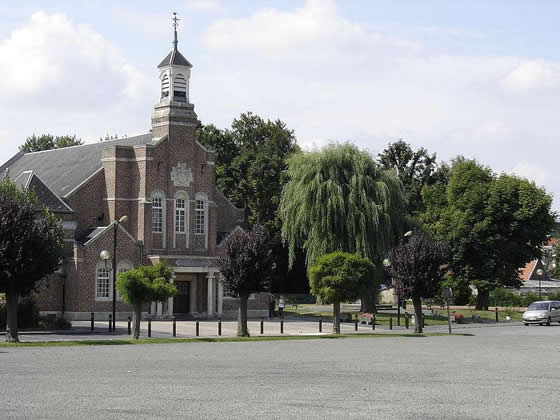 Keighley Hall, Poix du Nord, is to undergo a government-funded €80,000
renovation in 2022 to mark its centenery..
Many, like Alan in Barnsley, are steadfast in the belief that town twinning is "more essential" today than it ever has been as a means of expanding communities, promoting tolerance, and building long-standing relationships - personal or otherwise - between different nations.

Though acknowledging the issues that could lie ahead for Barnsley's near-50 year old German partnership, he remains confident that the strength of their friendship can weather any future storms:
"They can take us out of the EU", he chuckles over the phone, "but they'll never take us out of Schwäbisch Gmünd".

Yorkshire Post – https://www.yorkshirepost.co.uk