News Archive
02/10/20
"Christian Baron is the new Erster Bürgermeister"
The local council elected Christian Baron as the new Erste Bürgermeister - Deputy Mayor of Schwäbisch Gmünd, he now succeeds Dr. Joachim Bläse.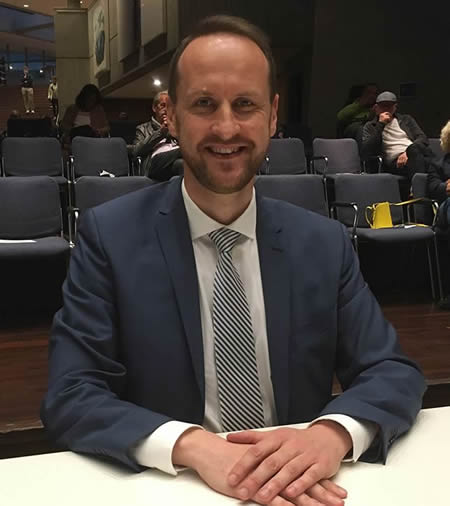 It was a close campaign but now Christian Baron can breathe a sigh of relief, he was elected by the majority of the local council as the new Erster Bürgermeister - Deputy Mayor. Christian Baron currently works in the Esslingen District Office as a department head for law, traffic and health.

This is how they are chosen

The election for the future Deputy Mayor of the city of Gmünd was held in the Peter Parler Hall in the Gmünd City Garden. The two candidates are Christian Baron, born in Strasbourg and head of the Esslingen district administration, and Karin Schüttler, head of office in Heilbronn.

Both candidates present themselves, their main strengths and objectives in a maximum speech of 20 minutes. The city councils have 15 minutes after each speech to interview the candidates.

The first speaker in front of the municipal council and several visitors, determined by a ballot, was Karin Schüttler, then Christian Baron was asked to the lectern.

Karin Schüttler received one question, Christian Baron three questions from the city council.


The 50 city councillors present plus Mayor Arnold then cast their votes in a secret ballot. City councillor Christian Baron is not allowed to cast a vote since he is a candidate.

If the result of the first ballot results in none of the candidates achieving an absolute majority, there is a second ballot for which a simple majority is sufficient. Nobody knew how the election would turn out. When Christian was first elected to the Council he was at that time the youngest Councillor.

The fact that he won the vote in the first ballot is a great boost to him. Christian was showered with congratulations.
"I'm overwhelmed," he said. He went on to state that he now wants to keep the promises he had made and be a bridge between the local council and the city administration, and also convince those who did not vote for him that he was the right choice.
Congratulations to you Christian, welcome to your new position, we look forward to working with you, from all of us in Barnsley.