News Archive
15/02/19
Town Twinning commitments - friendships will survive Brexit!

Frumptarn Guggen Band banged the drum of friendship between the people of Barnsley and Schwäbisch Gmünd very loudly at the International Guggen Festival this weekend. For many years now they have been welcomed like brothers and sisters by both the large crowds and fellow Guggen band members from all over the world gathered at the festival. The 30 strong Frumptarn Guggen Band together with several of their own fans including Barnsley Mayor Steve Green and Mayoress Tracey Green travelled to the twin town.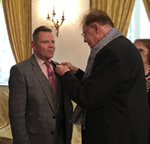 The party received an official reception with Oberbürgermeister Arnold where Honorary President of the twin town society in Schwäbisch Gmünd, Reinhard Kuhnert took the opportunity to pin a German-British badge on the Mayor's suit.
The press in Schwäbisch Gmünd were very keenly interested to interview Mayor Steve Green and his wife Tracey about Brexit and any possible effect on the relationship between the two twin towns.


………….. connections should be strengthened
Mayor Steve Green stated that connections should be strengthened and that he was convinced twinning would go from strength to strength, furthermore he himself wanted to contribute to this.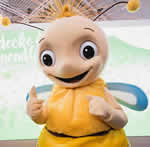 He wanted to engage in the promotion of the friendship between the towns in Barnsley and motivate the citizens of Barnsley to visit Schwäbisch Gmünd.

He wanted to see a more prominent and visible presence in Barnsley, for example 'Remsi' bee mascot on display in the town centre advertising the Garden Show and more news and information about Schwäbisch Gmünd in the Barnsley Chronicle.

"Perhaps a miniature replica model of Schwäbisch Gmünd in the town centre would be a suitable symbol to mark the 50th anniversary of our town twinning in 2021" he suggested.
Sir Stephen Houghton, Leader of the Council, also declared his commitment to twinning…
Sir Stephen Houghton, Leader of the Council, also declared his commitment to twinning during a recent visit to Gmünd.
He stressed that Barnsley took the twinning with Schwäbisch Gmünd very seriously and that in view of Great Britain leaving the EU, the strong bonds between the two towns had to be of heartfelt concern to all people responsible.
Following the visit of 35 people to Barnsley last year, a large group from Barnsley will visit Schwäbisch Gmünd in May 2019 for the Remstal Garden Show. There will be excursions and joint activities within the association of town twinning. (see previous news article 1.2.19 for more information)
Members of Barnsley Schwäbisch Gmünd Society including Secretary Phil Coppard and his wife Ros, together with long standing member Pauline Sapsford paused from the "mad music" weekend for coffee at Cafe Margrit with officials from the twin town association in Gmünd.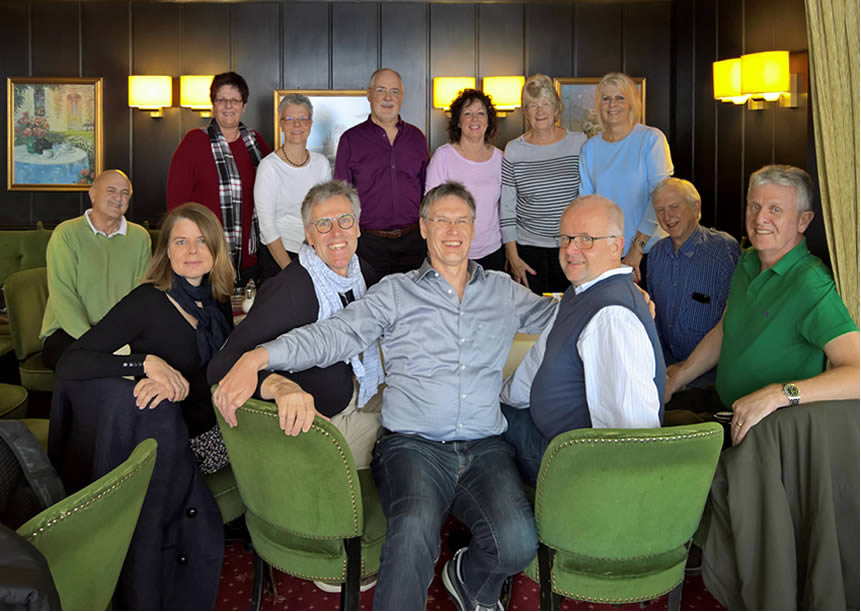 Everyone agrees "one thing is certain - the strong established friendships we have will certainly survive Brexit."