News Archive
06/02/19
English phone box in Schwäbsich Gmünd Book Appeal
A special request has been received from Schwäbsich Gmünd headed by Dr. Lukas Amadeus Schachner, chairperson of the Verein Städtepartnerschaft. For decades there has been an English red phone box in Gmünd as a symbol of the twinning friendship with Barnsley. It is no longer used as a telephone but will be re-designed to house a library.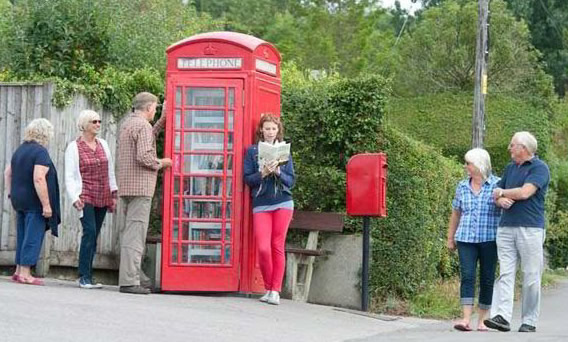 "The idea is to make available to the public, books from our twin towns in foreign languages" explains Lukas "the phone box hadn't been a present from the English twin town of Barnsley to the City of Schwäbsich Gmünd but to the Verein Städtepartnerschaft Schwäbsich Gmünd. It is currently being restored by the SG Works department and the Technical Academy with the agreement of the Verein Städtepartnerschaft to make it fit for its future use."

The English phone box will exclusively house books with a direct connection to their twin towns Barnsley, Antibes, Bethlehem, Faenza and Szekesfehervar in English, French, Hungarian and Italian which can be read and borrowed by citizens. Apart from general information on twinning it will also contain books for children and young people in these languages. Appeals for book donations have gone out to all twin towns.
The Verein Städtepartnerschaft favours a re-installation near the Barnsley Garden and is currently appealing for 'Book Volunteers' in Schwäbsich Gmünd who would look after the books on a regular basis.
"It would be nice to fill the phone box with books you'd like to share with us, it could be anything, novels, illustrated books, dictionaries, cook books, whatever you can think of" said Lukas, "each with a personal dedication to VSP and Gamundians interested in reading English literature. We would like you to ask those who might be able to donate used tomes and bring them with you when you visit in May, when the re-installation of the Library Phone Box will take place."
Happy hunting everyone !