News Archive
07/11/18
German-English friendship strengthened through art, culture and joint football training.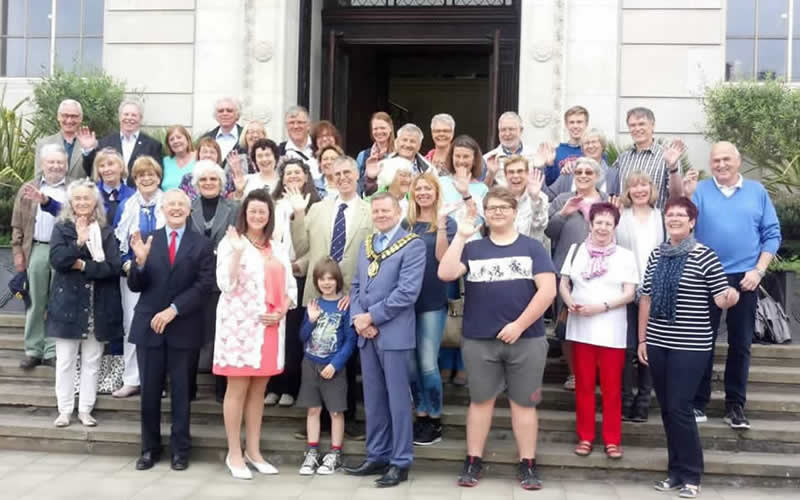 Thirty one members of the Verein Städtepartnerschaft in Schwäbisch Gmünd explored the country, people and way of living of their friends in the English twin town Barnsley. The topic of the one-week-long "Meeting people" trip was "Experience Barnsley" with the aim to meet with lots of people interested in town twinning and thereby revive the long relationship between the two towns.
"Apart from the typical English hospitality Barnsley has a lot of exciting things to offer. The town is undergoing a transformation, architecturally and culturally" declared Dr Lukas Amadeus Schachner, Chairman and responsible for Barnsley. Together with his English counterpart they planned an attractive and extensive programme including receptions, talks, museum visits, meetings with artists, concerts, dinners, Fish'n Chips and parties at hosts' houses. The youngest guests had the opportunity of experiencing a highly original side of Barnsley during a joint training session with English children at the Oakwell stadium , home of Barnsley FC.
Lukas Schachner hopes that relationships will develop from meeting people which will be strengthened in 2019 in Gmünd. The efforts of the Verein Städtepartnerschaft complemented those of the town council which recently had been very cordially received by their counterparts in Barnsley.
Bearing in mind the general political situation, the spirit of town twinning becomes just as important again as it was when these twinnings were first established, i.e. to build relationships between people on a private basis which will overcome any political and historical obstacles.