News Archive
Posted 26/03/15
A little piece of twin town history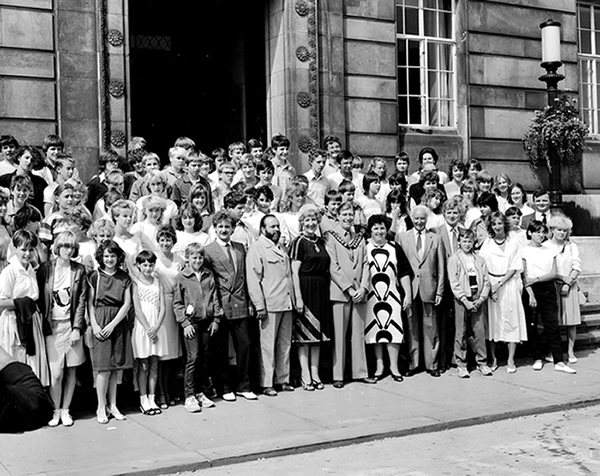 Once again twin town history is featured in Barnsley Chronicle's "Where are they now." Friday March 6th.

Is that Traute and her late husband, Andreas either side of the Mayor and Mayoress?


This is an early youth group visit to Barnsley from Schwäbisch Gmünd.

To the right of Traute (right of the Mayor) is our twin town founder Cllr. Arthur Williams with Ron Garnett who was Barnsley Youth leader and boss of David Sutcliffe.
On the right hand side with the very round face is David Sutcliffe himself, he was the leader of exchange visits before current twin town society member Valerie Barker succeeded him.

To the left of Andreas Schmidt (Traute's husband) is the bus driver Peter Schmidle and just in front of him is Burkhardt, son of Traute and Andreas. Over the head of Andreas in the white blouse is their daughter Ulrike.
The name of the Mayoress we think was Lina .......... but we cannot remember the name of the Mayor, can you?
The year we think was 1976 -  do you know more !  
Please contact us via the contact page and let us know.
* We are grateful to Tom Sheard who informs us "The year is 1984/85, the Mayor and Mayoress are Don and Selina Baines. Don was the Councillor for the then Brierley Ward and they lived in Grimethorpe". ( added 06/04/15 )