News Archive
11/08/15
Barnsley folk converted by Schwäbisch Gmünd Accordion Orchestra Penz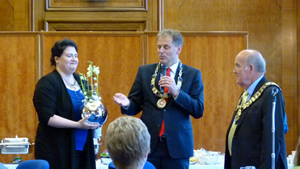 It was a delight to join the official welcome to special guests Schwäbisch Gmünd Accordion Orchestra Penz to Barnsley at the Town Hall on Friday 31st July after their long journey overnight via ferry to Hull and with a short sight- seeing stop off at York on the way.
The 30 strong orchestra plus family and friends of the orchestra together with Oberburgermeister Richard Arnold and Katharina Aubele - Head of International relations, town twinning and protocol, were greeted by Cllr.Brian Mathers, Mayor of Barnsley for 2015/16. Several members of our twin town society were also there to welcome them too.
Oberburgermeister Richard Arnold coupled the visit of the accordion orchestra with an invitation to attend and experience 'Yorkshire Day in Doncaster' on Saturday 1st August.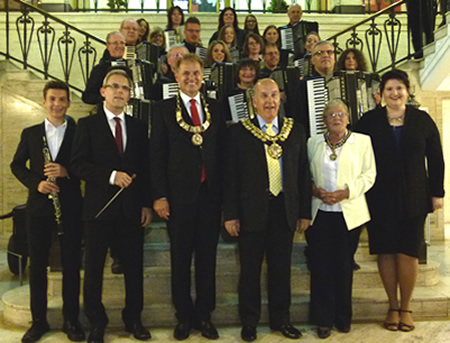 After the official welcome short speeches by both Mayors and an exchange of gifts, a buffet meal was served and the Accordion Orchestra Penz gave a brief preview concert, an indication of what was to come at their main concert the following evening. With just enough time for the keep-sake photo on the steps inside Barnsley Town Hall for their website and records they departed to their hotel for an early night to refresh, ready for the busy Saturday programme.
The Accordion Orchestra was formed in 1956 in Schwäbisch Gmünd, and was reformed as the Schwäbisch Gmünd Accordion Youth Orchestra in 1986. Their conductor Udo Penz became Musical Director in 1991, his father being previous MD.
Udo studied accordion, piano and directing at Travesty Conservatoire in Trossington and gained a scholarship at the college of music in Stuttgart.
A visit to Yorkshire Sculpture Park in the morning and then fully kitted out with hard hat and battery lamp they stepped into the cage to descend 140m underground to discover the harsh realities of coal mining through the centuries at The National Mining Museum of England in Wakefield. Following the evening concert the Orchestra travelled on to give a concert in Christchurch in Dorset which is twinned with the Aalen, (close to Schwäbisch Gmünd in Germany) before visiting London for a couple of nights sight-seeing there and the return journey home.
The evening concert entitled " Classical Serenade" had a varied programme including music by Handel, Bach, Mozart, Drigo and Rossini to name but a few.  A young 14 year old Julius Dietrich entertained on Oboe with the Andante and Presto from Marcello's Oboe Concerto in D minor.
It was also an opportunity for the Orchestra from Schwäbisch Gmünd to be on the stage with and hear a very special performance by Barnsley born World Champion Winner and International Virtuoso Accordianist Pearl Fawcett.
Beginning accordion lessons at the age of 8, she had many successes in her early life, winning every major national competition organised by the British Association of Accordionists (B.A.A), including British Open Section and British Commonwealth Challenge Cup (four successive times) and gaining the B.A.A Diploma (with Distinction) at the age of 15. Her first broadcast on BBC radio, and also television, was at the age of 13, after which she appeared many times. She became Junior World Champion (C.M.A. Trophée Mondiale) in Ancona, Italy and the following year she became the Senior World Champion, in Hamburg, Germany.
Pearl studied all branches of music at Royal Manchester College of Music and gained graduate, performance and teaching Diplomas, she became Professor there before concentrating on performing and turning truly professional. Her vast repertoire ranges from classics to light music French Musette and continental but no matter what she plays her marvellous technique and control of the instrument ensures that the music is interpreted to the full and is truly a wonder to see and hear. She specialises on the acoustic /electronic accordion bringing a new dimension to the instrument and the musical ear.
http://hoylandswainearts.co.uk/wp-content/uploads/2013/05/Pearl-Fawcett-biography-w-photo-.pdf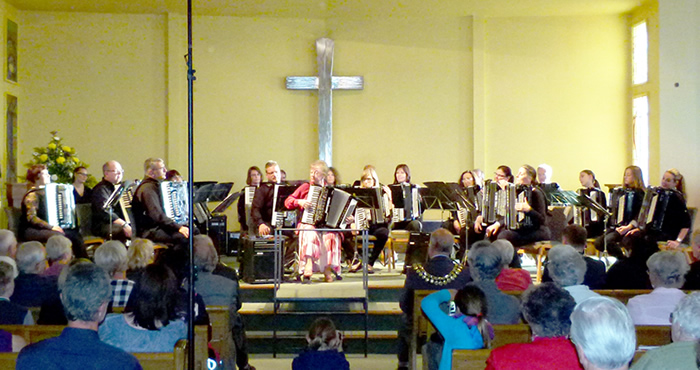 In a second of taking the stage she had the whole audience in the palm of her hand, many like me had never actually seen or heard Pearl play, her stage presence and professionalism quite evident from the start but what was to follow was incredible. 

Her programme included favourites;
Dance of the Comedians –Smetana, Caravan – Ellington, Granada – Lara, Rondo alla Turca – Mozart
and the finale from William Tell Overture by Rossini not to mention her own variations in Pestalozza's Ciribiribin and the Pearl Fawcett arrangement of Sleepy Blues.
If that didn't make your jaw drop in amazement, and most of the packed audience were, an encore featuring the Can- Can from Offenbach Orpheus in the Underworld left you breathless and boz-eyed to boot!  
It was as awe inspiring for the audience as it must have been for the visiting accordionist orchestra to see and witness her technique and style, fingers dancing lightly up and down the keyboard and buttons at speed with total precision and ease.

I was not particularly a 'fan of accordion music' and I am sure many of the audience present were also inquisitive too.
One thing we all agree on is it was a fantastic concert, "Thank you Schwäbisch Gmünd Accordion Orchestra Penz for your visit to Barnsley and your very entertaining program of music. Please come again soon, I think you have 'converted' a few Barnsley people.
Pearl Fawcett, now we've had a taste, we want more please, lots more please!