News Archive
Posted 11/06/15
SG Accordion Orchestra are special guests in Barnsley.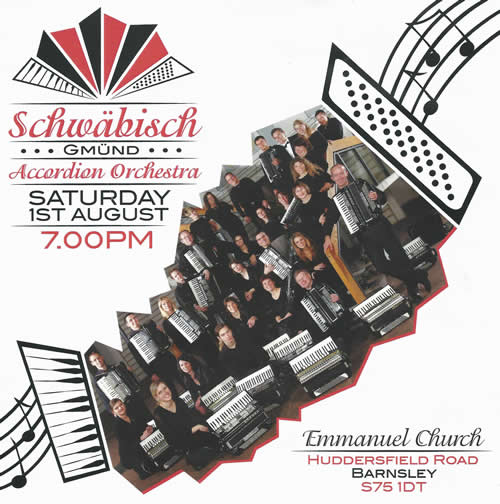 Come and enjoy a performance by the Schwäbisch Gmünd Accordion Orchestra, special guests from Barnsley's twin town in Germany.
They will be joined in concert by Barnsley born World Champion winner and International vituoso accordianist Pearl Fawcett.
The orchestra,  a 26-member accordion orchestra, will perform a complete mix of music, from Mozart to German folk songs to an expected "full house."
Entrance to the concert is FREE and tickets are still available from Emmanual Church by ringing 01226 321511
Voluntary donations to the Mayor's Charities will be welcomed on the night.
Tickets will also be available at the BSGTTS July meeting.