News Archive
Posted 10/07/15
Two lovely roses in our Barnsley Garden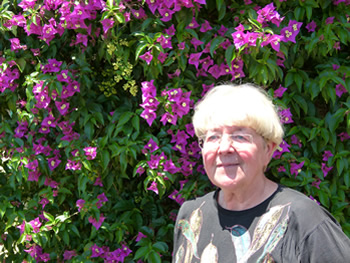 Many of you will have met Dagmar Glasenapp during our visits over the years to Schwäbisch Gmünd.
'Dagi' as some will know has a keen interest in gardening.
What you won't know is that following the very successful Landesgartenschau in Schwäbisch Gmünd, the twin town gardens have all been left to fend for themselves somewhat with no-one taking care of them. Not so our Barnsley garden !
Daggi, with help from Valerie Ostertag volunteered to maintain the garden in the name of our two societies and the friendship we have nurtured over the many years.

She spends all her spare time (and more) tending the garden, weeding, pruning, digging, dead heading, keeping it 'ship shape' and a picture of beauty, standing out and welcoming people to visit and use the garden in the future.  
Her knowledge and love for our garden is strikingly evident as soon as you talk with her, she has taken a keen interest right from the start and watched it develop throughout the year.
She told me " I went to see our garden, the heavy rain had battered down the peonies and some of the roses and the weeds had taken great advantage from my absence… but that's normal." she says in a sort of accepting tone. Then quotes to me 
" As gardeners say, in June you should not leave your garden alone!" 
Daggi talks excitedly about the plants and flowers planted in the garden and ones that are coming through to bloom, how well they are doing and the show they are making.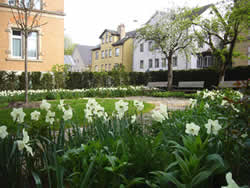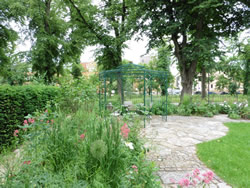 She takes photos to record the progress of the beds and borders, "The photo shows the garden in April this year when it was all in bloom with white Daffodils.
Valerie Ostertag was a bit disappointed when the Daffodils were not yellow, Daggi told me, "to her that would have been more typical, but the designer chose a more modern variety that has the advantage of blooming longer.
I feel it represents so well the phrase of Wordsworth: And then my heart with pleasure fills and dances with the Daffodils."
 "Later on the perennials developed in abundance", she remembers "Last year they gave a rather poor performance but as we say a perennial border needs time to develop and is best after three years onward. She went on, "Roses need four years.
The first year they put all their energy in developing the roots so this year they give an idea of what pleasure will come."

There are two English roses planted, Royal Jubilee (pink) Scented delicately. It blooms all at once and all over, it is only 80 cm high, with rather soft stems, that like to hang over and give it a lovely rounded appearance.
Munstead Wood ( dark red) A gorgeous red Rose, Great scent. Lately several times mentioned in the British garden magazine: Gardens Illustrated with very positive remarks indeed. Strong stems, healthy leaves, about 160 cm high. Both went well through the strong winter of Gmünd.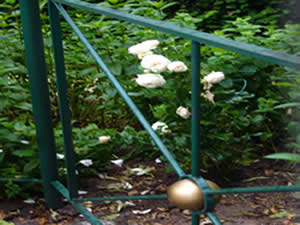 A new rose in our garden donated by Valerie Barker.
The name of the rose is Artemis. Eventually this rose will climb up the post and over the roof of the pavillon. It should be a reminiscence to the white garden in Sissinghurst. (There is a famous Rose arbour in Sissinghurst's White Garden room which set a fashion for 'white gardens').
Valerie choose this rose from the Schwäbisch Gmünd region because the originally planned white Rose of York is said to be not hardy enough for swabian winters in Gmünd.

Behind and around the pavillon the gardeners planted all sorts of different Mints and Herbs, to represent the idea that visitors are surrounded by the scent of tea-time!
It really works, Dagi exclaimed,  "Only yesterday I observed visitors coming with their thermos bottles with coffee or tea and a little snack, reading their newspaper and having a lovely rest. It's great to see the garden being enjoyed by so many people."
Our garden has a kind of rest at the moment, unfortunately the slugs ruined most of the Delphiniums. We are now waiting for the blooming of the different sorts of Phloxes, they look very promising.
Next weekend there will be a lot of action in and around Schwäbisch Gmünd: Gmünder Sommer, takes place with a lot of Art and Performances and stands all over town."It is the first time that I will take part" said Dagi,
 "I will be in the Barnsley-Garden to answer questions and meet people……..and talk about Barnsley!"

Dagi is really content with the development of the plants and garden and the shows they are providing even though as she says 'the best is yet to come,' but you can tell quite easily what gives her most happiness and satisfaction is the regular and new visitors who frequent our Barnsley garden daily.
When asked what her and Valerie Ostertag would like most for the garden there was an instant reply, "We would really like a nice, rustic sign to let people know it is the Barnsley Garden and to welcome them and even more people in."
I'm sure we could help with that, don't you?