News Archive
Posted 03/08/15
"Funny " phone calls, an honour to get.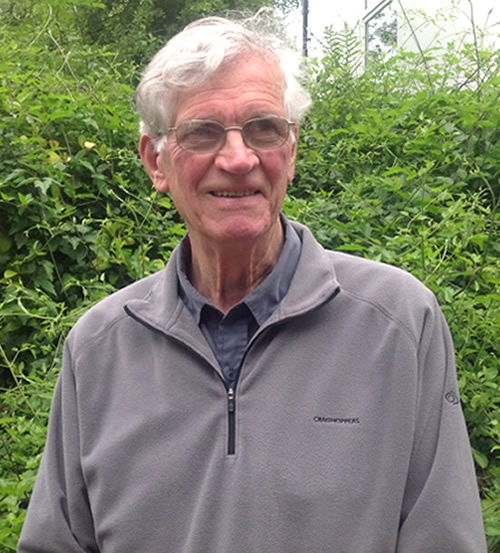 "Sir " David Barrett Horsfall. MBE. MSc. BSc.
Normally it is the bane of people's lives when they begin to receive "funny" phone calls and it began some months ago for Wyllan Horsfall.
Requests for information about something David had achieved many years ago including actual dates and times.

"When did David graduate in this or that exam" and "what year did he administrate sports at Sheffield University"came the questions one after another.
It soon became apparent to her that something was happening as enquiries came from members of the Hunshelf community. 
Then the Lord-Lieutenant of South Yorkshire's office rang to confirm the spelling of his name and his date of birth and his email address. The questions were often disguised as necessary information concerning parish council data so as not to cause alarm and the questions were always asked of Wyllan not David.
The title Lord-Lieutenant is given to the British monarch's personal representatives in the United Kingdom.
Lord-Lieutenants are responsible for the organisation of all official Royal visits to their county. There are 98 Lord-Lieutenants, who cover all areas of the UK, from Shetland to Cornwall, County Tyrone to South Glamorgan.
'The process' of collecting information and discretely checking up on all the facts and information by the Lord-Lieutenant of South Yorkshire's office had begun. This is indeed a very long and in-depth process, checking the minutest of detail to prepare a nomination to the cabinet office. Of course Wyllan, unbeknown to David was completely complicit with all the questioning and had kept everything a total secret.
All of David's certificates and papers were kept at the bottom of a large blanket box upstairs in the bedroom and had been there for years. Wyllan wondered how she could start rummaging in there, emptying everything out to get to the file and find the specific dates and years which had been requested without arousing any suspicion from David. Being blessed on this occasion, David had to go out to a parish clerks meeting in Barnsley on his own and would travel by bus to get there and back.
Great, thought Wyllan I have plenty of time then to have a good rummage in the blanket box and find the answers to all the questions without him seeing or suspecting anything. Half way through the quest she was disturbed by a phone call from David to say "I will be home earlier than planned as I have got a lift from one of my fellow parish clerks." Well, you can imagine the panic from Wyllan !
David, now 76 years old, has had a long successful career in athletics, mostly in administration but he was also a runner.
These days however, he spends more time at the back of the field encouraging the less competent or slower runners and ensuring their safety during the race, something that had been noticed by more than one person and one society.
Included as part of the detailed checks, we understand the Lord-Lieutenant's office even read back copies of the Barnsley Chronicle to check results for the actual positions David had come in races both in the past and also the recent races to substantiate this information.

Also unbeknown to them, lots of people who knew David were discretely asked for their opinion of him and if they thought David was worthy of some kind of recognition and to a man everyone agreed it was long overdue.

Six weeks prior to the Queen's birthday an envelope from the cabinet office landed on David and Wyllan's door mat addressed to Mr David Horsfall. Thinking it was another set of guidelines and rules for Hunshelf Parish Council of which David is and has been for many years, Clerk, David tossed it aside to read later.
Wyllan prompted" You'd better open it and see what they want,"  " Oh OK," he reluctantly replied and opened it.
He read it once and put it back in the envelope, took it out again and read it again in total disbelief and shock !
"Wyllan," he said " I think you had better read this"
The letter was to inform him he had been nominated for an award in the Queen's Birthday Honours List and if awarded would he accept it? Now this was something really special !
For the next six weeks it had to be kept secret and only David and Wyllan could know. Things however, started to fall into place for Wyllan, all the "funny "questions disguised to seek the real information, all the infinitely detailed questions she had endured over past months.
Following tradition, the evening before the Queen's birthday, the Honours List was announced in the London Gazette.
David Horsfall had been awarded an MBE – Member of the Most Excellent Order of the British Empire.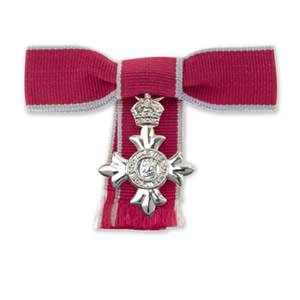 The Most Excellent Order of the British Empire is the "order of chivalry of British democracy", rewarding service in a wide range of useful activities. It was established on 4 June 1917 by George V, and comprises five classes, in civil and military divisions, the most senior two of which make the recipient either a knight if male, or dame if female.
The honours system recognises people who have:made achievements in public life and/or committed themselves to serving and helping Britain. They'll usually have made life better for other people or be outstanding at what they do.
Whether someone gets an honour - and the honour they get, is decided by an honours committee. The committee's decisions go to the Prime Minister and then to the Queen, who awards the honour.

Companion of Honour
This is awarded for having a major contribution to the arts, science, medicine or government lasting over a long period of time.
Knight/Dame
This is awarded for having a major contribution in any activity, usually at national level. Other people working in the nominee's area will see their contribution as inspirational and significant, requiring commitment over a long period of time.

Commander of the Order of the British Empire (CBE)
This is awarded for having a prominent but lesser role at national level, or a leading role at regional level. You can also get one for a distinguished, innovative contribution to any area.

Officer of the Order of the British Empire (OBE)
This is awarded for having a major local role in any activity, including people whose work has made them known nationally in their chosen area.

Member of the Order of the British Empire (MBE)
This is awarded for a significant achievement or outstanding service to the community. An MBE is also awarded for local 'hands-on' service which stands out as an example to other people.

British Empire Medal (BEM)
Reintroduced in 2012, this rewards a sustained, local contribution or innovative, high-impact work of a relatively short duration (eg 3 to 4 years).
There are other awards in this category presented as part of the honours;

Overseas Territories Police and Fire Service Medals -Given for service in British Overseas Territories.
Royal Victorian Order (RVO)- An award given by the Queen - usually to people who have helped her personally, like members of the Royal household staff or British ambassadors.
The George Cross - First level civilian medal for bravery: for acts of heroism and courage in extreme danger.
The George Medal - Second level civilian medal for bravery: for acts of great bravery.
The Queen's Gallantry Medal - Third level civilian medal for bravery: for inspiring acts of bravery.
The Queen's Commendation for Bravery and The Queen's Commendation for Bravery in the Air - For risk to life.
To this day David and Wyllan do not know who nominated him but the strong rumour is three ladies in the parish of Hunshelf who thought he deserved some recognition for all his dedication and hard work.

The MBE. to David is awarded for services to the community in Hunshelf in South Yorkshire but also includes his many years of service to Rochdale and Lancashire schools athletics, South Yorkshire Athletics including the 21 Club and UAU. (The Universities Athletic Union) Indeed, it encompasses a long history of many hours service to many, many organisations.

David has given up most of his spare time over the past 30 years and dedicated himself to the Hunshelf community. On top of this he has organised races, fundraising events for the Isle of Skye area, orienteering events for the disabled, been an official for the World Student Games and even found time to act as secretary for a large number of groups including our own society.
David, for those who don't know him well, is a very learned man with so many qualifications to his name it makes your brain hurt just reading the list. Typically, he is humbled at the thought of receiving such an award and is in awe of the company he will be in when he and Wyllan are invited down to Buckingham Palace later in the year to receive his award from a member of the royal family. ( Photos will follow )
Now it's all sinking in a delighted David told me " I enjoy the work so much I could never give it up but I have to thank my wife, Wyllan, without whom I would never have been able to get this award."
As a society we offer our "hearty Congratulations" to you David on your achievements, you have made us all proud, it is a very well deserved award !
We also extend our best wishes to you and Wyllan for a wonderful and memorable day at Buckingham Palace.