News Archive
Posted 12/03/14
Ticking all the boxes this is a trip not to miss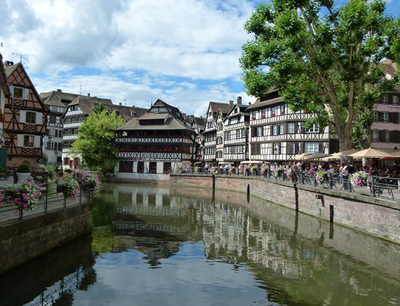 Grande-Île de StrasbourgChocolate box villages and luscious green vineyards looking good enough to eat, dine with French finesse and drink with German gusto, an abundance of homemade foie gras, gingerbread and macaroons, an entire region dedicated to cheese, 170km of pastoral country lanes full of the pleasures of wines and chocolate. Etiquette requires that fine wines are tasted in medieval courtyards on sunny afternoons, how on earth will we manage? Answer: Take the lead from the locals, go forth and indulge !

Planning for our trip to Schwäbisch Gmünd in July is well underway and details of the proposed programme for our prior four day visit to the Alsace looks very enticing to say the least.
It all starts with collection from Frankfurt airport and transfer to our 4 star hotel in Strasbourg centre complete with a relaxing dinner together at the hotel.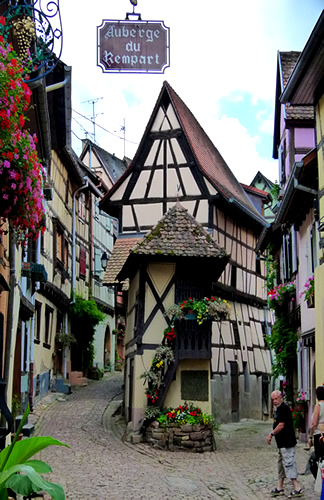 France's favourite village: beautiful Eguisheim
An attempt to arrange a visit to the European Parliament in Strasbourg is proceeding for day two along with a guided tour of the sights and attractions of Strasbourg, there's so much to see, it could be a long afternoon!
Our third day means we will have to 'suffer' a coach tour along the Vin d'Alsace (Alsace wine route) and the host of pretty little wine villages and idyllic landscapes. We will have stops at some of the most famous places such as Riquewihr, Kaysersberg, Eguisheim and Colmar.
Another highlight of the day will be a visit to Castle Hochkönigsburg which sits
757 metres high on the Vosges mountains and is a perfect example of a castle fortress from the 15th century.

In the afternoon a visit to a typical vineyard to taste some of the Alsace wines will complete the torture …. well someone's got to do it…. and we volunteer to suffer for our society !!

Leaving the hotel the next morning (with enough time to sober- up) we are on our way to spend the next five days with our friends in Schwäbisch Gmünd and the Landesgartenschau.

If the Staufer Festival was anything to go by, we know we are in for a real extravaganza treat before our return flight home on Thursday 17th July.

Wow !  This is a trip not to miss !