News Archive
Posted 09/07/14
"Got the T- shirt" boasts Margot.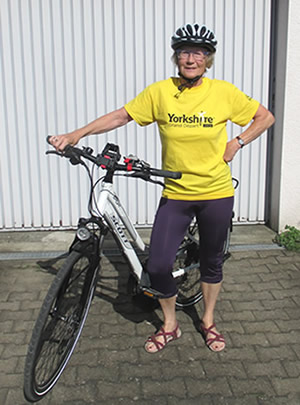 Margot, ready for action in support of the
Tour De Yorkshire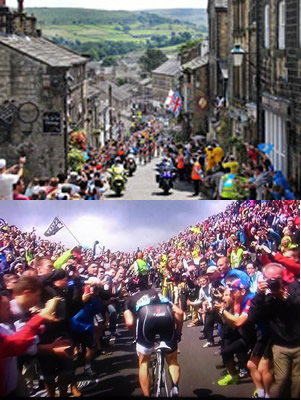 Top: Haworth village Bottom: Holme Moss summitWell, the great success of Stage 1 followed with even greater crowds showing their support for Stage 2 York to Sheffield.
An estimated 2.5M spectators lined the route four and five deep and in places like the hill climbs, more than twenty or thirty deep, such was the support, each one clambering for the best view as the race passed.
Visitors came to Yorkshire from all over the world, saw the beautiful scenery and witnessed the passion of the Yorkshire crowds.

What a major success and a great advertisement for Yorkshire as thousands more watched on television in some 190 countries around the world 'as it happened.'

The words of Tour de France race director Christian Prudhomme, who has described Yorkshire's Grand Depart as the "grandest" in the 111-year history of the race. Prudhomme hailed a weekend which was "beyond his wildest imagination".
Margot Liebenow, twin town member decided to show her full support by donning her own 'yellow T-shirt' on her cycling ventures around Schwäbisch Gmünd, proudly advertising Yorkshire's TDF along the way.
The T-shirt was a surprise present sent over by Pat & Ian Harley for Margot whose birthday coincided with the TDF Stage 2. Pleased and excited she could not wait to wear it and proudly show it off.
I hear, with a few more months practice she might consider an attempt at the yellow jersey!