News Archive
Posted 08/01/14
Prime example for taking on Honorary Posts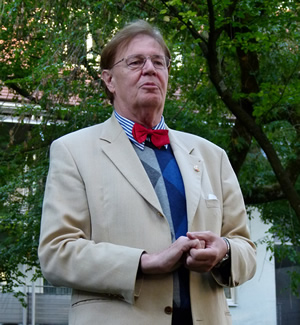 Reinhard in full flowProf. Dr. Reinhard Kunert who was 75 years old on 6th January was head of the teacher training college in Schwäbisch Gmünd, town councillor for the CDU party and for the last 25 years chairman of the regional division of the German Red Cross (DRK).

During this 25 years tenure, which he only relinquished in December, Reinhard did great work and certainly left his mark. He helped set up the new DRK headquarters in Schwäbisch Gmünd, the "Several Generations House" in Heubach as well as four emergency stations.

In 2005, he oversaw the opening of a DRK second hand shop creating eight new jobs and giving socially disadvantaged citizens the opportunity to shop at lower prices.
Reinhard arrived in Schwäbisch Gmünd in 1971 from Bremen as probably the youngest ever professor at the teacher training college. His tireless work to save the college from closure was rewarded when he received the Federal Cross of Merit from the then Education Secretary.
Close to Dr Kunert's heart are the connections between Schwäbisch Gmünd and the rest of Europe. He is active chairman of the twin town society Verein Städtepartnerschaft and among other accolades boasts honorary citizenship of their Hungarian twin town, Szekesfehervar.

His position as a founding member and chairman of the twin town society is not least due to his strong Anglophilia, the English industrial town of Barnsley being the first twin town for Schwäbisch Gmünd in 1971.

We 'belatedly' send our good wishes for his birthday and thank him for his dedication and all his hard work in making our twin town connections such a great success.