News Archive
Posted 03/06/14

Where are they now?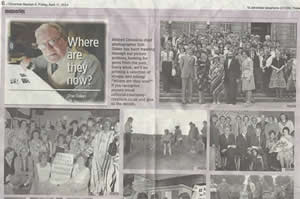 Barnsley Chronicle retired Chief photographer Don Oakes has been trawling through the picture archives looking for gems from the past. Every week the newspaper has begun printing a series of photographs in an attempt to identify people in them and asking "Where are they now?" 
If you look closely at the picture top right and below, you will immediately recognise founder members of our twin town societies Traute and her husband Andreas Schmidt, left and right of Mayor Madam 'Major' Bright and to the right, Valerie Barker.
Photo courtesy of Barnsley Chronicle
To the left of Traute is the late Ron Garnett, then head Youth Officer for Barnsley.
The little face in between Andreas Schmidt and Mayor Bright is Burkhardt Schmidt who at the age of five years or so, had his very first visit to England.
This photograph was taken in the mid-70's, around 1974 or 1976, an early youth exchange to Barnsley from Schwäbisch Gmünd just after the 'official twinning' of the two towns in 1971.
According to Traute's excellent memory, the party were gathered by invitation of Mayor 'Major' Bright to a visit to Barnsley Town Hall where they were treated to a 5-course meal.
For more information visit  http://www.bsgtts.org/history
We have of course sent a copy of this to Don Oakes at Barnsley Chronicle.