News Archive
Posted 27/11/13
The Gmünd Unicorn Tunnel is OPEN !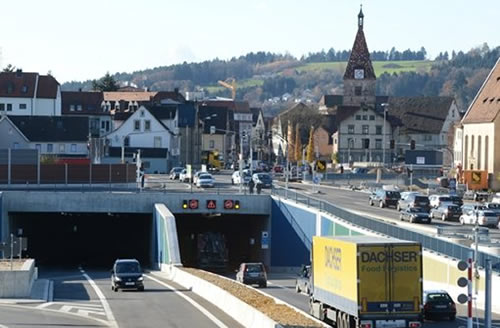 So, after almost thirty years wait the B29 "Gmünd Unicorn Tunnel" is officially declared open to traffic.
It was a poignant moment on Monday 25th November after 15 years of construction when at exactly 10.52 am Gmünd Minister Rev. Robert Kloker inaugurated the 'building of the century' and from a silver holy water font gave it an ecumenical blessing.
Over 1000 citizens, Mayors and guests of honour together with an army of media stood in the great arch of the tunnel west portal to witness the ceremony.

The verdict – SUPER !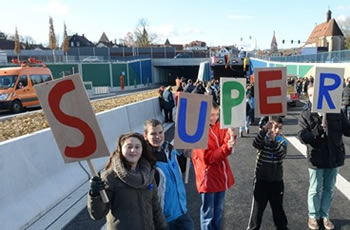 Ironically, the special guest of honour from Berlin, Transport Minister Dr.Peter Ramsauer was delayed significantly, because he sat between Mögglingen and Gmünd in traffic. Delighted with this news were some 100 demonstrators from Mögglingen who had arrived with banners to demonstrate.
They first congratulated the city of Schwäbisch Gmünd, happy and with a great sigh of relief at the tunnel opening but keen to make their point that the Mögglinger bypass problem is not yet solved.

The protest by the Mögglinger people was well received by the Gmünd citizens who were in solidarity with the demonstrators, even Mayor Richard Arnold joined them immediately to promise them neighbourly support.

It was not until 1989 that a concrete draft came into being and in 1996 the planning approval process began. Construction of the first phase came in 1998, the second followed in 2006. Also in 2006, another planning approval process for the 1.6-kilometer-long rescue tunnel was started, this being approved in May 2007. Commencement of mining activities began in the autumn of 2008.

As a result of a citizens initiative, a civil dialogue was launched in March 2012 dedicated to the installation of a tunnel exhaust filter. Several delays have plagued the tunnel build progress and costs as a result have soared, recently in 2013 the renovation of the defective water supply line added to this problem.

The construction costs for the Gmünd Unicorn tunnel has amounted to over 280 million euros.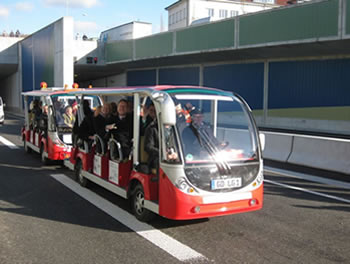 The release of the tunnel was made ​​on 25 November 2013, the Transport Ministers of Germany, Peter Ramsauer and the Federal area of Baden Württemberg, Winfried Hermann were special guests of honour. The tunnel is set to a top speed of 80kph although this can be changed by variable speed message signs with monitoring by infra-red cameras.
The Minister congratulated the people of Gmünd, stating he was delighted with the tunnel structure and highlighted that through the enormous development it was already clear to see evidence of traffic calming in preparation for the State Garden Show in 2014 .

After a compressed air fanfare, the barriers were completely removed allowing the guests of honour to take the first official tunnel ride.