News Archive
Posted 24/01/13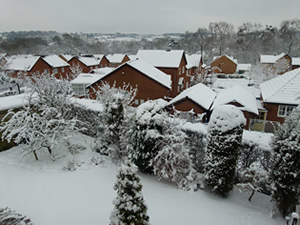 Today in History
January 24th - and we are in the grip of winter with snow disrupting daily life across many parts of our country, nothing significant about that you may say, but then I picked up my iphone to see what else if anything happened this day in the past.
Did you know on this day
2012 The 2012 State of the Union Address is delivered by President Barack Obama to the U.S. Congress
2011 Lara Giddings becomes the first female Premier of the Australian state of Tasmania
1988 76th Australian Mens Tennis: M Wilander beats P Cash (63 67 36 61 86)
1987 61st Australian Womens Tennis: H Mandlikova beat M Navratilova (75 76)
1986 43th Golden Globes: Whoopi Goldberg, Color Purple win
1984 Apple Computer unveils its Macintosh personal computer
1965 Winston Churchill, Prime Minister of Britain, 1940 - 1945, 1951 - 1955, dies at 90
1964 24th Amendment to U.S. Constitution goes into effect and states voting rights could not be denied due to failure to pay taxes
1962 28 refugees escape from East to West Germany
1962 Brian Epstein signs management contract with the Beatles
1962 Jackie Robinson is 1st Black elected to Baseball Hall of Fame
1958 After warming to 100,000,000 degrees, 2 light atoms are bashed together to create a heavier atom, resulting in 1st man-made nuclear fusion
1935 1st canned beer, "Krueger Cream Ale," is sold by Kruger Brewing Co
1930 Bernard Matthews, English turkey farmer/multi-millionaire - birthdate
1928 Desmond Morris, English zoologist, Human Ape, Body Language - birthdate
1924 8th earl Spencer, English large landowner/father of Diane - birthdate
1908 General Baden-Powell starts Boy-Scouts movement
1888 Ernst Heinrich Heinkel, German inventor, 1st rocket-powered aircraft - birthdate
1742 German leaders elect Charles VII Albert Emperor
1534 Francois I signs classified treaty with evangelical German monarchy
1076 Synod of Worms: German King Henry IV fires Pope Gregory VII

........and then I read
2012 Apple, Inc. reports over 37 million iPhones and over 15 million iPads were sold during the 2011 fourth quarter; the company generated over $127 billion in revenue.
.................that's when I put it down again..............amazing things these iphones !