News Archive
Posted 16/04/13
EVEREST THE OLD WAY




"These are my riches, these and the bright remembering, of ridge and buttress and sky-shouldering spires;
These I shall count, when I am old, of an evening, sitting by the fire."
The story of the first recorded trek to Mt.Everest.
In 1968 five local students made a remarkable trek.
Two of the team, David Peckett and John Driskell, have recently written a book about their adventures and David will give a talk to Barnsley Schwäbisch Gmünd Twin Town Society on Monday 13th May 2013 at the Fairway, Dodworth.
Foreword to the book by Sir Chris Bonington: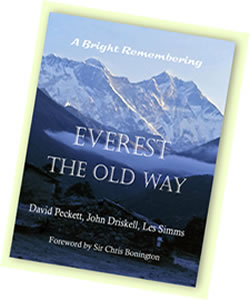 "This is the story of a trek to Mount Everest at a time when few Westerners who were not part of a large national expedition had made the journey. It took place in 1968 during a five year period when expeditions to Mount Everest were not permitted: only five groups had successfully scaled the mountain at that time and as few as two dozen climbers had reached the summit. The story is told through the diaries of young men who are now in their late sixties. They give a vivid picture of life in Nepal at a time when the country was waking up to the commercial possibilities of trekking. These were the forerunners of the extensive trekking industry of today and their experiences will fascinate readers."

Professor Terry Gifford:
"From Barnsley to an empty Everest Base Camp in 1968 was a leap from a dream into the richness of raw experience that this fascinating book brings so vividly to life."
David Peckett- Author:

Born 1941 and brought up on his parent's farm just North of Barnsley. At the age of 11 he contracted tuberculosis of the right hip which led to three years in hospital and a permanent disability which severely curtailed participation in the sports he loved. He missed 3 years of schooling and started work at Samuel Fox's steelworks in Stocksbridge as an Industrial Chemist, after doing 'O' levels at the age of 18.
In 1961 his interest in craft led to Sheffield Teacher Training College where he trained to teach English, woodwork and metalwork. In 2001 he retired as Senior Inspector for Primary Education in Wakefield.
I had an idyllic childhood with loving parents. I lived on a farm and from a young age roamed the fields and woods for miles around. I went on school camps with my primary school to the North York Moors and the Yorkshire Dales. Out on the moors I found the big wide skies and far harizons. My teacher at that time had served in the RAF and been posted to the Holy Land.
He showed us photographs of Nazareth, River Jordan, the Dead Sea and Jerusalem. Places fixed in my mind through Bible studies but here was a man who had actually been there. As he talked and told us tales I ached to see and experience places so real and far away.
I read the explorations of Stanley, Livingstone and Burton and dreamed of wandering. Then I went to Grammar School and began to play rugby and cross country running. I planned to join the RAF and travel the world. It was then that I contracted tuberculosis in my right hip joint. I was admitted to Pinderfields Hospital, Wakefield and for the first two and half years I was completely immobilised, only able to move ankles and shoulders. Finally, after three years, I had to have a bone graft and was left with no movement in my right hip and my right leg one and half inches shorter.
I was always active and regained my strength but the route to my dreams had to change.
I left school at 18 and went to work as a chemist in the laboratory of a steel works. During the second Christmas I met Mr Douglas the headteacher of my primary school. At one point he said that he thought I would become a teacher. A light flashed in my head and within a few weeks I had secured a place at the City of Sheffield Teacher Training College and spent the summer term as an unqualified teacher. I started at college in September 1961 and by great good fortune I had a room on the same corridor as John Driskell, a passionate rock climber, mountaineer and traveller. My life was changed again and I loved it. My corridor housed John and Johnny Rudd and other great characters. There were men all around me who were training to be teachers but with such a variety of experiences. I followed their lead and soon was exploring all of Great Britain and Europe. Those far horizons and big sunsets filled the sky and led to the journey overland.

Now my dreams have taken me to the "four poles": – Everest region (the highest), the Dead Sea (the lowest), the Arctic region and the Antarctic.