News Archive
Posted 12/03/13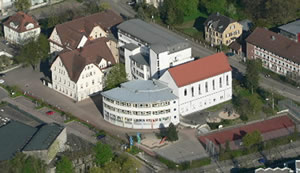 Youth Party visit re-kindles twinning spirit!

A planned visit to Barnsley by a school in Schwäbisch Gmünd was put in jeopardy when insufficient host families could be found.
The visit of twelve hearing impaired students and two teachers in co-ordination with Holy Trinity Catholic and Church of England School in Barnsley failed to attract sufficient host families in time for their arrival on 19th March.
One of the teachers Heike Neuber- Joos, (a long time friend with some members of the society following a visit to her school in Schwäbisch Gmünd) then contacted Barnsley Schwäbisch Gmünd Twin Town Society explaining her plight and the members quickly responded.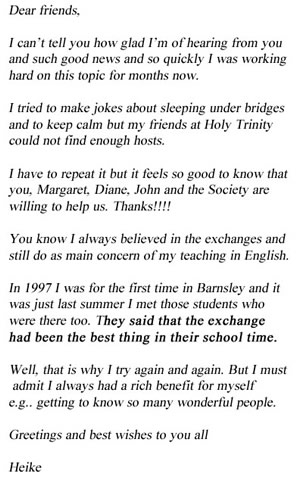 Mail received from Heike Neuber- Joos
Schule für Hörgeschädigte St. Josef, ( St. Josef school for hearing impaired) founded in 1868, is privately owned, charity funded with teaching based on Christian values, many of the teachers are nuns.
It is government recognised as an important special school for hearing impaired children.

The school provides a full curriculum with boarding option from Kindergarten to abitur ('A' level qualification - 18 years old), with special emphasis on language, often an additional difficulty for the hearing impaired.

St Josef school takes pupils from the whole of Baden-Württemberg and even further afield, indeed of the party (8 girls and 4 boys) coming to Barnsley this time, one lives
in Stuttgart and another in Ulm.

Arriving in Manchester the children will first relax and settle in with their host families ready for an exhausting schedule of planned activities including some evening get-togethers at people's houses.

It all starts with an early rise and a tour of Holy Trinity School, then number 12 bus to Barnsley Interchange transports them to a specially arranged invitation to meet the mayor, visit the mayor's chamber and have lunch at the Town Hall.
There will still be time to have a look around the town centre, possibly a bit of shopping, before cooling off at the Metrodome - swimming.
Thursday is a chance to experience a whole English school day at Holy Trinity followed by Barnsley Ten Pin Bowling.
The party leaves for London early on Friday morning.
Special mention to members John and Diane Bennett, Keith and Margaret Jowett and Tony and Josie Swales for hosting at short notice and also to John Bennett for all his help with arrangements.