News Archive
Posted 08/02/13
Is there a point to twin towns?

The signs are all over the country, so why not visit the town you are twinned with – it might be the start of a beautiful friendship.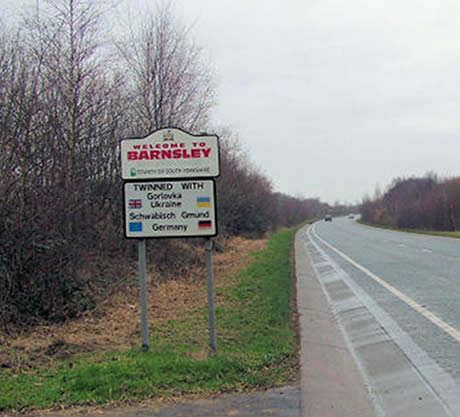 Look at the sign at the entrance of your town and you'll spot a phrase that goes something like this:
"Twinned with <interesting-sounding place>, <country across the water>".

Maybe you've always been curious about that interesting-sounding place. Maybe you've visited, and met the people, possibly even had some fun. Still, the chances are, as curious as you might be about twinning, you've never visited the region twinned with yours. So you've never met the people or experienced the fun. And you don't know anything about the interesting-sounding places that the signposts around the UK inform you of.
Town twinning, as an official relationship-builder, started in Europe after the second world war. The idea was simple: repair damaged relationships between France, Germany and the UK. Find towns that suffered during the wars and pair them. Then encourage people from these areas to meet, mix and get along. That's why town twinning – at its core – is a good and important thing.

I'm fascinated by town twinning (or "jumelage" if you live in France).
That fascination started a year ago when I popped to Hoerstel in Germany, twinned with my hometown of Waltham Abbey.
For years I'd seen the sign. At school I'd even had the opportunity to visit. But I was like many of the people who have suggested their twins for my road trip – curious, yes, but not curious enough to take the time to cross the Channel. It never felt like something I needed to do. But Norma, a feisty old lady who runs the Town Twinning Association, persuaded me otherwise.
In three days, I visited the villages that make up Hoerstel, cycled through Bevergern, played basketball outside a shipping container with some German teenagers, ate raw pork, drove for an hour to a spectacular midnight funfair, and shared raclette with people from Germany, Poland and Italy.

But it wasn't easy. Getting to know your neighbours isn't easy. Especially if you live in the UK – because your European neighbour probably speaks a different language to you, and eats different food, and lives in a different culture. Also, it can be cold and wet. And you can feel completely out of your comfort zone.
So why do it? And why have twin towns? After all, people can travel all around Europe easily, cheaply and freely these days.  Because town twinning is a relationship. It's long-term. It starts, it grows and it can flourish. When it's good and healthy, it puts its people first.
It introduces them to new experiences and new friends. It helps us all to meet, mix and get along.
The relationship is about you and the people in your twin town – not councillors or committees. It's yours to mould. You just need to find Norma-like energy to get involved and make something happen.
You and your twin share something. A history, some DNA. You're twinned for a reason and that reason will be positive. So you should pay them a visit...and you and they'll love it if you do.
Contact your local town twinning society Norma and make a start.
The signs are all over the country, so why not visit the town you are twinned with – it might be the start of a beautiful friendship.
Courtesy of Rob Self-Pierson
Guardian
Photo: 'Welcome to Barnsley' © Copyright Richard Spencer and licensed for reuse under this Creative Commons Licence