News Archive
Posted 06/06/13

Visit cements twin town friendship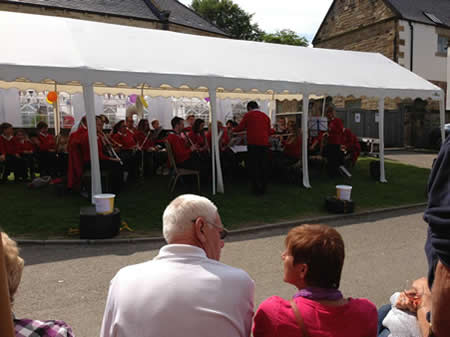 The programme for the visit of First Musikverein Stadtkapelle to Barnsley began on Sunday 26th May, arriving at their temporary home for the week at
Hesley Wood Activity Centre the group found a vast area of land with activities and facilities at their disposal.
An early arrival allowed time to settle in and for their kitchen staff to shop at the local supermarket for food and essentials for the week.
The evening hosted by FMVS provided the opportunity for Worsbrough Brass Band to welcome them to Barnsley and renew friendships formed during the visit to Schwäbisch Gmünd.
A visit to the home of Worsbrough Brass and a conducted tour around Worsbrough Mill was well received and followed with an afternoon performance by FMVS at Wentworth Castle and Gardens. The weather stayed fine and warm enabling them to show their full repertoire, much appreciated and enjoyed by the large crowd that stayed and listened.

Tuesday, and the prestigious 'York town centre' with its rich ancient history, tangle of quaint cobbled streets and wealth of visitor attractions was the venue for their next performance. Both bands delighted the crowds that gathered to listen in the sunshine to their individual performances allowing free time to explore and experience the sights and fun of York.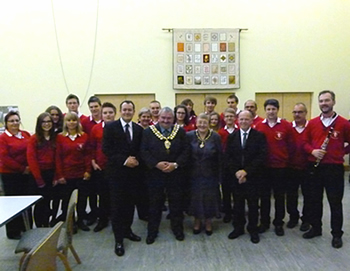 Mayor of Barnsley Cllr. Ken Richardson and his Consort, Michael Dugher MP and John Hopkinson with members of First Musikverein Stadtkapelle The free day followed and an option for people to "do their own thing."
Equally popular was a shopping trip to Meadowhall Shopping Centre (when first opened, the second largest shopping centre in the UK) and swimming at Barnsley Metrodome complete with slides and wave machine, others chose a more relaxed activity like looking around Barnsley town centre and the surrounding area.
Thursday was a busy day, but fully refreshed and ready for a visit to the National Coal Mining Museum, kitted out with a hard hat and battery lamp, everyone made the descent 140m deep underground, (an early experience of the tunnel build in Schwäbisch Gmünd maybe?) to discover the harsh realities of coal mining in the past, a journey through the different ages of mining, from Victorian times where women and children worked underground alongside men, through to pit ponies and modern machinery.
The evening showcase event was a joint concert in the presence of Mayor of Barnsley Councillor Ken Richardson and his Consort, local Member of Parliament Michael Dugher MP, Secretary of the Yorkshire Area Brass Band Association Peggy Tomlinson, together with other dignitaries.
Tony Swales, society Chairman, was asked to address the audience on behalf of Barnsley Schwäbisch Gmünd Twin Town Society.

The verdict of the near capacity crowd was a thoroughly entertaining evening with great contributions from both bands.
Many commented how nice it was to hear the different sounds the two bands made, one pure brass, the other including wind instruments clarinets and saxophones, especially when they performed together on stage for the final piece of the concert.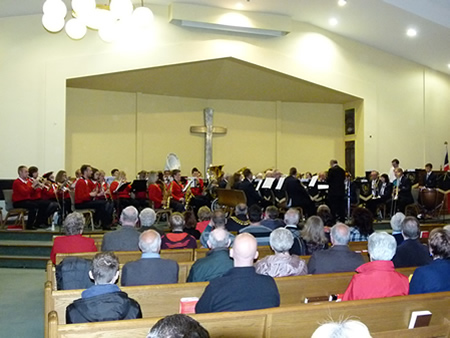 One of the highlights of the evening was a special presentation by Peggy Tomlinson to John Hopkinson, Worsbrough Band Musical Director in recognition of his 50 years of service to Brass Banding both as a player and now conductor.
This came as a complete surprise to John, a secret keenly kept for many weeks by all the members of his band and family, a moving and happy moment.
It would not be the only time the FMVS would 'rub shoulders' with our new Mayor, following a performance in Barnsley town centre on Friday they were invited by Mayor Cllr. Ken Richardson to a reception and tour of Barnsley Town Hall.

To round off a very busy but successful week appreciated by both parties and also many people in York and Barnsley, an evening farewell party hosted by Worsbrough Brass offered time to reflect on the week and the new friendships formed between the two groups.

I hear rumours (only rumours I hasten to add) of plans to get together again in a couple of years' time.
It has taken 29 years to get you back to Barnsley, we hope the 'encore' will come very soon.       

Bis zum nächsten Mal !