News Archive
Posted 03/12/13

A 'true' taste of Germany in Barnsley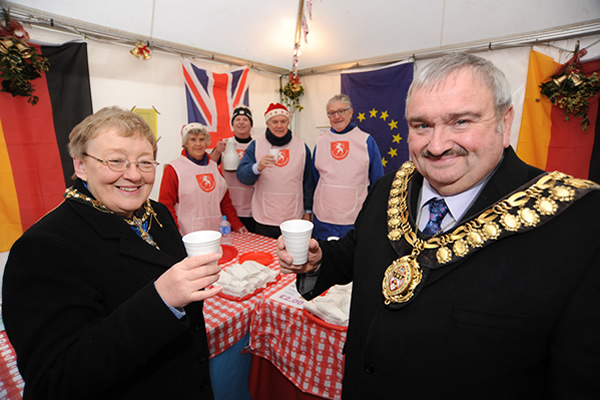 Photo: Courtesy of Scott Bairstow, Barnsley Chronicle Barnsley Mayor Coun. Ken Richardson and his consort paid a visit to our stand at the Christmas Craft Market on Saturday joining the quality control department in sampling the special recipe hot mulled wine.
Pictured are members of Barnsley Schwäbisch Gmünd Twin Town Society, Beryl Topliss, Alan Brentnall, John Bennett and Andrew Hill. The smiles on their faces meant quality and taste had received the Mayor's approval.
Once again the society's efforts were also well received by visitors to the market, many of them now regulars to our tent. Encouraging comments like "the best stall on the market" and "the best tasting and cheapest mulled wine of all the markets" were heard over the three days but the best compliment of all came from visitors from Schwäbisch Gmünd staying with members of Frumptarn Guggen Band who stated that our special recipe hot mulled wine was excellent, far better than they could get in Germany and that was why they had stayed in our tent all afternoon chatting over another and another mulled wine.
A fabulous endorsement if ever there was one!
Clearly the quality control department have now gained 'almost' enough experience to get their secret recipe hot mulled wine taste to the delight of the Barnsley folk as well as German visitors each year. They tell me they need only another ten years practice and tasting to 'hone' this skill !

Mayor Coun. Ken Richardson left with a warm glow inside ready for the afternoon Barnsley football match.