News Archive
Posted 26/08/12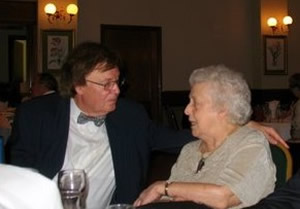 Prof. Dr. Reinhard Kuhnert and Trudi Williams reminiscing at the celebration dinner.
Members of both twin town societies were saddened to hear of the death this week of Trudi Williams at the remarkable age of 96.
Trudi was the wife of the late Arthur Williams, the inspiration behind and the founder member of the twin town society.

From the time in 1954 of the formation of the early links between Barnsley and Schwäbisch Gmünd, through the offical signing of the twinning charter in 1977 and beyond, she retained an active interest in the society.
Her longevity can indeed be said to be attributed in part to her involvement in the twinning, for some 30 years ago Trudi suffered a serious heart attack while visiting our twin town. The skills of the German nurses and doctors ensured a remarkable recovery.
Trudi was always ready, along with her husband, to open her home to welcome visitors from Schwäbisch Gmünd. She and Arthur had a love of ballroom dancing and they were always the first to take to the floor at formal and informal gatherings of society members from the twin towns.
Advancing age meant that in recent years she has reduced her active interest in the dealings of the society but she always showed an interest in its progress  and is remembered for her lively contribution to the reminiscing at the celebration dinner held to mark the 40th anniversary of the official twinning.