News Archive
Posted 18/12/12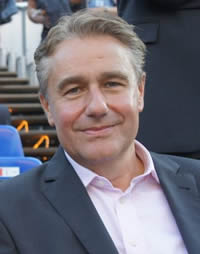 Schwäbisch Gmünd mourns Stephan Kirchenbauer, civil partner of mayor Richard Arnold
It is with sadness we report that last night (17.12.12) Stephan Kirchenbauer-Arnold lost his fight against a serious lung disease at the age of only 52. The civil partner of mayor Richard Arnold was well-known in Schwäbisch Gmünd and the whole region as an excellent drama writer, artist and musician. He was also a much valued personal assistant to Diane, Duchess of Württemberg.
Only this summer Stephan inspired thousands of people from Schwäbisch Gmünd and far and wide with his imaginative and fascinating production of the Staufer Saga theatre play of which he was also the author. He will be greatly missed as an exceptional person who has contributed so much to the cultural life of Schwäbisch Gmünd.
Barnsley Schwäbisch Gmünd Twin Town Society send our sincere condolences.