News Archive
Posted 16/02/12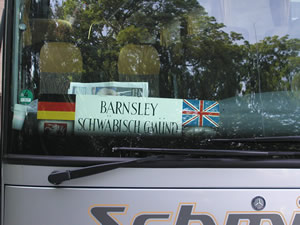 August visit dates received
Confirmation of the dates for the visit to Barnsley by our friends in Schwäbisch Gmünd has now been received .

The forty to fifty strong party (actual numbers not yet confirmed) will leave Schwäbisch Gmünd by coach on Tuesday 21st August arriving in Barnsley on Wednesday 22nd August and will stay with us until Sunday 26th August when they travel on for a few days sightseeing visit to Wales.
Further details will be posted - Now the preparations begin !