News Archive
Posted 12/03/12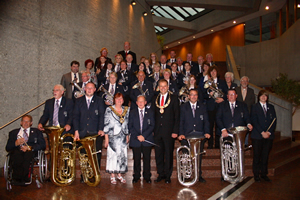 Worsbrough Brass in Schwäbisch Gmünd
during their visit in July 2011
Major boost to a fantastic twelve months.
Worsbrough Brass produced a great performance and were awarded third place at the National Championship of Great Britain - Yorkshire Area Regional Contest, third section held this weekend in Bradford St Georges Hall.
The band were especially pleased as this is only their second ever appearance in the contest at this level


Comments from Brass Band aficionado's soon began ringing around the hall following their performance,

"Worsbrough produced a performance that grew and grew in confidence and excitement…"

and

"Worsbrough Brass have turned up the heat a bit on their competitors in St. George's Hall today."

Barnsley Schwäbisch Gmünd Twin Town Society on hearing the results immediately sent their congratulations to the band.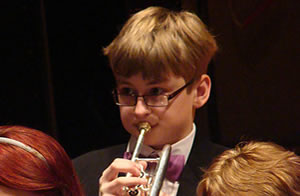 Contest action:12 years old Jacob Bramley
( Photo: Iwan Fox)
mum, dad and sister Madelaine also play in band. A delighted band Secretary, Angela Dawson replied,
 "Thank you for your congratulations, this result has just given the band such a boost and ended what can only be described as a fantastic twelve months.
All the band are still talking about their experience in Schwäbisch Gmünd, many are asking if we are going again this year!
I'm not sure if some of them realise how much organisation goes into a tour like that but it is good that they enjoyed it as much as they did."
The result was particularly special to Worsbrough Brass as they still have many young and inexperienced players, two of whom made their contest debuts this weekend and many of the more experienced members have grown up with the band.
We wish them continued success.