News Archive
Posted 10.9.12

A Snapshot of some of the highlights of the visit.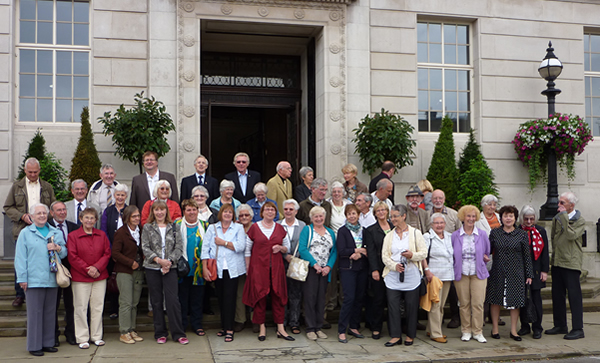 Members arrive for a civic reception at Barnsley Town Hall.



The visit by forty three members of the Schwäbisch Gmünd society to Barnsley went very well judging by the comments and smiling faces of our visitors.
As a result of this successful week we understand our societies are extended by several new members who came and enjoyed themselves so much that they decided they wanted more.
A very warm welcome to you all !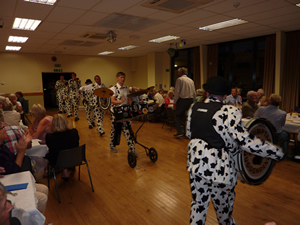 After a tiring day of travel and visit to Worsborough Mill including a brief walk in the area it was time to relax with a beer or wine, Pie & Peas supper and a video of our recent visits to Schwäbisch Gmünd including the Stauferfest.
A loud and energetic entrance and performance by the Frumptarn Guggen Band provided a rousing finale to the evening.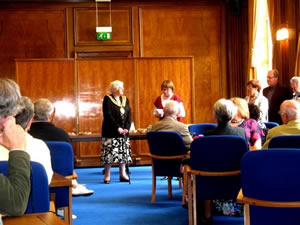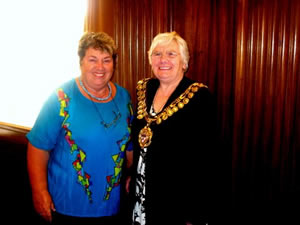 An official reception in the town Hall was warmly given by Mayor Cllr Dorothy Higginbottom with response on behalf of Schwäbisch Gmünd by Sigrid Starzinsky, Deputy Chairperson of the Verein Städtepartnerschaft, in charge of the Barnsley link.
Founder member Trautelore Schmidt who helped her husband lead numerous youth parties from Schwäbisch Gmünd has met every Mayor over a 30 years plus period and adds another one to her album.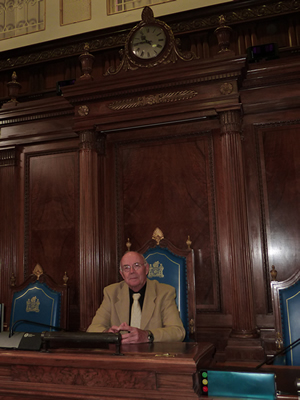 Mayor Cllr Dorothy Higginbottom took time to speak to everyone and was delighted to pose with our visitors for that cherished photo 'with the Mayor' for their albums.

We are  not sure that she would be too happy seeing Heiko von Tschammer posing in her chair in chambers, perhaps after her job, however he does look quite distinguished and at home don't you think?


Yorkshire Sculpture Park and remarkably the weather held up very well for our visit and a walk through the park provided light relief and humour amongst the sculptures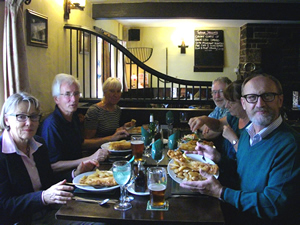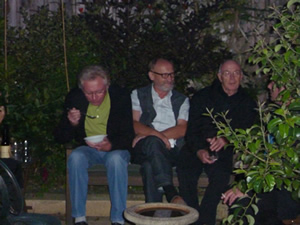 Party time  - the weather was extraordinarily good for our barbeque  - also an excuse for the men sitting together telling  jokes over a beer or two well into the balmy evening.
It's a must !
Fish & Chips all round with Peter and Ingrid Pischel and Prof. Dr Albrecht  Kersten and Dagmar Kersten-Lorenz first time visitors to Barnsley with their hosts John & Margaret Gostelow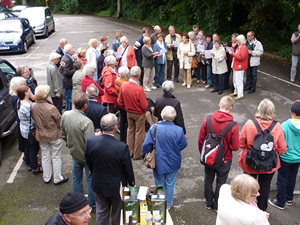 With an early morning glass of bubbly and a toast to budding Mayor Heiko to mark his birthday, Happy Birthday Heiko ...
....... and all too soon it's time to bid farewell as the group prepares to depart for Wales.
Have a good trip and see you all again soon !