News Archive
Posted 5/11/12
Looking forward to seeing you!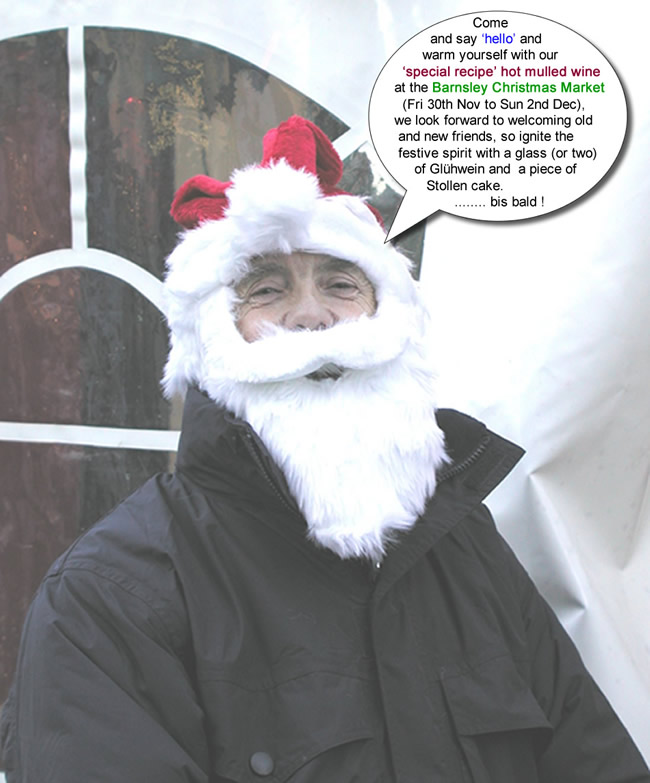 The Festive season is fast approaching and a timely reminder that this year's Christmas Market in Barnsley town centre extends from Friday 30th November to Sunday 2nd December. More than 50 stalls will make up the Christmas Market stretching through the town centre. 

We'll be there from the start to tempt visitors with our delicious and special "highly secret recipe" Hot Mulled Wine and Stollen (German Christmas cake) and an array of fabulous Christmas decorations made in Schwäbisch Gmünd. 

Times for the market are as follows;
Friday 30th November - 9am to 7pm (Fireworks at 6pm.)
Saturday 1st December - 9am to 6pm
Sunday 2nd December - 10am to 5pm

You will easily find our stall near the entrance to the market hall and we look forward to meeting you and chatting with you about the society.

Please feel free to talk and find more information about how to become a member.
New members are encouraged and always very welcome.
Our tent is always the warmest place at the Christmas market and we look forward to seeing old and new friends - you are guaranteed a warm welcome and a warm glow!