News Archive
Posted 03/04/12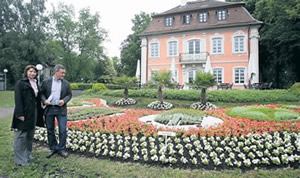 The proud manager of the Council Gardening Department August Ströbele and council spokesperson Ute Meinke Twin Towns Are Blooming in Gmünd's  Stadtgarten !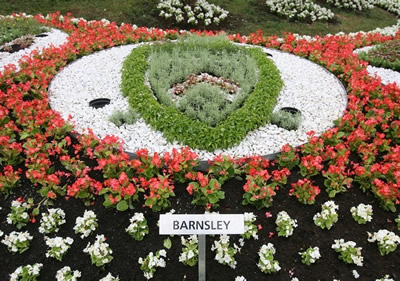 It has been a tradition for nearly ten years now, under the slogan "Flowering Twin Towns" that Gmünd Council has the town crests of their twin towns planted as flowering islands in front of the Rococo castle in the Stadtgarten.
Locals from Gmünd as well as visitors from the various twin towns can enjoy the colourful display until autumn.

In order to create this sea of flowers the council gardeners have painstakingly planted more than 2000 begonias as a surrounding border and another 2000 summer flowering plants which make up the different crests.
The plants used for the crests of Barnsley, Antibes, Bethlehem, Faenza and Székesfehérvár are myrtle, hebe, cotton lavender, curry plant, Spanish needles, milkweek and cigar plant.