News Archive
Posted 2/10/12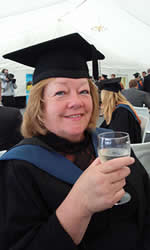 With a 'Degree' of celebration!


Congratulations to Barnsley Schwäbisch Gmünd Twin Town Society member Pat Harley who graduation from Plymouth University after completing the Open University course last summer.

Pat collected her Certificate of Higher Education in Business Office Information Systems from Plymouth University a week ago with husband Ian, stopping off in Gloucester on the way back where she claims she broke her finger after falling down 'entering' a public house for more celebrations......a likely story,  eh !