News Archive
Posted 01/08/12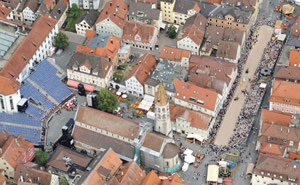 ............. a dream in full technicolour of medieval life and history, the spectacle that was the Staufer Festival!
What a fabulous weekend..... one could not escape transportation into a dream in full technicolour of medieval life and history, the spectacle that was the Staufer Festival!
An experience that 'had it all,' the sensational setting of downtown Schwäbisch Gmünd was matched by a successful re-creation and atmosphere of medieval life where one mixed with emperors, kings, the whole courtly society, knights, archers, flag wavers, sword fighters and also beggars and lepers.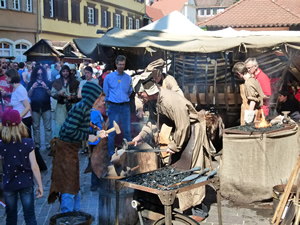 These provided a kaleidescope of colour with the Town Watch in their traditional Gmünd colours of red and white, the Staufer Knights in the country colours black and yellow, add to this the particularly colourful display of the Saracen Knights who paraded a multitude of different suits of armour complete with chain mail and helmets and carrying swords, mace and chain and bows and arrows.
The impact of  emperors, kings together with the courtly society dressed in their colourful finery contrasted the drab beggars and lepers and the 'workers' in the medieval market and craft market extending throughout the town centre.
Animals and birds of prey played a large part too with dogs, hares, chickens, cats, sheep, goats, donkeys  and even camels  and of course horses and horse drawn carriages all part of the picture.
So by now you should be getting a bit of an idea of the scene, the whole place has been transformed, add lots of music provided by minstrels, drum, trumpet and dance groups, jugglers, acrobats, fire displays, dare devil high-wire performances, the sights, sounds and smells of a medieval camp with fires and children toasting 'Stockbrot,' (stick bread) blacksmiths, soap makers, wine and beer sellers, pig roasts and battling knights on horseback and even a 1:1 size catapult weighting over 2 tons.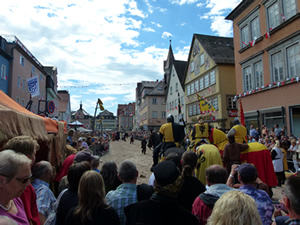 Very noticeable and impressive was the involvement and participation of children in the whole project with lots of hands-on activities and games and even the market place in front of the Town Hall was converted to a "Castle"  amusement park.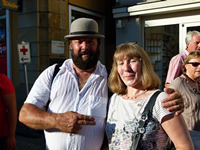 An opportunity that any child would surely not refuse although it seemed the people of Schwäbisch Gmünd and surrounding areas had all grasped the idea with ease, desperate to be involved, young and old mixing together, a chance to dress up and live and to provide for others a unique experience.

Even Bud Spencer, although not successful in obtaining a part in the Staufersaga turned up to join in the fun.
So the scene and mood is set for the telling of the Staufer Saga, the history of Schwäbisch Gmünd dynasty set as a nine scene open-air play. The historically accurate performances included over 1300  participants and played for 7 nights to an audience of 2300 people per show in a specially constructed arena on Johannisplatz square.
Saturday night, the final performance and in front of royalty too as avid supporter Diane, Herzogin (Duchess) von Württemberg joins us for a rain free evening and a  theatrical sensation that can only be described as 'spectacular spectacular.'
Everyone agreed it seems, as every performance was quickly sold out and tickets could have been sold twice over.
Demand was so high in fact that there are now plans to include performances at the Regional Garden Festival in 2014 - maybe your last chance to see it and certainly highly recommended!


It is difficult to sleep after so much excitement and drama but tomorrow's Stauferzug beckons and promises to be yet another stunning treat.
A procession through the town centre of all the participants of the Staufersaga and the Stauferwochende together with Schwäbisch Gmünd children's groups, societies and schools all in authentic costume involved over 2000 people and took just over two hours to pass by. Again a feast of colour but also a parade of the design and workmanship that had gone into the hand making of every costume, every dress, gown, chainmail, footwear, sword, helmet or shield and then you remember that all the volunteers in the Gewandmeisterei (cloth workshop) or the Rüstmeisterei (armoury) had to be trained in the authentic methods of design and sewing or construction.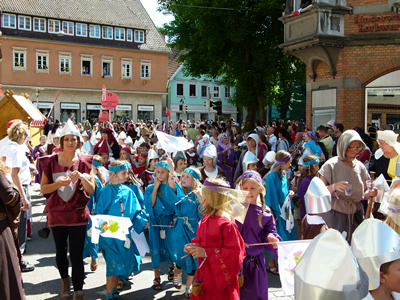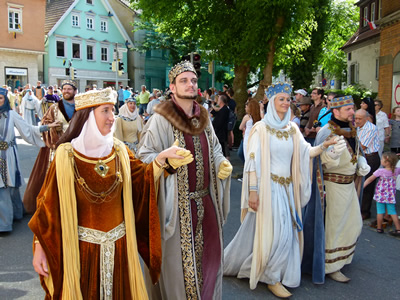 A large firework display over the Stadtgartens signalled the end of the Stauferweekend.

The Staufer Saga reported by Antibes jumelages, twin town of Schwäbisch Gmünd.

To see more of what you missed follow these links to watch videos of the festival weekend;
http://www.youtube.com/watch?v=uuGqSzuyia0
http://www.youtube.com/watch?v=cW1Q6wlb5zM&feature=plcp
http://www.schwaebisch-gmuend.de/5855-Filmdokumentation.html
You can of course see lots of photos of the weekend on this site on our photo albums page.
Most striking was attention to every detail, authentication of each bit of the festival and the successful involvement of all the people of Schwäbisch Gmünd both young and old.  Authentic hand production of so many costumes and accompaniments in so much detail was quite mind-blowing and the most difficult of tasks to capture and create the atmosphere was accomplished with style.
One thing that came across really strongly was 'pride in participating' by everyone who took part or contributed in any way, it must be quite something to have so many eager people volunteer their time and talents over so many weeks and months to ensure the success of the anniversary of their city.  Well done Schwäbisch Gmünders!
An estimated over 100,000 visitors to the Staufer Festival have witnessed the authentic display and atmosphere of medieval life and times and had a truly unique experience. In addition to the official visit made earlier in the week all five twin town societies were represented by member's privately arranged visits to the Festival.
If this weekend was a fore-runner to the Garden Festival in 2014.... Wow, hold your breath!
Schwäbisch Gmünd the Jewel of southern Germany, now also the "Festival town of southern Germany."