News Archive
We're on our way!
Posted 22/07/11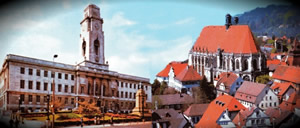 BSGTTS decend on Schwäbisch Gmünd
I've been packing for a week now and along with the other twenty nine descending on our hosts on Monday evening we are all looking forward to seeing our friends again and spending time in Schwäbisch Gmünd. I've double checked my passport, the EHIC is in date, weighed my hold baggage, recounted my Euros three times hoping that there might be a few more but unfortunately it's almost parity with the pound at the moment.
Our flight, Manchester to Stuttgart will get us there around 16.45 for the start of the week long festivities.
There's a welcome evening at the Spitalmühle, the Old Hospital Mill, followed by an invitation from Worsborough Brass to join them for a drink at their hotel. The official reception by Oberbürgermeister Richard Arnold will take place on Tuesday leaving time for an evening party in the homes of our hosts. The programme for Wednesday allows time in the morning to 'get your head back' whilst travelling to the beautiful towns of Marbach and Besigheim. There's a split on Thursday and the men are given a special visit to the tunnel construction site and an indepth report on its progress including a possible view of the discovered 'Limes wall' Roman remains.
The women are in for a real treat with a visit to the 'Gewandmeisterei,' an old and historic cloth store house. Schwäbisch Gmünd is the oldest Staufer city in the region and June 2012 is a major anniversary of their Staufer dynasty. Schwäbians will recreate life at that time in the middle ages with knights jousting, a procession through the town, musical theatre performances and a medieval artisan market. The Gewandhaus is currently involved in the recreation and hand manufacture of all the costumes for the celebrations and will demonstrate their craft and some of the costumes. Then coffee at Schönblick and a concert in the very old St. Kolomans Church. The evening is again left for party time in private homes.
A day trip to fascinating, enchanting and unforgettable Rothenburg, one of the most visited towns in Europe takes place on Friday with even more parties in the evening! Saturday morning is time to visit the famous mediterranean style market around the Minster and do last minute shopping in the town centre whilst taking in the atmosphere.
Alas, the Farewell party evening comes around all too quickly and we are back to Stuttgart Airport on Sunday afternoon for the trip home.