News Archive
Worsbrough Brass
Posted 15/02/11


Younger and older together in harmony ....in Schwäbisch Gmünd.
Barnsley Schwäbisch Gmünd Twin Town Society is delighted to announce and support the forthcoming visit to Schwäbisch Gmünd from 23rd to 29th July 2011, of Barnsley's 'Worsborough Brass.'
.......... from humble beginnings
Formed in 1993 by a small group of children and their parents, they had no band room, no equipment, no instruments and only £14 to their name, the one thing they did have however, was an abundance of energy and enthusiasm. Through dedication and hard work they overcame these humble beginnings and in 1995 secured a National Lottery award allowing the band to purchase a complete a

nd new set of instruments.
Worsborough Brass appointed their current conductor John Hopkinson in 2008. John immediately started a programme of improving overall skill and performance levels. The band now boasts an unrivalled and strongly demanded 'training band' and members of both the senior and training band are encouraged and supported to pass Associated Board of the Royal School of Music exams thus maintaining the ongoing progress of both band and individual player. It paid immediate dividends when in October of that same year the band entered an Entertainment Contest and won first prize. This remarkable feat was then repeated by the training band a year later!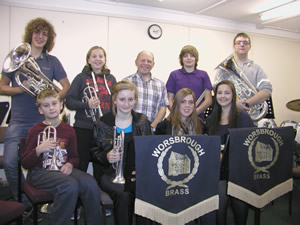 Just a small part of the happy team
................. first ever trip abroad
John's ambition to transform Worsbrough Brass into a winning band was fulfilled when the band delivered a superb performance to win the 2010 Fourth Section and claim their first 'Yorkshire Area Championships' title (arguably the most keenly fought Championships in the world) on just their second appearance at the contest.
As a Brass Band 'oldie' myself I know there are no short cuts, it takes hours and hours of hard work and practice to achieve only the first level, contrasting other faster and easier computerised pursuits in today's demand for "instant" success world and a game that can be 'mastered' in one afternoon.
It is hard to believe they have achieved so much in such a short period of time, the fact that they have stayed together is in itself testament to the whole team.
For some players this will be their first ever trip abroad and certainly for the band it's new but exciting territory.
.....teamwork and a passion for music making
Worsborough Brass exhibit an unlikely but very fortunate mix (in today's society) of youth and experience, both inspired and keen to learn from each other and one so necessary to ensure the continued progression and very survival of the band. Over the past eighteen months the players have been their own biggest critics, together they are now starting to believe in their own ability and gain the deserved rewards. It is very refreshing and appealing to witness such teamwork and a passion for music making embodied with a keenness and pride in performance not normally associated with 'young' players or such a young band.
One could say that links between Worsbrough Brass and Musikverein Stadtkapelle Schwäbisch Gmünd have existed for a long time through the personal friendship of John Hopkinson and Peter Reuter, forged during a twin town visit by a brass band from Barnsley back in 1985. John and Peter have, on many occaisions talked longingly about arranging visits to their twin town for the groups and this is the first step in realising that goal. Worsbrough Brass hope that initial plans for a reciprocal visit in 2012 will give them an opportunity to welcome Musikverein Stadtkapelle Schwäbisch Gmünd to Barnsley next year. (watch this space!)
...................England v Germany..... fair 'play'
Although Worsbrough's full programme for the week-long twin town visit is not yet finalised, two concerts are already confirmed, the first in Hussenhofen, about 4km east of Schwäbisch Gmünd on Tuesday 26th July, followed by a performance in Schwäbisch Gmünd town centre on Thursday 28th July, so there will be an opportunity for the public to see, hear and meet the band.
Also, in true Anglo-Deutsch relationship tradition it seems, the two bands have challenged each other on the football pitch, so a match between them has been arranged. It will, of course, be played in the best spirit (as always) and a BBQ evening invitation from the Stadt-Jugendkapelle will no doubt provide the usual platform for long discussion and debate on their respective missed chances during the game. More programme details will be posted as they are confirmed.
Having spent months eagerly fund raising for the opportunity to visit and perform in their twin town, I am sure the towns-folk of Schwäbisch Gmünd will extend Worsborough Brass the same amazing welcome they gave to the initial young people whose links led to the great friendship and twinning we enjoy today.