News Archive
Barnsley Annual Christkindlmarkt 2011 - "Bigger & Better"
Posted 14/11/11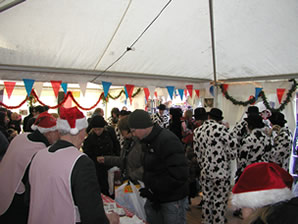 Come & and say 'hello' at "Barnsley Christkindlmarkt"- 23-27 November 2011
The Festive season is fast approaching and a timely reminder that this year's Christkindlmarkt in Barnsley town centre is extended to five days from Wednesday 23rd November to Sunday 27th November, with more specialist traders from around the UK and Europe than ever before.

In addition to the established town centre outlets more than 50 stalls will make up the Christkindlmarkt stretching through the town centre and the new Kendray Street market boulevard.
It all begins on Wednesday, 23 November with the Christmas lights switch on featuring Bob the Builder and friends and a fireworks display.
Traders from Barnsley's twin town of Schwäbisch Gmünd will be selling high quality gifts and produce including handmade toys, jewellery & Christmas decorations, together with traditional German delicacies such as soups, gingerbread and candied fruits and of course Bratwurst sausage and we'll be there from Thursday to Sunday to tempt visitors with our delicious and special "highly secret recipe" Hot Mulled Wine and Stollen (German Christmas cake) and an array of fabulous Christmas decorations made in Schwäbisch Gmünd.
The Christkindlmarkt provides the biggest fund-raising event for the society enabling the promotion of exchange visits and links between community groups and individuals of the two towns.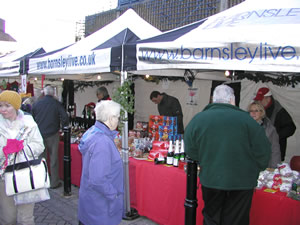 One of the stalls from Schwäbisch Gmünd packed with goodies !You will easily find our stall near the entrance to the market hall and we look forward to meeting you and chatting with you about the society. Please feel free to talk and find more information about how to become a member.
New members are encouraged and always very welcome!
Saturday 26th sees the second annual Barnsley Guggen Music Festival, featuring the Frumptarn Guggen Band and friends.
Opening from 9 am each day there will be plenty of time to find that 'something special' Christmas pressy in this specialist craft and food market.
A spectacular Fireworks finale signals the close at 5.30pm on Sunday, 27 November.
So come and say 'hello' and get in the festive spirit with a glass (or two) of Glühwein and a piece of Stollen before you experience the Christmas market - you will of course need another glass (or two) of Glühwein to recover before you go home !!!