News Archive
Trautelore Schmidt's sales destined for Charity !
Posted 09/12/11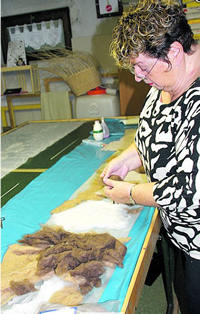 Whether strolling through New York or crossing the Channel: Trautelore Schmidt is modelling her own creations. At the Christmas Craft Bazaar she was selling scarves made with a new technique she has invented herself. The proceeds go to "her girls" – young Indian women who would not have a chance without her.
Traute is energy personified. At an age where other people would slow down she is still steaming ahead.
Traute worked as a crafts teacher for young people and also in adult education, teaching silk painting, weaving and batik printing. She has now developed a new technique to combine silk material and natural fibres. She is making good use of her vast experience with fabrics and fibres, selling her artwork – scarves, pashminas and capes – for charity!
For her work Traute only sources the best silk fabrics, often from the UK, but also from India and China. Through felting she combines the silk with cashmere, baby camel, yak or alpaca fibres. The proceeds are destined for a home for girls and young women in Parassala in the Indian state of Kerela. This provides a much needed sanctuary and the young women are given an opportunity to learn a profession.
When sourcing silk fabrics in India back in 1972 Traute came across terrible child poverty which shocked her into action. She decided to become godparent to three girls and has carried on this role ever since.

Another visit followed in 1977 to see the girls and appreciate the work being done with her financial help. Several times since she used her holidays to teach the girls felting techniques in order to create craft accessories. Over the years she has taken with her to India material for more than one thousand craft objects. What is more, she used the monies she was kindly given for her 70th birthday to purchase a new kitchen for the home and also donated tables and benches so that the children don't have to eat sitting on the floor. Her next project will be a much needed renovation of the toilets, as well as continuing to provide for her three current goddaughters.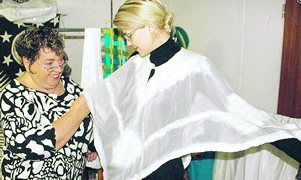 Vast experience and innovative design come together for charity ! Over her 33 years of working for the Youth Centre in Schwäbisch Gmünd Traute travelled extensively and had the opportunity to meet a large variety of people and make friends.
For Schwäbisch Gmünd she was a pioneer of European unity. Traute's husband worked as a youth leader for 25 years. It took Traute a long time to get over his death, but now she is back to what she is best at, being creative and working with young people.

Apart from the Indian girls she also has a godson in China and at present she is host at her home in Hussenhofen to Irina Goncharova, a Ukrainian she met 20 years ago.
At that time Traute was teaching courses in textile techniques which Irina attended and which changed her life (Chernobyl had only happened a few years before.)
"We had a lot of outside help, food, clothes, medical aid, but man doesn't live on bread alone," explained Irina, "For me it was amazing to be able to work with fabrics." Seven years ago Irina had the opportunity to move to Wiesbaden in Germany and live her dream – today she is a successful freelance designer and still a great friend of Traute's.

The Christmas Craft Bazaar opened by Bürgermeister Dr. Joachim Bläse in the inner courtyard of the Prediger included a total of twenty seven exhibitors displaying their creations and offering an opportunity to purchase some pretty unusual Christmas presents.
Based on an article in Rems-Zeitung Thursday, 1. December 2011.