News Archive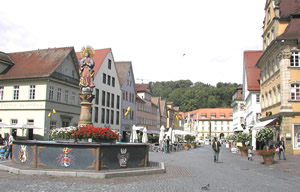 A fun packed week from 25th to 31st July 2011 of eating and drinking, socialising and entertainment, sight-seeing and relaxing with friends is all part of the adventure in Schwäbisch Gmünd.
Posted 09/01/11
Final arrangements are now being made for the society's visit from 25th to 31st July 2011 and yet again a truly remarkable and very enjoyable week with our hosts in Schwäbisch Gmünd is promised.
The journey commences by air from Manchester to Stuttgart, then a short coach journey to Schwäbisch Gmünd and enthusiastic greetings by our hosts, full of genuine warmth and excitement led by Oberburgermeister Mr R Arnold and his official party.
The adventure's begun, there's a full itinerary planned, eating and drinking, socialising and entertainment, sight-seeing and visits with enough time in between to spend relaxing with friends discussing the world, anything and everything over a beer or wine (or two) - one thing's for certain - a fun packed visit is assured.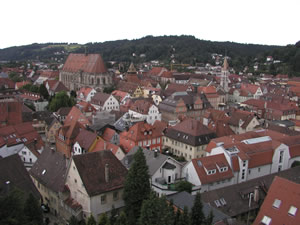 Despite the many hours of work it cannot be said that everything always goes exactly as planned and many spontaneous 'happenings' may break out during the official itinerary adding fun and surprise to the occasion.
There's even time to do a bit of shopping with a variety of over 300 retail stores on offer or just take a relaxing stroll around the city centre or maybe sit at one of the many street cafe's and parlours offering coffee, cakes, ice cream and other such delicacies to tempt you.
Many members are accommodated free of charge in homes of German friends and offer similar hospitality in return when they visit Barnsley, others choose to stay in a hotel and pay their own hotel expenses. Members pay their own travel expenses but are hosted by the members of their counterpart society on trips to places of interest, dinners, disco's and dances, receptions and lots of other activities too.
It's not too late.... if you want to be part of it ....Get in touch NOW !!