News Archive
Oberbürgermeister Richard Arnold extends invitation in 2012 to 850 years Staufer town celebrations.
Posted 02/12/11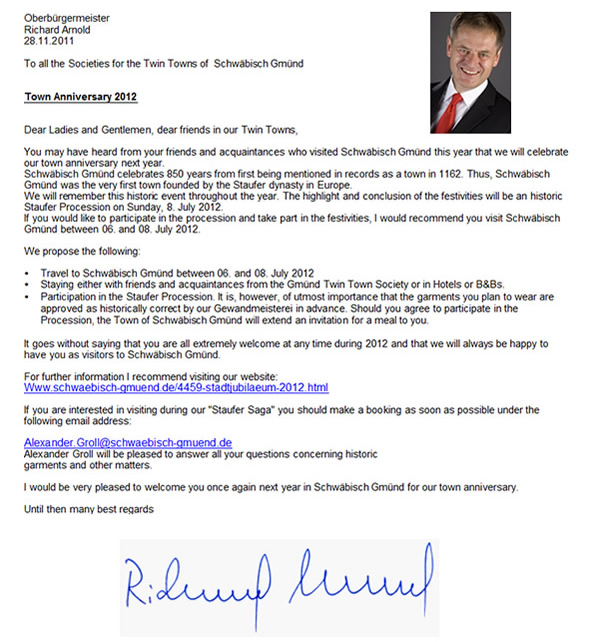 Invitation from  Oberbürgermeister Richard Arnold to 850 years town anniversary celebrations in 2012.
An invitation to attend and take part in the historic Staufer town celebrations has been received from Richard Arnold, Oberbürgermeister ( Lord Mayor) of Schwäbisch Gmünd.

Schwäbisch Gmünd was the very first town founded by the Staufer dynasty in Europe and celebrates 850 years from first being mentioned in records as a town in 1162.
Events to commemorate this will take place throughout the year culminating in an historic Staufer Procession on Sunday, 8. July 2012.
Members of the society have already had a sneak preview when they visited the Gewandmeisterei (cloth cutting and sewing shop) and witnessed the progress of hand making of all the costumes during their week long visit earlier in the year.
An invitation has gone out to all members in all their twin towns and great numbers are expected to attend. Friends from Antibes, Bethlehem, Székesfehérvár, and Faenza as well as Barnsley will join the people of Schwäbisch Gmünd making these celebrations truly international. Watch this space for further details and information ....coming soon !