News Archive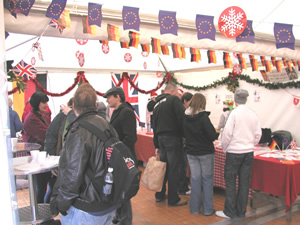 Barnsley Christkindlmarkt 2010

Posted 09/11/10
Come & visit us and say 'hello' in the Schwäbisch Gmünd Twin Town Society tent at the "Barnsley Christkindlmarkt" Barnsley town centre from Friday 26th to Sunday 28th November 2010.
Times for the market:
Friday 9am to 7pm, Saturday 9am to 5pm and Sunday 9am to 4pm
........invoke the festive spirit with a glass (or two) of Glühwein and a piece of Stollen before you experience the Christmas market with German traders offering handmade toys, jewellery & Christmas decorations, together with traditional German delicacies such as soups, gingerbread and candied fruits and of course proper Bratwurst sausage.
Our members will of course be 'on duty' throughout to ply you with copious amounts of Stollen (German Christmas cake) and a 'tot' or two of Gluhwein made to our now famous special recipe. There will be a non alcoholic version available and orange juice for the children. Also available from us will be a selection of Christmas decorations from our twin town, these are always very popular and quickly sell out.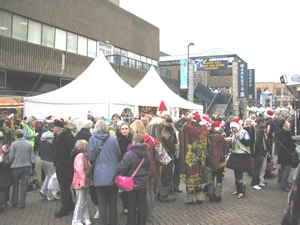 The Christkindlmarkt provides the biggest fundraising event for the society enabling the promotion of exchange visits and links between community groups and individuals of the two towns.
You will easily find our stall near the entrance to the market hall and we look forward to meeting you and chatting with you about the society. Please feel free to talk and find more information about how to become a member. New members are encouraged and always very welcome!
There will also be live music provided by Guggen bands visiting from Schwäbisch Gmünd plus our own Barnsley based Frumptarn Guggen Band.
So come along and join us celebrate with our German friends who have made this special trip to help create the truly continental festive atmosphere, full of gift ideas for everyone, an event for all the family that is Barnsley Christkindlmarkt. See you there.........
You will of course need another glass (or two) of Gluhwein to recover before you go !!!